Marketing Mentor Tip #6- Preparing for the Worst: Cold Calling
No items found
| July 10, 2007
If you hate the idea of cold calling but are going to hunker down and do it anyway because you know it's a good way to reach your best prospects, here are the 3 things you need to have ready before you pick up the phone:
1. Prepare two or three opening statements that say concisely who you are and why you're calling (and the connection between you, if there is one). Experiment with these opening statements to see which makes the most sense, is the most comfortable for you to say, and flows the easiest. Ask a friend or colleague to listen to you say them and decide together which one to start with. If possible, try them all in real situations and see what the actual response is.
2. Think of two or three questions you'd like answered. You may not get to all of them, depending on the response, but have them ready in case the person you're calling is open to chat. Otherwise, offer to send them in an email, or leave them in a voice mail message and repeat them in the email follow up.
3. Have one or two closing statements that include a call to action or next step. For instance, iterate what you and the other person will do next, and what you expect to receive or send to the other person.
Right after you hang up, send a quick email message that reiterates what you've agreed to. (Don't forget to ask for their email address!)
This is excerpted from Stop Pushing Me Around: A Workplace Guide for the Timid, Shy and Less Assertive. If you want to listen to the first chapter, just send an email to Ilise@marketing-mentor.com with "chapter 1" in the subject line.
Read Ilise's previous post | Read Ilise's Next post
No items found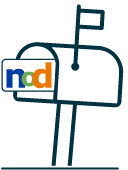 NoD Newsletter
Enhance your inbox with our monthly newsletter.