No items found
| January 31, 2008
You asked your legal, copyright, and trademark questions, and Jean has answered! All questions are culled from the comments section attached to the original 'Ask Jean' post. We invite you to ask more questions.
Dear Jean,

Help! I'm hoping to launch a new line of children's and adolescent's clothing later this year. We did our research and it seems our company's trademark has not been registered by another organization. However, it was just discovered that a particular on-line store uses a name very similar to ours. Our company's designs are completely original. The on-line store does not design it own goods. It seems to have a licensing agreement which allows them to sell children's clothing that promotes various musical bands, so although our concepts are different, we do both cater to the same consumer age group.

My question is: if our trademarked names differ only by a few characters, could it be considered an infringement? To provide you with an example, let's say their name is "Lil Tike" and our is "Lil' Tikes." I know that confusion seems likely, so we might consider changing our name to something like "Lil' Tikez" or even "Little Tikes." Would these changes sufficiently distinguish the two companies? We want to avoid legal problems.

Thanks so much!

Jeannie

Dear Jeannie,

If your trademark differs from another by only a few characters, it can be considered infringement, so adding a few letters or changing "lil" to "little" won't solve the problem. For trademark purposes, the only thing that matters is that you and your competitor are both selling children's clothing. The distinction made between the two companies must be more substantial. Also, remember that you want your trademark to match your domain name, especially if you're selling on-line. If there are two stores with almost identical names and domains selling children's clothing on the web, both will suffer from the resulting confusion. I would recommend a new name.

Best,
Jean
No items found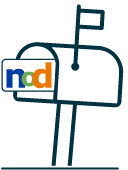 NoD Newsletter
Enhance your inbox with our monthly newsletter.