Naming Your Design Business
No items found
| June 4, 2007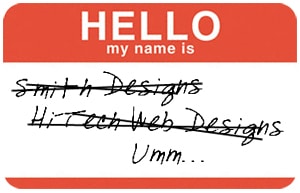 A few years back at a networking event, I wore a "Hello, My Name Is…" sticker with my online shop's name on it. A man came up to me, poked his finger on the name tag, and said, "That's a great name. I'll never forget it." Aside from being jabbed in the shoulder, I was really happy about this: I had chosen a business name that was memorable.
A memorable business name gets you a lot more than compliments from strangers. It can actually boost your sales significantly. If it's easily recognizable and sets you apart from the enormous playing field, more business will come your way. And I'm not just talking e-commerce businesses, but freelance, one-person design firms. The drawback to a lot of memorable names is that they have a confusion factor to them which can undermine their effectiveness.
So how do you come up with a stand-out name that brings in the business? Here are my top tips:…
1) Only use your given name if it's a fairly unique one. This isn't just for memorability reasons, but also for searchability reasons. If your company is called Smith Designs and a potential client Googles the name, will you ever be found?
2) Here's when I contradict tip #1. Make sure the name is easy to spell. If your given name is unique, but hard to spell, ditch it (or be prepared to buy lots of domain names so clients can find you online). Personally, though my first and last name combination is somewhat unique, I would never use it as a business name—people misspell my last name every day, and that's not good for branding.
3) Make sure your name is easy to pronounce—if you're really good at what you do, your name will get around and you want people to say it correctly!
4) Don't pigeonhole your offerings. Maybe you only do Flash design now, but if you make that part of your business name, you don't leave yourself as open to other design clients.
5) Don't describe everything you do in your name. Just like an effective logo design doesn't have to explain every detail of a business, your name doesn't have to either. It just needs to evoke a feeling. Are your designs retro? Versatile? Clean? Complex? High-tech? Inexpensive? Your name should reflect your business's attitude, not necessarily your complete mission. Razorfish is a great example of this: The name feels high-tech, edgy, and fast.
6) Keep non-permanent items out of your name. Design firms often have cities in their names, or the names of all partners of the business. But a cross-country move or a falling-out with your partner can mean the end of your business name… and the end of all that hard work you did establishing your brand.
7) Stay away from using trends in your name. Fads come and go, but hopefully your business is here for the long haul. You don't want to sound dated. Take for example a nail salon in my local mall: '90s Nails. They're still around in 2007, but does their name mean that they didn't expect to do so well?
8) Don't get married to that great name idea until you're sure it's yours. Check domain search sites to make sure you can get yournameidea.com, do lots of online searches for uses of your name and similar names, and do a trademark search to make sure you can register your idea.
—
From the NoD Sponsor:
Sessions Online Schools of Art and Design is an accredited online graphic and web design school offering design career preparation including Web Design Certificates, Graphic Design Certificates, Multimedia Arts Certificates.
No items found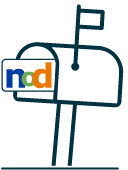 NoD Newsletter
Enhance your inbox with our monthly newsletter.