New Year's Eve: A History of the Ball Drop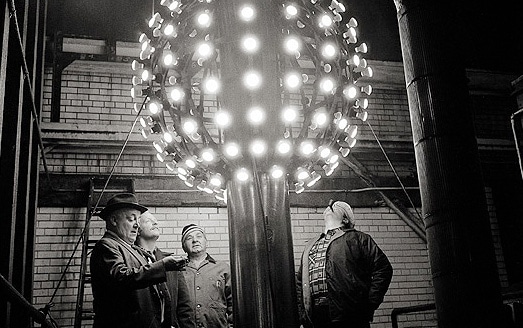 THREE, TWO, ONE, HAPPY NEW YEAR! Every year, nearly a million people descend on Times Square in New York City, the Crossroads of the World, the Center of the Universe, to ring in a new year, say goodbye to an old year, brace the weather and embrace each other. Those who choose to stay in their own cities, towns, and neighborhoods can tune in to Dick Clark's New Year's Rockin' Eve (Clark has been hosting the show since 1972), or an array of other network television broadcasts or live Web casts on laptops, computers, phones; the ball drop marks the start of the new year and is an event unto itself.
If a ball dropping atop the second-tallest building in the city seems to be a bit of a random custom, read on! We have the scoop on the New Year's Ball in New York City. Stick around; learn something new before launching forth into the cookies, glitter, fruitcake, and champagne of the holidays!
Though a giant orb descending to a rooftop seems like an odd event to mark the new year (not to mention to stage a celebration around), time balls are not at all new. A time ball was first used in 1833 at England's Royal Observatory in Greenwich to mark 1 p.m. Captains of ships used the ball drop to accurately set their navigational chronometers.
Forty-four years later in 1877, a time-ball was installed in New York City's Western Union. On days the ball simply refused to drop, Western Union flew a flag between 12:01 and 12:10 p.m. in lieu of the ball. To mitigate any confusion, the press would be informed as to whether the ball had dropped at the correct time and if it hadn't, what time it did drop!
The first New Year's Eve ball dropped in New York City's Times Square in 1907 to a crowd of thousands. This first ball was constructed of iron and wood and lit by 100 25-watt bulbs; it was just five feet across yet weighed 700 pounds.
Since 1907, the ball has undergone several changes and updates, as one might expect of an object expected to withstand high wind and changeable weather and, ideally, drop at a precise time. The first upgrade occurred in 1920; the new ball was made of wrought iron and was comparatively far lighter at 400 pounds. Thirty-five years later, the ball dropped some weight again; the redesign used aluminum, allowing the ball to weigh in at a mere 150 pounds.
The ball vanished during 1942 and 1943 due to electricity dim-outs during World War II. Those New Years were still met with crowds at Times Square and a single minute of silence followed by chimes. Imagine the power of silence amongst thousands of anticipatory partygoers in the moment before the chimes.
The ball dropped in 1955 was used through the 1980s and was re-outfitted with red and green bulbs to resemble an apple. The bulbs were changed again in 1991 to patriotic red, white, and blue in honor of Operation Desert Shield.
The millennium marked a new ball, measuring six feet across and weighing 1,070 pounds. The orb is a geodesic sphere comprised of straight lines and triangles.
2008 marked the 100th anniversary of the ball dropping in Times Square and the moment was marked with a new Waterford crystal ball, weighing 1,212 pounds and boasting Philips LEDs. Light emitting diodes are highly efficient; the ball uses as much electricity in an hour as two ordinary household ovens. The LEDs are also highly customizable, allowing programmers to create nearly limitless patterns and effects.
The ball gained both heft and girth in 2009, doubling its size to 12 feet across and weight to 11,875 pounds. In the weeks leading up to New Year's Eve, the illuminated year sign accompanying the ball was powered by stationary bicycles, storing the energy to batteries. Passers-by could work off those holiday cookies, do something good for the environment, and contribute to the sign far overhead.
So what's on the docket for this year? In keeping with positive changes made to the ball over the years, including size, durability, and efficiency, this year the ball itself (not just the sign) will be completely off the electric grid, powered by stationary bicycles installed at the exhibit in Times Square. Pedal off Aunt Edith's fruitcake and keep an icon lit!
What does this annual ritual mean for us as artists, as humans, as a community? Humans are primed to track time; we have been using time-keeping devices since ~500 BC. Our time-keeping devices may have gained beauty and precision over the centuries, but we are no less moved to comment on the passing of time.
So many things have changed since 1907, but we still gather to share the passage of time, to tick down the seconds and cheer as a new year drops and rolls out to the crowds, the glitz, and the glamour embodied by New York City and Times Square.
As we reflect backward and look with hope forward, Happy New Year.
---
Clara LaFrance is a freelance graphic designer with an M.F.A. in graphic design from Boston University. She is currently a Course Producer at Sessions College, maintaining and updating online courses, as well as a freelance designer and circus teacher and performer.
---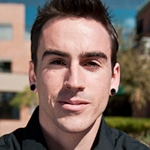 Rob Pullins is a new media marketer and world traveler. In 2013, Rob was Managing Editor of NOD while he was Director of Marketing at Sessions College.