Re-Nourish the Design Industry
Conceptualised by Eric Benson, Re-nourish is the first independent online toolkit for sustainable graphic design. It is a not-for-profit project that empowers graphic designers with the tools to implement sustainable decision-making in their day-to-day work. The Re-nourish mission is nothing short of changing the design industry: helping sustainable graphic design become what it is, not merely what it "could be." We spoke to Eric Benson and Re-nourish's Partner Jess Sand to unearth more.
When was Re-nourish founded, and why?
Eric Benson: I started Re-nourish in 2006 as the culmination of my graduate school research. I had read a number of books, magazines and online sources for sustainable design whilst at graduate school, and became increasingly frustrated that there wasn't a solid, easy-to-access source for this information. At the same time, the varied resources I found were mainly geared towards architecture or product design rather than communications design. The idea for an updatable, online resource seemed like the easy solution. The Re-nourish website has essentially grown into one of the leading independent resources for sustainable graphic design tools.
Who is involved in this initiative?
Eric Benson: The core team is comprised of three working designers – myself, Jess Sand and Yvette Perullo – and two of us also teach design at university level. We work with a generous team of volunteers, whilst our readers in the design and print/paper communities are truly integral to the success of Re-nourish. We hope that more people become involved, as solving our current sustainability problems require all our efforts.
What sources do you use to accumulate your information?
Eric Benson: We research all of our content pretty heavily using third-party sources depending on the subject matter. We work closely with environmental non-profits, including other members of the Environmental Paper Network (of which Re-nourish is a member), environmental scientists, researchers, academics, suppliers, and professional organisations to make sure that the information we present is accurate.
Tell us about some of your recent projects.
Eric Benson: We have a lot of things going on at the moment. We're constantly working to add fresh content to the site, including updating static content and uploading new posts to the blog. Just this week, Yvette completely updated the Paper Finder tool (with the help of our intern, Amy Parker, and developer, Bryan Weber), which allows designers to search for the most environmentally responsible papers on the market.
We have also just launched our biggest initiative to date – the Sustainable Design Auditing Project (SDAP). This is a multi-stakeholder working group tasked with developing open-source metrics for measuring the environmental, social and economic impacts of the graphic design supply chain. We feel it is time for the graphic design industry to start walking the walk, so this project will include:
Multi-stakeholder engagement
Ample public review and commenting
Full transparency and disclosure
Consideration of other credible, established metrics systems
Re-nourish is also busy with looking at how to integrate sustainable design methodologies into undergraduate communications design curricula. I am currently teaching a design research and methodologies course to juniors at the University of Illinois, where I experiment with different assignments and concepts to find a workable model to teach future designers.
Can you tell us more about these teaching experiments?
Eric Benson: Teaching sustainability to graphic designers is a work in progress. Since 2006, I've experimented with a number of projects from minimizing packaging, to information graphics about daily ecological footprint. These explorations have informed me of one major thing: sustainability is a personal value. With that being said, it seems painfully obvious to many that everything on this planet is intrinsically interconnected and, regardless of our values or goals, we'll all have to confront the idea of sustainability in our lifetime. I've found class discussion to be the launching point for connecting students' values to principles of sustainability. The momentum from this discussion is one of personal acceptance of the economic, social and environmental issues at hand for the student, followed by a deeper desire to know more about how to be more responsible during the design process.
It's important in this learning process to build upon the students' knowledge base incrementally – tackling small chunks of the topic at a time. I typically start with a larger scoped overview involving experts from across campus to frame the issues, followed by readings that become more and more specific. Re-nourish has also served as a good resource here. I find that graphic designers really have lost touch with how things are made, as their daily life is spent in front of a screen and not out in the "real world." I would like to use this observation as more of a reason to invite students to learn about their discipline: if they understand the details of manufacturing, printing etc, then they can, possibly, design to minimize their impact with more resolve and knowledge.
Finally, the last project I aim to explore further questions what a designer of the future will be making. And what will the graphic designer be exploring when/if resources aren't as available as they are today? I'm interested in systems design, as I view it as a means to attack the root cause of a problem, rather than just making an angry poster that simply describes a symptom of a larger dilemma.
What are the biggest obstacles you face, and how do you plan to overcome them?
Jess Sand: Aside the usual challenges of running a not-for-profit project (e.g. funding and resource allocation), the biggest challenge is probably figuring out how to make fairly complex and emotionally loaded issues accessible to the everyday working designer. The truth is, our industry is facing a number of very personal challenges such as crowd sourcing, outsourcing, etc, and some designers may set environmental and social sustainability low on their priority list. But the reality is that the financial health of our industry is directly tied to the way designers design. If you look at the corporate world – which often serves as the bellweather of commercial clients' wants and needs – you see them already seriously working on these issues. If we expect to stay competitive, sustainable design needs to become the default, not the exception.
What have been the most popular aspects of Re-nourish so far?
Eric Benson: Our tools are always popular because they're designed to fit easily into the designer's workflow, regardless of what that workflow might look like. But we're finding that a lot of folks keep the site bookmarked and use it as a regular reference manual for specific issues as and when they come up during the design process. SDAP is definitely one of the most popular initiatives though, because it allows designers to directly influence the direction of their field.
How has the industry reacted to what you are trying to achieve?
Jess Sand: Overall, the response has been incredibly positive. A lot of designers are in the same boat as we were – deeply committed to making better decisions, but hard-pressed to find or make sense of what little information is out there. It's also worth pointing out that a lot of suppliers (especially printers) are also really excited to see that designers want to work with them on these issues. I think people tend to gravitate toward our inclusive approach.
What do you consider to be your biggest achievement to date?
Eric Benson: I can't speak for everyone, however, I'm truly excited about SDAP, as it is a bottom-up, community-based project aimed at creating a sustainable supply chain for the print industry.
Do you see sustainable design practices becoming mainstream in the near future?
Jess Sand: A recent research study from Boston College Center for Corporate Citizenship found that American companies continue to remain committed to making sustainability a core operating principle, despite the recent economic crisis. These are our clients. So just as our industry had to become fluent in computer technology to do our work, we will also have to become fluent in sustainable thinking. Designers can either take the lead on this, or they can play catch-up. We'd like to help them take the lead.
Where do you see Re-nourish in 3-5 years time?
Eric Benson: Jess, Yvette and I have discussed this since day one of our partnership: our main overlapping goal calls for Re-nourish to be financially sustainable. Personally, we would love to see Re-nourish become a functioning NPO with self-sufficient sources of revenue and grants. This would allow us to effectively fund initiatives that aid in creating tools that make sustainability more accessible to designers and continue to reshape the industry through projects that create awareness and responsible change.
—
Find out more about Re-nourish at www.re-nourish.com and follow the team on Twitter @Renourish.
—

Designer and writer Kate Andrews was the original editor of Notes on Design blog, founded in 2007.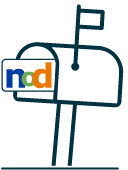 NoD Newsletter
Enhance your inbox with our monthly newsletter.