Shaw Nielsen: Illustrator
Educated in San Francisco at the Academy of Art, artist, illustrator and designer Shaw Nielsen currently lives in Denver, Colorado. With a unique (and snazzy) style, and an international client list, his illustration work has been featured in Communication Arts, 3×3 magazine, honored by the Alliance of Illustrators, and the Art Directors Club. We caught up with Shaw recently to find out more about his work and career.
Notes on Design: Can you tell us a little about yourself and how your career started?
I am a pretty snazzy illustrator with a knack for coming up with quirky solutions. I started off studying in San Francisco at the Academy of Art and eventually made my way back home to Denver, where I grew up. My career started in a very undramatic fashion. After art school I worked a number of odd jobs while saving up money to market my work, while also putting together a meaningful post-art school portfolio.
How and why did you choose a career in illustration?
For as long as I can remember I've had an overactive imagination and a passion for doodling, so illustration was a natural fit for me. I was also lucky enough to have people in my life who knew the illustration business and helped point me in the right direction from the get-go.
What would you say was your creative break?
My biggest creative break came when I realized that I needed to draw and create everyday, not just when the mood struck me or I had paying work. Working like this helped me improve and develop my style and has kept me practiced at being creative. Because being consistently creative isn't about brooding over a bottle of whiskey and hoping an idea comes to you, as is so often depicted in pop-culture. You have to be an avid participant in the creative process if you want to get anything meaningful out of it, and at it's heart that's what illustration is: meaningful creativity.
What has been the pivotal piece of work you are most proud of?
I'm most proud of my work for Bordo Bello, a local AIGA Charity. My illustrations helped brand the event and bring in donations for two local youth art and design focused charities.
What are you working on at the moment?
I'm currently working on a children's book with Workman Publishing, the Puzzler Page for Jack & Jill Magazine, illustrations for a Carelton College alumni website, and a few other smaller editorial projects.
How was 2010 for you and what can we look forward to in 2011?
2010 was a good year for me and I only see 2011 getting better. In 2011 I hope to make more folded paper illustrations for everyone to download (previous examples: a folded paper robot ornament for the festive season and a cut-out coffin for Día de los Muertos), and I'd like to publish some children's book stories I'm working on.
Do you have any advice for this years students and graduate illustrators?
My advice is simple: Work hard and you'll find your way.
—
Find out more about Shaw and see his portfolio at www.shawnielsen.com, and follow him on twitter @ShawNielsen.
—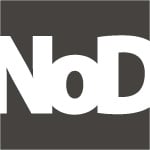 This post was authored by NoD staff. Notes on Design is a design industry blog sponsored by Sessions College for Professional Design.