Starting a Business: Risks and Rewards
I received HOW's Business Annual a few days ago. It's loaded with great material, including the results of a poll that asks, "…do you hope to start a business someday?" The poll made me think about starting my own business again (my wife always cringes when I mention this), but I think I have a good argument for both starting a design business and staying put at your current job. It really comes down to where you are in life and how you balance risks vs. rewards.
I am a completely different person now than I was when I started my own business almost twenty years ago. Back then, I was single and simply couldn't stomach a nine to five job, especially a corporate one. I spent several years working in ad agencies and design shops, but I never lingered longer than 3 years. I was passionate about working for myself and labored full-time only to gain experience and contacts. When I finally decided to leave my agency job and set out on my own, I was taking a great risk. I had no clients, only a few contacts, and was borrowing money to get started. However, I simply had to do it because I was not happy working a nine to five job.
I would not recommend this approach to others, but it worked well for me. My first client was a large New England bank, and I paid off my loan in three months. I then acquired a few book publishing accounts and actually turned a profit in my first year. The rewards far outweighed the risks at that time in my life. I was producing creative illustrations for respectable clients and even took on a few design projects when necessary. I had few expenses and so did not actually need to make a lot of money. Art supplies, workspace rental fees, magazine subscriptions, and other job related expenses were tax deductible, and I enjoyed setting my own hours and taking days off whenever I wanted (I took a whole week off to watch the Ken Burns documentary, "The Civil War" and wrote it off as research. It's legit!). My income increased steadily over the six-year period I was in business, and I had a "second job" playing bass in a club band. Life really couldn't have been any better.
Eighteen years, one wife, two children, and a house later, I'm once again working nine to five. My life is very different now, and my priorities have changed accordingly. These days, I work full-time as a creative director for an international real estate corporation. It's essentially an executive role, and it comes with everything I need right now-a good salary, a matching 401K, and health benefits. I am not so much concerned about nurturing my creativity as I am saving for retirement, clothing the children, and feeding the family. When I think about starting a business these days, I remember the rewards, but I'm also more aware of the risks. I would need to work very hard to earn an amount equal to my current monthly expenses, and I would need to make even more money to cover the astronomical health insurance costs for a family of four. And let's not forget the IRS's "Self Employment Tax" (I overlook it every year). Consistent work is not guaranteed, and dry periods like those I experienced before would be exceedingly burdensome today. I probably would not have much time to spend with my wife and kids, and the emotional toll of a treadmill existence would likely supercede any rewards. I still have a thriving part-time freelance thing happening, but a full-time business is simply out of the question and not recommended for anyone in circumstances similar to mine.
Let's take a look at some of the risks and rewards associated with the operation of a small design business or sole-proprietorship:
Risks
Inconsistent income (or none for months at a time)
High health insurance costs
Large tax bills (if not paid quarterly)
Deadbeat clients
Little job security
Emotional stress
Isolation (if you work alone)
Rewards
Independence
Excitement (I couldn't wait to check my voicemail for new jobs)
Creative freedom
Variety
High-paying accounts
Flexible schedule
Tax deductions
Networking
Personal satisfaction
These are just a few that come to mind and that need to be weighed before deciding what is most important to you. I think starting a business is what every designer dreams about anyway, so I would never discourage anyone from doing so as long as they fully understand the risks involved and are willing to endure the accompanying sacrifices… the rewards are infinite.
After I pay down the mortgage a bit and the kids have grown up and moved out, I will probably once again start my own business, because I'm hooked. Maybe I'll focus on type design or go the fine arts route this time. After all, this full-time thing is just a temporary diversion, right?
You gotta keep the dream alive.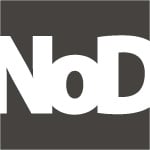 This post was authored by NoD staff. Notes on Design is a design industry blog sponsored by Sessions College for Professional Design.