The Value of Your Local Chamber of Commerce
No items found
| July 9, 2007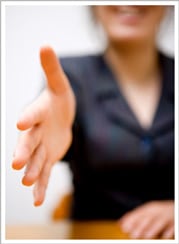 Graphic design may be a career choice that lacks geographic boundaries, but there can be a great benefit in local networking, starting with your city's chamber of commerce. Joining the chamber of commerce has tons of advantages…
1. Health insurance Many chambers offer group health insurance plans or health insurance discounts that can save you tons of money over individual plans or out-of-pocket medical costs.
2. Networking events Chambers host tons of events, from breakfast meetings with guest speakers to social meet-and-greets at local businesses. Slap on a nametag and start schmoozing! Have your business cards ready, and you're bound to meet someone who can use your services, and someone whose services will help you big time. Or, you can offer to trade services with another chamber member, saving you lots of money while building your portfolio. Maybe the local office supply shop needs a brochure designed, and you need to stock up on printer ink – how about a trade?

3. Public events Chambers often host fun public events, like sidewalk sales and holiday fairs, where you can set up a booth showing off your services to the local public. You'll get your name out around town and probably pick up a new project or two while you're at it.

4. Professional development You can take part in various committees and workshops as a chamber of commerce member, contributing to local business growth and helping you grow as a businessperson. Often you can also take advantage of the professional advice of chamber members or associated groups, for example, some chambers offer free or low-cost financial development advice or legal counsel.
5. Business directories As a chamber member, you'll be part of a large directory of businesses accessible by other members and the public – one more way for potential clients to find you. You'll also end up on a lot of mailing lists for local business groups, charitable organizations, and so on, which can be an advantage or a disadvantage depending on how you look at it.
Every chamber of commerce offers a range of events and opportunity for participation. When deciding whether to join, meet with a chamber representative and get some references that you can check in with. Chamber dues also vary greatly from city to city (usually a couple hundred dollars a year), and some events are an additional charge, so be sure to check your budget before diving in!
No items found