4 Things Every Freelancer Needs for Productivity
No items found
| December 17, 2015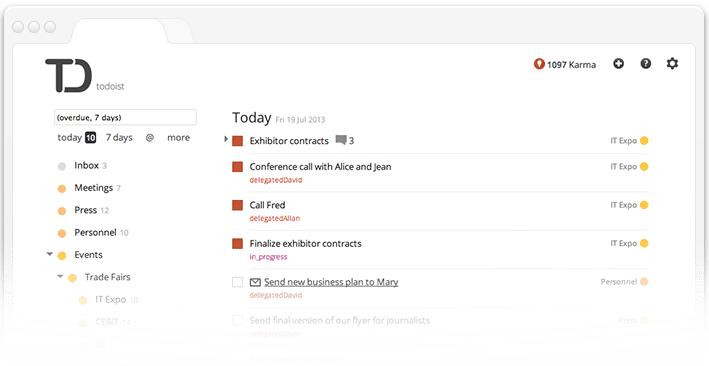 Productivity as a freelancer – it's everything. It can mean hours of your day, which translate into valuable contributions in your paycheck. As a freelance writer and designer, you'll have the opportunity to try lots of different productivity tools over the years. We're always on the lookout for apps that will help us improve focus, minimize distractions, and maximize time.
The irony of this is that an endless quest for better productivity apps is, in and of itself, a productivity sinkhole. The search takes time, and while each app offers productivity benefits, we have to make sure the time savings don't outweigh the time expenditure.
In the interest of saving you some time, here's a list of four productivity tools we use daily: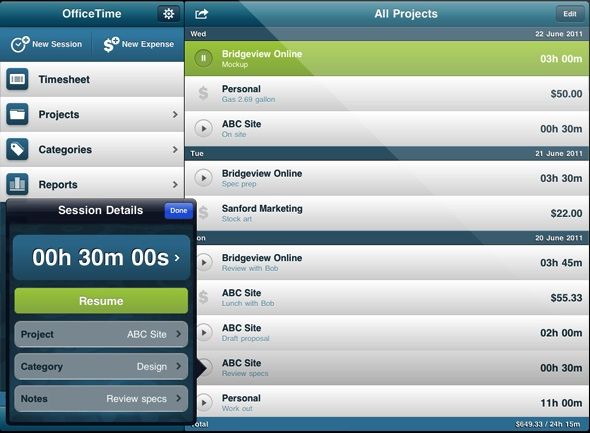 OfficeTime for iPad. Image via cultofmac.com.
OfficeTime is a simple-but-powerful tool for keeping track of time and expenses. It can be used on a PC or Mac for tracking billable hours, and there's a mobile version for iPad and iPhone that syncs with your computer for tracking hours on-the-go.
OfficeTime allows you to create multiple projects, track time and expenses within each project, assign project categories, and record detailed notes for all your billable and non-billable hours. The desktop version also makes it easy to generate invoices with a customizable template.
Cost: $47 desktop (Mac or PC), Free limited version iPhone/iPad, $7.99 full version iPhone/iPad.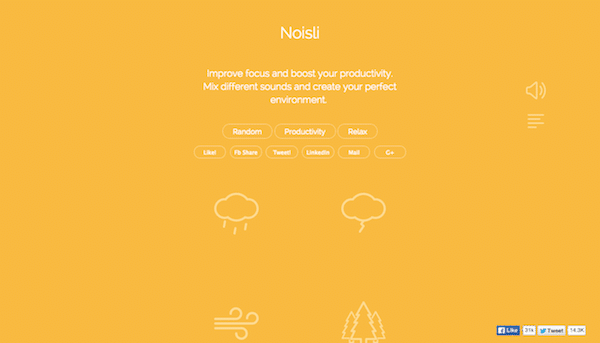 Noisli changes colors in the background while you work. It also offers a distraction-free text editor.
Do you ever have trouble shutting out background noises, like the footsteps of your upstairs neighbors or a barking dog? Alternatively, do you ever have trouble focusing when it's too quiet?
Noisli is a browser and iPhone/iPad app that allows you to mix different sounds to generate the perfect noise environment. Choose from predesigned sound mixes for productivity or relaxation, or mix-and-match to find your ideal blend. (I use a combination of Rain, Thunderstorm, and Brown Noise at night, and the Coffee Shop setting during the day.)
Cost: Free browser version, $1.99 iPhone/iPad.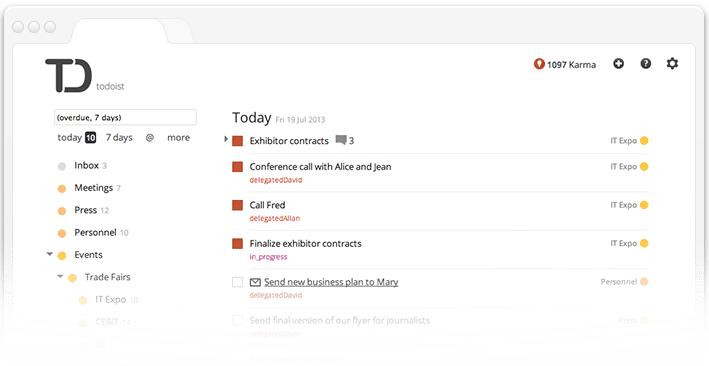 The Todoist browser interface. Mange your inbox, meetings, and solo or collaborative projects.
This isn't the first time I've written about Todoist. It's my favorite task management app, and I don't know what I'd do without it. With Todoist, I no longer have to resort to pen and paper—or worse, my daydreaming brain—to keep track of my daily to-do list.
Todoist reminds me of upcoming meetings, helps me stay up-to-date with my inbox, and lets me assign project goals for today, tomorrow, or months into the future. Todoist even lets me share projects with friends and assign individual tasks to different owners.
Cost: Free mobile and desktop version, $29/year premium upgrade.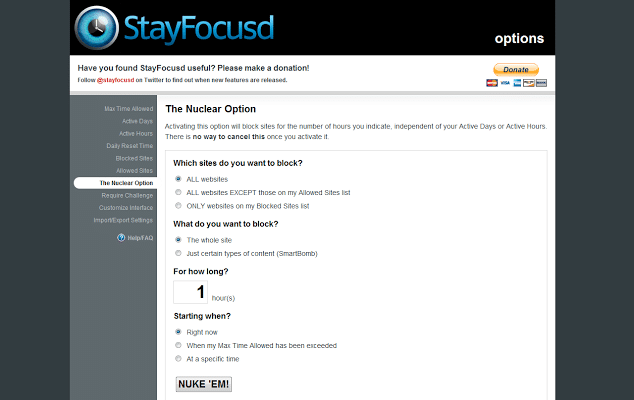 The Stayfocusd Nuclear Option allows you to block sites for the number of hours you indicate, independent of your active days or active hours.
Procrastinators be forewarned! The following app is not for the faint of heart. StayFocusd is a web extension for Google Chrome that limits the amount of time you're allowed to spend on time-wasting websites.
You choose the websites you'd like to limit and the amount of combined time you're allowing yourself on these sites. When you visit one of the sites on your list (be it Facebook, Reddit, or Tumblr), the StayFocusd timer will start counting down. Think of it as an Internet babysitter. Once the timer reaches zero, StayFocusd will block access to the site until the next day.
Cost: Free, with a $10 donation encouraged.
No items found