Why A Sustainable Design Revolution Must And Will Happen. Part 3.
No items found
| June 26, 2008
By Eric Benson
Part III: Sustainable printing and the graphic designer
"The single most important problem is our misguided focus on identifying the single most important problem." – Jared Diamond, Professor of Geography at UCLA. (From the book "Collapse: How Societies Choose to Fail or Succeed." Penguin Books. 2005.)
It is fairly simple to call a few printers in your local area and find one that gives you the best price on paper and printing and also meets your busy schedule. It's a job well done as soon as you drop off your CD packed full of files at your chosen printer and take a breather before starting your next big design job. But what if price and deadlines weren't the only variables that led a designer to choose a printer? What if we paid more attention to the printer's business practices? Could this improve our overall quality of life? In general, when we design something the idea is to make things better. Whether we are improving the economy (through advertising and sales) or making things easier and simpler to accomplish (via products or better designed instructions/communications), the design intention is to create a catalyst in our society for positive economic growth or social change.
So what about printers? Why should designers pay attention to factors outside of cost and deadlines? Printing is a fairly messy and toxic industry that uses a copious amount of energy and water. On a weekly basis, printers have to throw away waste ink/varnishes, which (when made with petroleum) is hazardous and requires special precautions to be taken at the landfill for disposal. They also discard waste chemicals (like isopropyl alcohol, which releases VOCs that are harmful to press workers), wood palettes, plastic wrapping and other manufacturing materials. Lest we forget paper, as you wouldn't have a printer without paper. The paper industry is the third largest polluter (behind automobiles and steel manufacturing) of our waterways and the air we breathe. On a typical day, a large paper mill uses trillions of gallons of water, which must be treated for toxic chemicals before being released back into use. The paper industry is the lifeblood of the print designer, as it supplies the medium for our ideas. However, the price we pay as a society for our creative work is the contamination of our basic life necessities: biodiversity, clean water, and fresh air. It is fairly easy to start to connect the dots. The more we print without concern for our ecosystems, the quicker we will find ourselves unable to find safe drinking water and are left with air toxic to breathe, leading to various health concerns and rising health care costs. As our population grows (another 2.6 billion by 2050) we will see an even more increased demand for lumber to build homes, and to print to advertise and carry on with daily business. As around 80% of our old growth forests are now gone due to the lumber and paper/printing industry, where will our paper for printing come from? Trees are a sustainable resource, if they are replaced at the same rate they are taken away. However, as demand for paper for printing increases, will we be able to replace our trees that typically are at a 30+ year growing cycle to keep up with our society's needs? It seems unlikely without changing what we use to make things and how we make them.
So back to printing… besides using 100% PCW/PCF or treeless paper (see more here🙂 and using vegetable-based inks (see more here:), what should the designer look for to find a green printer?
Step One: Before you print
The first step is to ask yourself "Hey does this need to be printed in the first place? Are there other methods of distributing a message? Would it work online?" However if it must be printed here is a quick bulleted list of things to consider:
Can you change the size of your piece to maximize the press sheet and eliminate waste?
Avoid foil stamping, UV coatings, thermography and lamination in your design as they pretty much render the paper unrecyclable?
Minimize ink coverage to increase paper recyclability?
Step Two: Choosing a printer
As stated in the beginning of this article, it is easy to call a local printer and get a quote. The key here is "local". Working with local vendors will minimize travel/shipping emissions and of course improve the economics of your community. But besides local, here is a list of things to consider before choosing a printer:
Talk with the printer. Discuss your environmental goals. Do they match up?
Do they use renewable energy? Or do they participate in a carbon-offset program?
Are they FSC-certified? (Find a FSC printer here🙂 Co-op America? Great Printer Certified?
Do they have waterless presses? (Waterless printing improves color consistency over a larger press run, lower dot gain, no VOCs, and of course conserves water for drinking)
Do they use exclusively vegetable-based inks?
Do they have a formal waste reduction program? Do they recycle?
Do they have a formal employee benefits program? (Health care/living wages)?
Do they have a formal environmental mission statement?
Do they have a FTP site for uploading final print files?
Step Three: Handing over your file to print
Once you have chosen a printer that is concerned about the environment, handing over your files and proofing are the next two steps that could negatively add to the ecological footprint of the project if done incorrectly. It's best to FTP your files to the printer online to avoid excess CD and plastic jewel case waste. (However if you have been doing this in the past, you can ship off your CDs – after backing up on a hard drive – to the CD Recycling Center of America in New Hampshire.) FTP is a quick process if you have a good upload rate at work/school or home. It also saves time and carbon emissions contributed to your or the print representative's car driving back and forth to collect the CD. When it comes to proofing your piece throughout the lifecycle of the project, it is possible to do most of the project proofing via PDF (except for the final proof to check details and color) to save on paper and toner costs. Good luck with your next sustainable design project. It's time now to design our future, not simply predict it.
See a short list of environmentally friendly printers at Renourish (USA): http://www.re-nourish.com/sustain/index.php?blog=6
Read more about printing issues at Lovely as a Tree (UK): http://lovelyasatree.com/print_issues.htm
No items found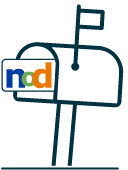 NoD Newsletter
Enhance your inbox with our monthly newsletter.