Yves Béhar: Designs For a Better Future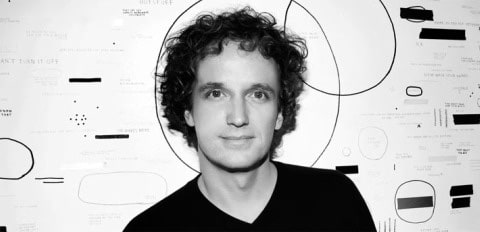 In the early 2000s, Yves Béhar emerged as one of the most important industrial designers on the contemporary scene. Through his San Francisco-based design and branding company fuseproject, the Swiss-born Béhar showed that a futuristic, hi-tech approach to design can be deeply humane. The fluid forms and innovative function of his products are impressive enough, but it's Béhar's interest in the human experience and positive social change that give his objects real meaning. In this interview, Béhar chats with Kevin Kelly about his recent work for the safe sex campaign NYC Condom and other acclaimed projects, and shares his vision for how design can help shape our future.
Tell us about your work with the NYC Condom Campaign. How did you get involved with the project? What are the goals and objectives of the effort?
The New York City Condom and Dispenser is an initiative of the NYC department of Health: the free distribution of condoms is an effective measure against HIV infections and unwanted pregnancies. They will distribute 36 million condoms for free this year, and install around 2000 dispensers in diverse venues from bars and clubs, pool-halls and barber shops, homeless shelters and health care facilities.

NYC Condom Project
You redesigned the NYC condom's packaging and created high-style dispensers that will be placed throughout the city. Tell us about the designs, and how they work together to both promote awareness and increase access.
Creating the condom wrapper and dispenser simultaneously, we were able to intertwine the visual relationship of both elements, and by making the NYC Condom and Dispenser visually iconic, New York City achieves two main goals: raising awareness and adoption of the condoms by its citizens, and driving adoption of the dispensers by private businesses and public organizations.

NYC Condom project
Reminiscent of a condom shape warped into the surface of a wallet, the NYC Condom's dispenser is approachable and friendly, while the design of the brand creates an air of openness, removing the stigma of the condom as something to be ashamed off.
You've designed all sorts of things, including retail interiors, chandeliers and conductor's batons. How is designing a condom dispenser different from, say, designing a watch or a shoe? How is it the same?
Designing the NYC dispensers is a little bit like designing a fire hydrant: it has to be easily identifiable in case of emergency, very robust, and become symbolic…in the case of the dispenser, it reminds us of a condom without being preachy, it looks friendly and approachable.
In your opinion, can design change people's minds about condoms, safe sex, the environment, war, etc? If so, are designers especially well-equipped to effect change, and do we have obligation to lend our skills to the causes we support?
I think the dispenser is a good conversation starter, and starting a conversation about condom use is not always easy to do !
I have always thought that as designers we have a responsibility to put our vision at the service of others, specially in the areas of health and education: With the One Laptop Per Child with Nicholas Negroponte at MIT, we really pushed the boundaries of design in the electronic realm to a well integrated, low-power consumption, robust and very lovable tool for education in the developing world.

One Laptop Per Child
I think design sometimes forgets it's democratizing power. I am not saying that all design should be a civic project, but we should balance the practice so that design can make the difference it can.
What can a designer do on a daily or individual basis to improve society and/or the world?
I have often said that "designers have a responsibility to create the future we want to live in", so I think all we have to do is adhere to our own values, and apply these to our projects. We have a lot of influence today, let's use this influence with our clients, because the VALUES we bring, are as important as the economic VALUE we create for enterprises and users. In fact, these VALUES create the very value that brands need and customers want.

The sustainable LED Leaf desk lamp
You obviously advocate safe sex and the use of condoms, and you've dedicated your time and energy to promoting those causes. What other social issues are you passionate about? How can others with similar interests contribute to those efforts?
As I mentioned earlier, we work on projects for educations such as the One Laptop Per Child, but also projects that create economic development in poor regions (we have a couple in Africa and South America). I am also passionate about a new type of enterprises that want to do good, and do well at the same time, we have a few projects in that space.
In an interview with Stephanie Murg from Unbeige, you said you "specialize in firsts." What does that mean, and how did you develop that expertise?
It's more like a lack of expertise ! But since we understand the design/manufacturing/logistics process in depth, we can bring new ideas and strategies to life. We've often had clients say "you have not worked in this area, and that is a good thing"…those are the best clients too.

The Y Water bottle, which has a second life as a children's toy.
If you could change one thing about the design industry tomorrow, what would it be?
What we are changing in our studio, is the financial model: less consulting, and more partnerships. I dislike the mentality that puts design in the self-defeating position to be a "vendor" to enterprises…I think this demands change on both sides of the equation: for clients to realize that designers are partners to their success, and for designers to put themselves in the place of both stake-holder and risk-taker.

Designer and writer Kate Andrews was the original editor of Notes on Design blog, founded in 2007.