If you're looking to create video game artwork, look no further than Autodesk Maya. Maya combines powerful tools for the major areas in 3D content creation: modeling, animation, texturing, and rendering. In this online 3D modeling course, you'll unlock the mysteries of Maya. You'll develop a thorough understanding of the Maya toolset, learning how to create, edit, and refine polygon models, add textures and apply UV maps, develop basic animations, and export your artwork into a game engine.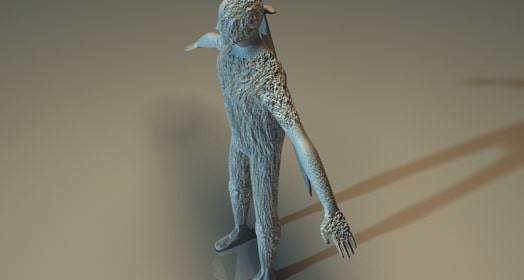 Maya model made from primitives
100% online
Project-based
Instructor-led
Credit-bearing: 3 Credits
Classes start January, April, and August
Instructor(s)
The course is taught by the following instructor(s):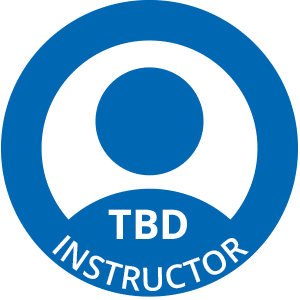 Course developed by: Nat Stein
Take this course as a standalone or as part of the following program(s):
Intro to Maya

The course kicks off your course with an orientation to the elements of the Maya interface: the view window, tools, buttons, and timeline. You'll learn how to customize your view, zooming in and out, and to navigate between different artwork displays through key commands and shortcuts. You'll create and adjust primitives to create basic 3D models, and using the Transform tools to move, rotate, and scale them in three dimensions. To help you organize your artwork, you'll learn how to group and parent objects and pivot them.

Modeling in Maya

This week's class introduces you to ways of manipulating the shape of an object to begin creating realistic or complicated shapes. You'll learn how to select components and edit them, rotating, scaling, and transforming the elements in your model. Any face or edge can be deleted, extruded, poked, or cut to add details to your objects. When you get tired of that, you'll discover the delights of using Booleans to overlap objects to merge or extrude new shapes. The lesson wraps up with a section on how to duplicate or flip components and a focus on how to use object history to keep track of the complexity of your art.

Poly Modeling II

In this session, we will focus on how to turn your complex polygons into smooth, polished models. First you'll examine how Maya calculates the number of triangles in your models when it renders. You'll learn how to split polygons by creating new vertices and faces and draw new polygons freehand. To round off all this complexity, you'll study how to use normals to create gradients and bevels to smoothen edges. A final section will explore approaches for modeling a character and reducing the poly count on your creations.

Texturing and UV Mapping

Let's explore how to add texture to your models, so you can control their color, shininess, transparency, and reflectivity. You'll learn how to set up a basic light rig including a directional light, spotlight, key light, and point light, and render it from different camera views. You'll explore how the different controls in the Hypershade editor work and learn how to apply basic shaders. Then you'll examine how to add an image map and manipulate its attributes.

UV Mapping

UV mapping allows you to take a 2D texture image and place it properly on a 3D surface, and for game artists this technique is an absolute must. This week, you'll learn how to create and apply UV maps to your models, cutting and sewing them, and folding and unfolding them. You'll walk through the UV mapping of simple and complex objects, and you'll work in Photoshop to produce texture images to apply to your maps. The lesson concludes with some rules of the road for managing UV maps.

Animation and Workflow

In the final lecture we will unleash Frankenstein's monster: animation, the art of bringing life to the unliving. You'll start by learning how animating in Maya works, creating, moving, and editing keyframes on a timeline. Then you'll move on to another key topic: What to do with all this great art and animation you've made in Maya. You'll explore workflow techniques, naming conventions, and file structures, and rendering techniques so that you can provide clients previews of scenes.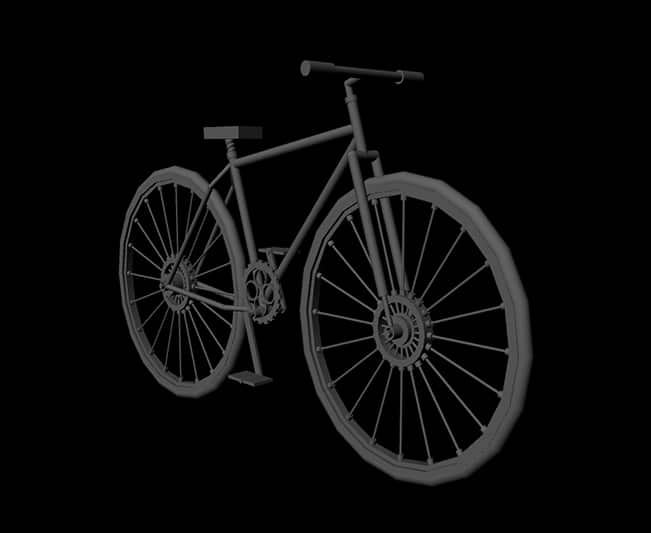 by Win Yan Wong
What Are The Course Projects?
Build Maya skills with creative 3D modeling projects including primitive characters, inorganic models, efficient character models, color, shading, and lighting, UV and image maps, and basic environment design.
What Software or Supplies Do I Need?
Computer with Internet connection (broadband recommended).
Autodesk Maya and Adobe Photoshop.
Basic experience in the above software.
Three button mouse required for PC users, recommended for Mac users.
What Will I Learn?
Students in this course can expect to learn to:
Create objects using NURBS and subdivision surfaces and choose the appropriate geometry type for a 3D model.
Use a range of methods for creating NURBS surfaces including revolves, lofts, birails, and trims.
Create a skeleton of joints for a character that allows for accurate motion.
Bind a character to a skeleton and weight it for accurate deformation.
Develop constraints and connections on objects and learn how to manage forward and inverse kinematics.
Apply straightforward animation and non-linear animation techniques using character sets and the Trax Editor.
Create animations in which characters interact with environmental objects realistically.
Use animation and textures to create complex special effects including glows and lasers.
Apply Maya Dynamics to create particle emission effects, fire and fluid effects, and other complex environmental effects.
Use light types, light linking, raytracing, and depth maps to create lighting and shadows.
Create advanced renders, layered renders, and post-processing effects to complete a scene.
Classes start January, April, and August
3 Credit Course
Project-Based: Exercises, Discussions, and Critiques
| Course Tuition and Fees | |
| --- | --- |
| Tuition | $510/credit |
| Registration Fee* | $200 |
| Total Course Price | $1730 |
Registration fees are nonrefundable after 5 days from enrollment. All tuition includes a digital materials fee for course content.
Click Register Now to enter your information and desired start date. An Admissions Advisor will contact you to arrange payment and provide you with an Enrollment Agreement.
Frequently Asked Questions (FAQ)
What Are The Courses Like?
Our courses are project-based. In each course you'll enjoy a series of lectures, projects, discussions, and critiques designed to stretch your creative skills, earning college credit for your completed course.
How Much Time Do I Need?
Classes start January, April, and August, and this course can be completed in a 15-week term. College credit from this course can be applied to a range of degree and certificate level programs at Sessions College.
Who Are The Instructors?
Our courses are developed and taught by our faculty of professional artists, designers, and photographers. This means that you'll learn in-demand skills, get feedback on your work, and build a portfolio of creative work.
Is Sessions College accredited?