Online Accessibility Design Course
Web Accessibility Design
For people with disabilities, the Web can present more barriers than freedoms. In this online accessibility design course, you'll learn laws and best practices for accessible site design. Working with a Web design pro, you'll study accessibility standards set forth by the World Wide Web consortium (W3C), and complete practical projects that give you a richer, hands-on understanding of these standards. You'll be surprised to see how creative and robust your designs can be while meeting even the strictest standards.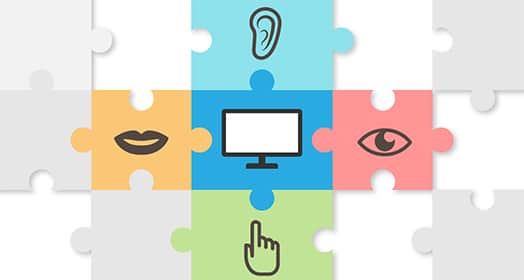 Accessibility means universal access
Make your sites accessible to all Web users
Instructor-Led Course
Feedback from design professionals
Creative Projects
Stretch your skills, grow your portfolio
Learn at Your Own Pace
Self-paced and scheduled programs available
Course Outline
1 - Accessibility Defined
There's more to making a site accessible than clear navigation and browser compatibility. Web site accessibility means making a site available to users with various physical and cognitive disabilities who use assistive technologies. Lesson One explores the goals of the Web Accessibility movement, the initiatives of the W3C, and how U.S. and international law impacts accessibility. You will also learn about various impairments that can affect Web viewing and how they can be addressed.
Project - Accessibility research
2 - Addressing WCAG Conformance Levels
Making a site accessible isn't an arbitrary or opinion-based endeavor—Web Content Accessibility Guidelines (WCAG) break accessibility into three conformance levels, each with a series of success criteria. This lesson addresses the WCAG version 2.0 Conformance Levels A and AA and how they should influence your code and design choices. You'll understand how each success criteria benefits users with various needs.
Project - WCAG levels I and II
3 - Conformance Level AAA and Accessibility Testing
The first focus of this lesson is on conformance level AAA—the strictest (and most debated) set of success criteria. You'll then spend time learning to test and analyze your site designs for various levels of accessibility. Web site testing tools and services are discussed, and you'll learn how a team or individual designer tackles accessibility testing.
Project - Test your project
Course Objectives
Students in this course can expect to learn to:
Identify how users with various disabilities access Web sites and view Web content.
Study and analyze how specific Web accessibility initiatives and legislation impact Web design and Web designers.
Use proper (X)HTML document structure as a starting point for all accessible Web page designs.
Utilize specific code attributes and properties that give users alternatives to graphic and multimedia content.
Use color appropriately so that all Web site content and instructions are clear to users with color deficiencies.
Use Cascading Style Sheets (CSS) to control all layout and presentation.
Format layout or data tables appropriately for accessibility by screen readers and other special browsers.
Format and present content clearly with content chunking, headings, skip links, consistent design, and other techniques.
Use online and downloadable services to test the accessibility of a site at various conformance levels.
Utilize thorough testing and checkpoint techniques to correct accessibility hurdles on existing Web sites.
Course Registration
Interested in this course? Scheduled and self-paced enrollment options are available. Ask Admissions about taking this course as part of a degree or certificate program.
Course Level
Classes start
Registration Fee
Technology Fee
Tuition
Degree course
1.5-credit course, 7 weeks
Jan, May, Aug
$200
$50/semester
$490/credit
Vocational course
30 hour course, 3 months access
Enroll today, start tomorrow
$50
$25/course
$619
* Registration fees are nonrefundable after 5 days from enrollment. All tuition includes a digital materials fee for updates to course or program content.
Software and Supplies
To take this course you'll need:
Computer with Internet connection.
Web hosting account for posting site projects. (Free options are available.)
Experience in hand-coding in HTML and CSS and/or using Adobe Dreamweaver..
Course developed by Molly Holzschlag
The instructors have top credentials and experience and are always there to offer a new perspective, as well as valuable coaching and mentoring. - Myriam Keaton, Associate Degree in Graphic Design.
Enrolling online is easy and convenient.

Chat with our knowledgeable admissions staff to select course and program options.

Complete your registration entirely online.
Did you know? You can take this course as part of an award-winning certificate or degree program.