Online Advanced 2D Animation Course
Animate II
Adobe Animate offers digital artists an opportunity to create engaging 2D character animation. In this online advanced 2D animation course you'll learn techniques to animate characters, objects, anything. Working with a pro animator, you'll learn how to develop characters with convincing poses, preparing them for animation, and adding facial expressions, 3D effects, and walk cycles. You'll create a 30-second animated scene starting with a storyboard and ending with a finished product with a soundtrack.
Shoot your movies with Animate
Master character animation techniques for Adobe Animate
Instructor-Led Course
Feedback from design professionals
Creative Projects
Stretch your skills, grow your portfolio
Learn at Your Own Pace
Self-paced and scheduled programs available
Course Outline
Preview course topics and assignments.
1 - Character Design
Do you know why Yogi Bear wears a tie? Or why Scooby Doo wears a collar? Lesson One focuses on the art of drawing simple but compelling characters and preparing them for animation. You'll start with an introduction to the many applications for Adobe Animate. Then you'll explore how Brush, Pen, Shape, and Onion Skin tools, together with symbols, can be used to draw effective characters. Students with digital drawing tablets will learn to use them in conjunction with Animate. Then you'll learn how to clean up your sketches and manage your artwork using timeline and library features.
Project - Create a character
2 - Character Animation
To add life to your characters, you must give them expression. Lesson Two looks at some classic approaches to giving animated characters expression and emotion. The mechanics of eye movements, blinking, talking, and making gestures are explored, together with efficient ways to achieve those effects, such as nested animations. Throughout, the emphasis is on creating a convincing animation by hinging body parts, smooth tweening, and easing in and out.
Project - Character expressions
3 - Characters in Motion
Animate provides multiple options for moving your animated character around the stage. Lesson Three explores the critical issue of how and when to tween, and when to animate frame-by-frame. Case studies explore various approaches to the "walk cycle" of a character, breaking down the independent motion of different body parts for a convincing effect. You'll look at how to create the illusion of motion in 3D perspective, and edit frame-by-frame motion using the Onion Skin feature.
Project - Walk cycle
4 - Motion Effects
In animation, there's always more to motion than meets the eye. Animators use various classic motion effects as a short-hand for acceleration, collision, turning corners, and more. Lesson Four explores how these techniques can be created in Animate, by using motion blurs, selective animation, and speed lines. A case study looks at the challenge of squashing and stretching, a phenomenon long familiar to Road Runner fans.
Project - Motion studies
5 - Sounds and Storyboards
At this point in the course, you're ready to plan and sketch a short animated scene. How does a pro animator prepare a sequence? Lesson Five discusses approaches to writing a story, sketching and animating a storyboard in Animate, and planning your "camera" shots and techniques. You'll also review how a classic Bugs Bunny cartoon approaches storytelling and how to incorporate sound in your movie.
Project - Animated storyboard
6 - Animated Sequences
Now you're ready to finalize and launch your 30-second animation in Animate. Pixar, look out! Lesson Six explores turning your animated storyboard into a fully featured animation. You'll look at different ways of using your animation skills to make your character interact with other characters or objects. Finally, you'll examine some additional character animations for inspiration and a professional perspective.
Project - Final movie
Course Objectives
Building skills? Here's an overview of what you'll learn in this course:
Plan an animated character with the potential for interesting animation and movements.
Use Animate drawing tools, onion skinning, symbols, and layers to design a character and prepare it for animation.
Create a series of communicative facial expressions and use symbols to manage and animate them efficiently.
Create believable mouth shapes to correspond with vocal sounds, and sync animated mouth shapes to vocal sounds.
Hinge the body parts of animated characters and animate them with tweens and frame-by-frame animation to achieve convincing movement.
Use the "2.5D effect" to apply realistic three-dimensional movement to a two-dimensional character.
Apply blurring, selective animation, speed lines, and squash/stretch effects to add convincing or exaggerated motion to characters and objects.
Tell a compelling story with animation and plan it effectively using storyboards and animatics.
Sync an animated story to a soundtrack and sound effects.
Incorporate advanced animation effects and interaction with props while polishing and finalizing a short animated Animate movie.
Course Registration
Interested in this course? Scheduled and self-paced enrollment options are available. Ask Admissions about taking this course as part of a degree or certificate program.
Course Level
Classes start
Registration Fee
Technology Fee
Tuition
Degree course
3 credits, 15 weeks
Jan, May, Aug
$200
$50/semester
$475/credit
Vocational course
60 clock hours, 3 months access
Enroll today, start tomorrow
$50
$25/course
$534
* Registration fees are nonrefundable after 5 days from enrollment. All tuition includes a digital materials fee for updates to course or program content.
Software and Supplies
To take this course you'll need:
A computer with Internet connection (broadband recommended).
Adobe Animate CC2015.
Basic experience in the above software.
Digital drawing tablet (such as a Wacom tablet) recommended but not required.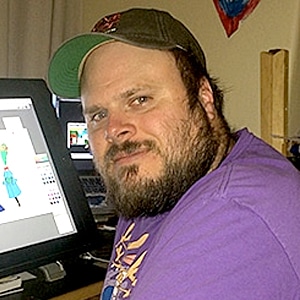 Bill Drastal
is a cartoonist and animator with game industry experience.
Course developed by Chris Georgenes
Student Feedback
The instructors have top credentials and experience and are always there to offer a new perspective, as well as valuable coaching and mentoring. - Myriam Keaton, Associate Degree in Graphic Design.
Getting Started
Enrolling online is easy and convenient.

Chat with our knowledgeable admissions staff to select course and program options.

Complete your registration entirely online.
Related Programs
Did you know? You can take this course as part of an award-winning certificate or degree program.