Online Advanced InDesign Course
InDesign II
Digital publishing and layout involves working with huge documents (books, magazines, reports, and more) packed with text and graphic content. In this advanced online InDesign course, you'll learn to customize InDesign for maximum efficiency, collaborate effectively with your printer, use advanced typography and drawing features, manage printing of transparency and trapping, use plug-ins and scripts, create interactive PDFs, and more.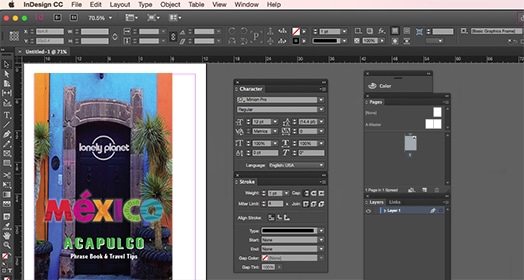 Take your publishing productivity to the next level with InDesign
Instructor-Led Course
Feedback from design professionals
Creative Projects
Stretch your skills, grow your portfolio
Learn at Your Own Pace
Self-paced and scheduled programs available
Course Outline
1 - InDesign Workflow
No two designers work in InDesign the same way—different projects and designers demand different workflows. The course kicks off with a detailed look at preferences and customization features, helping you make InDesign work for your specific needs. Techniques for managing layers, snippets, keyboard shortcuts, colors, and file imports are covered.
Project - Brochure design
2 - Typography, Color, and Collaboration
The bulk of an InDesign user's job centers on working with typography. In this lesson, you'll learn how to apply reusable paragraph and character styles, use the Adobe Paragraph Composer, manipulate typography features, create lists, and correctly use tabs and indents. You'll also look at the printing process and how to manage projects using Adobe Bridge and Version Cue. Show your versatility and type prowess in the exercise by creating a small newspaper ad and a large magazine ad for a travel company.
Project - Ad designs
3 - Layers and Paths
Lesson Three introduces you to a wide range of specialty options in InDesign, starting with an overview of layer and path features to enhance your designs. You'll learn to make compound paths, manage and customize the Story Editor, and create special symbols (like fractions and currency symbols). Finally, you'll learn to expand InDesign's functionality by adding plug-in software.
Project - Travel phrasebook
4 - InDesign Details
They say "the devil's in the details" but InDesign has some tricks for working with the nitty-gritty that are heaven sent. Drawing features including fine path controls and the Pathfinder panel are covered, and you'll learn how to create special type, stroke, and rule features. Gradients and transparency are discussed in detail, including important tips for printing these effects, and file output processes and file export formats are also covered.
Project - Promotional design
5 - Interactive Design
InDesign does more than print documents—this lesson introduces you to the many interactive features you can add to your PDFs. Presentations and Web documents are addressed, and you'll explore how to create working hyperlinks, navigation buttons, and develop branching and sequential navigation schemes. In addition to working with interactive techniques, you'll learn tips on designing effective interactive pieces. Exercise Five tests your interactive abilities with a simple interactive newsletter and a complex portfolio presentation.
Project - Interactive newsletter
6 - Advanced Functionality
InDesign has plenty of power hidden away, and this lesson explores some of the productivity gems that not all designers have discovered. First up are nested styles which make the formatting of callouts and complex documents a breeze. After trying out nested styles, you'll take a fresh look at transparency and ways to manage the Transparency Flattener and printing. The course wraps up with a look at applying special scripts that enhance the functionality of InDesign by adding features that save time. These skills prepare you the final exercise: a set of presentation materials to complement your portfolio.
Project - Pitching your work
Course Outcomes
Students in this course can expect to learn to:
Customize InDesign preferences to suit individual needs and implement time-saving work strategies.
Utilize specialized type controls including the Paragraph Composer, nested styles, glyphs, and type on a path.
Calibrate monitors and set up printers for optimal color presentation and printing.
Collaborate effectively with printers and manage projects with Adobe Bridge and Version Cue.
Create customized paths and compound paths for advanced drawing needs.
Manage large passages of text with the Story Editor and Find/Change features.
Manage the advanced printing needs of transparency, gradients, and trapping.
Create interactive documents and presentations using links and other navigational features.
Design efficient and effective print documents and interactive PDFs.
Install plug-in software and scripts to extend the functionality of InDesign.
Course Registration
Interested in this course? Self-paced enrollment options are available.
Course Level
Classes start
Registration Fee
Tuition
Vocational course
60 hour course, 3 months access
Enroll today, start tomorrow
$50
$949
* Registration fees are nonrefundable after 5 days from enrollment. All tuition includes a digital materials fee for updates to course or program content.
Software and Supplies
To take this course you'll need:
Computer with Internet connection.
Adobe InDesign CS5 or CS6.
Adobe Photoshop and Illustrator or equivalent programs.
Experience in graphic design and the above software.
Course developed by John Feld
Enrolling online is easy and convenient.

Chat with our knowledgeable admissions staff to select course and program options.

Complete your registration entirely online.
Did you know? You can take this course as part of an award-winning certificate or degree program.