Online Advanced Maya Course
Maya II
Maya opens up a world of limitless 3D possibilities for video game artists. In this online advanced Maya course, you can take your basic modeling and animation skills to an advanced level, learn how to model with NURBS and subdivision surfaces, create a character skeleton and rig, loop animation cycles, make characters interact with their environments, add special effects using textures and dynamics, and more.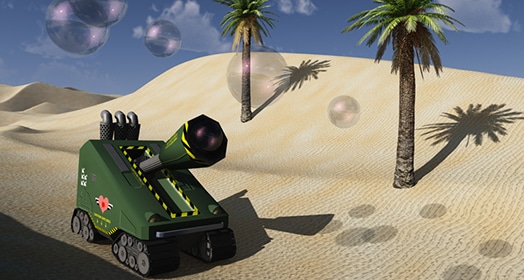 Advanced 3D modeling and effects with Autodesk Maya
Instructor-Led Course
Feedback from design professionals
Creative Projects
Stretch your skills, grow your portfolio
Learn at Your Own Pace
Self-paced and scheduled programs available
Course Outline
Preview course topics and assignments.
1 - More Modeling Mojo
Polygons are great, but there's much more to modeling than this basic geometry. Your first lesson begins with a look at NURBS, the perfect choice for smooth, precision objects. You'll learn a variety of methods for creating NURBS curves and surfaces, including revolves, lofts, birails, and trims. Subdivision surfaces, a cousin of polygons, are also explored to help you get extra detail in your models. An additional focus is strategies for quality, efficient modeling.
Project - Character modeling
2 - Bones, Deformations, Skinning, and Other Unpleasant Things
Without bones, a character can't move... and without motion, you don't have much of a game. This lesson introduces you to the concept of rigging a character, beginning with giving it a skeleton of joints. You'll learn to bind the skeleton to a character model, and how to apply weight to your mesh for proper deformation when the character moves.
Project - Character skeleton and weighting
3 - Constraints, Connections, and Rigging
Our bodies have certain rules for how we can bend and move, but at this stage, our 3D characters don't. Lesson Three introduces constraints and connections as ways to limit a character's movement to a realistic range of motion. You'll learn how to use the Connection Editor and other Maya features to make this happen, and explore the concepts of forward and inverse kinematics. The lesson wraps up with a look at creating a usable rig interface that makes the animator's job easy.
Project - Character rigging
4 - Animation and Cycles
All the character rigging done in previous lessons leads up to the important task of animating. Lesson Four is all about animating a character, going beyond basic keyframing to explore the concepts of straightforward animation and non-linear animation. You'll learn to create character sets to enable efficient straightforward animation and use the Trax Editor to make cycles and loops for non-linear animation. Most importantly, you'll explore methods for making your character interact with objects in the environment: picking up things, dropping things, and more.
Project - Character animation
5 - Bells and Whistles - Special FX
Special effects can be the hallmark of a fun game, and are fun to produce too. Many effects start with textures, so this lesson begins with some texturing tricks you can use to create lasers, swirling effects, glows, and much more. You'll learn how to produce these using layered and combined textures as well as animated textures. Then you'll turn your attention to Dynamics—highly technical tools you can use to create smoke, fire, and other advanced effects using particles, emitters, and fields.
Project - Texture and dynamic effects
6 - Rendering, Lighting, and Putting It All Together
By Lesson Six, you've learned a great deal about the modeling, character building, and animation components that make for solid, professional work. The final lesson focuses on finalizing your work with high quality lighting, shadows, and renders. You'll learn about light linking, light effects, raytraced shadows, depth map shadows, and a workflow for dealing with your scene's lighting needs. Then you'll go beyond the basic renders you've used up to this point, using special render options and layered renders for more complex output.
Project - Maya showcase
Course Objectives
Building skills? Here's an overview of what you'll learn in this course:
Create objects using NURBS and subdivision surfaces and choose the appropriate geometry type for a 3D model.
Use a range of methods for creating NURBS surfaces including revolves, lofts, birails, and trims.
Create a skeleton of joints for a character that allows for accurate motion.
Bind a character to a skeleton and weight it for accurate deformation.
Develop constraints and connections on objects and learn how to manage forward and inverse kinematics.
Apply straightforward animation and non-linear animation techniques using character sets and the Trax Editor.
Create animations in which characters interact with environmental objects realistically.
Use animation and textures to create complex special effects including glows and lasers.
Apply Maya Dynamics to create particle emission effects, fire and fluid effects, and other complex environmental effects.
Use light types, light linking, raytracing, and depth maps to create lighting and shadows.
Create advanced renders, layered renders, and post-processing effects to complete a scene.
Course Registration
Interested in this course? Self-paced enrollment options are available.
Course Level
Classes start
Registration Fee
Technology Fee
Tuition
Vocational course
60 hour course, 3 months access
Enroll today, start tomorrow
$50
$25/course
$534
* Registration fees are nonrefundable after 5 days from enrollment. All tuition includes a digital materials fee for updates to course or program content.
Software and Supplies
To take this course you'll need:
Computer with Internet connection (broadband recommended).
Autodesk Maya and Adobe Photoshop.
Basic experience in the above software.
Three button mouse required for PC users, recommended for Mac users.

Nat Stein
is a 3D artist, writer, and Maya expert.
Course developed by Nat Stein
Student Feedback
The instructors have top credentials and experience and are always there to offer a new perspective, as well as valuable coaching and mentoring. - Myriam Keaton, Associate Degree in Graphic Design.
Getting Started
Enrolling online is easy and convenient.

Chat with our knowledgeable admissions staff to select course and program options.

Complete your registration entirely online.
Related Programs
Did you know? You can take this course as part of an award-winning certificate or degree program.