Online Basic Illustration Course
Digital Illustration I
Creating illustrations in Adobe Illustrator can be fun or frustrating, depending on how you approach it. In this online basic digital illustration course, you'll discover professional illustration techniques for creating great-looking artwork using deceptively simple elements. Working with a veteran illustrator, you will be guided through every step of illustration projects that get your creative juices flowing. Creative class projects include still life illustrations, editorial art/brand logos, and character illustrations.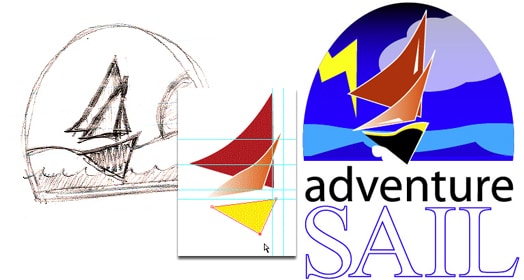 Navigate your illustration projects
Workshop on illustration with Adobe Illustrator
Instructor-Led Course
Feedback from design professionals
Creative Projects
Stretch your skills, grow your portfolio
Learn at Your Own Pace
Self-paced and scheduled programs available
Course Outline
1 - Illustration Tools
Lesson One introduces you to essential tools for illustration using a still life study. In a hands-on lecture, you'll learn how to draw three-dimensional shapes using ellipses (circles and ovals), rectangles and squares, and triangles. You'll explore how to use solid and gradient fills to add color and perceived depth. Finally, you'll learn how to spray, size, and rotate symbols to create repeated elements.
Project - Stylized illustration
2 - Telling a Story
As a designer and illustrator, it's your job to break down what you see into forms you can use in your drawing. Lesson Two explores the challenge of creating an illustrated scene that tells a story. You'll learn how to create depth and drama using two-dimensional shapes, starting from a pencil sketch. You'll explore how to add curves to shapes using the Pen tool and Bezier curves, as well as use masks to frame a composition. Using text as a graphic element will also be examined.
Project - Storytelling illustration
3 - Building a Character
In Lesson Three, you'll learn techniques for drawing or assembling character portraits, a common challenge for any illustrator, digital or traditional. First you'll study the classic proportions of the face, looking at how to place and size different features. Next, you'll explore how to communicate facial expressions and moods using highlights and accents, and sometimes by just rotating or moving the odd shape or two. It's all about giving your characters features with flair.
Project - Character expression
Course Outcomes
Students in this course can expect to learn to:
Create still lifes, editorial art/brand logos, and character portraits in Illustrator.
Create artwork from basic shapes, symbols, gradients, fill colors, symbols.
Create depth and shadow effects to give artwork a three-dimensional quality.
Spray, size, and rotate symbols to create repeated elements.
Integrate pencil sketches into the digital illustration process.
Add curves to shapes using the Pen tool and Bezier curves.
Use clipping masks to frame a composition.
Work with text as a graphic element.
Set up a template for a drawing project.
Draw character art following the basic proportions of the human face.
Apply simple techniques for drawing each part of the human face.
Course Registration
Interested in this course? Scheduled and self-paced enrollment options are available. Ask Admissions about taking this course as part of a degree or certificate program.
Course Level
Classes start
Registration Fee
Tuition
Degree course
1.5-credit course, 7 weeks
Jan, Apr, Aug
$200
$510/credit
Vocational course
30 hour course, 3 months access
Enroll today, start tomorrow
$50
$619
* Registration fees are nonrefundable after 5 days from enrollment. All tuition includes a digital materials fee for updates to course or program content.

Software and Supplies
To take this course you'll need:
Computer with Internet connection.
Adobe Illustrator CS6 or CC.
Basic experience in drawing and the above software.
Course developed by Andrew Shalat
Enrolling online is easy and convenient.

Chat with our knowledgeable admissions staff to select course and program options.

Complete your registration entirely online.
Did you know? You can take this course as part of an award-winning certificate or degree program.