Online E-Commerce Course
E-Commerce
Shopping at Amazon may be easy, but building an e-commerce Web site is a serious challenge. What with business plans, technology, hosting, architecture, accounting, shopping cart, security, and legal issues, it's no wonder most designers leave e-commerce Web design to the pros. In this online e-commerce course, you'll learn essentials of e-commerce Web site creation including design techniques, shopping cart and credit card options, and more. You'll create a basic, functioning e-commerce site and learn how to create online shops for small business clients. Class projects guide you step by step through the design and business decisions that are critical to success.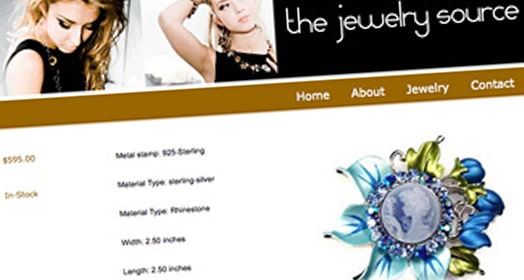 Learn the fundamentals of e-commerce site design
Instructor-Led Course
Feedback from design professionals
Creative Projects
Stretch your skills, grow your portfolio
Learn at Your Own Pace
Self-paced and scheduled programs available
Course Outline
1 - Defining the Project
So you want to build an e-commerce site—what's your plan? In e-commerce development, planning can spell the difference between a total success and a train wreck. Lesson One explores the essentials that every e-commerce developer needs to consider at the get-go. Topics discussed include business planning, site audience research, technology and hosting options, budgeting, and staffing up for team-based development.
Project - Statement of intent, business plan
2 - Organizing Content
E-commerce sites are built from certain fundamental components that every project must consider and address. Lesson Two explores the business and content decisions you need to make throughout your site. The home page is of course key to defining your business, welcoming your visitors, and driving them smoothly toward a purchase. But you'll also learn the strategic issues for your site's about page, contact page, product pages, and more , with attention to important visual design concerns.
Project - Banner graphics and site copy
3 - Designing for E-Commerce
Now that you've addressed key content and business decisions, you're ready to hone your site's architecture and continue working on the visual design. Lesson Three addresses the usability factors that make e-commerce happen. Streamlining your site architecture prevents confusion and promotes easy browsing. Visual design and color choices must support clear navigation and instill customer confidence. Deft use of typography, product images, and copywriting must create the environment for an informed purchase.
Project - Online storefront
4 - Shopping Cart Logic
There's more to life than shopping, but not much. Lesson Four explores the many options for setting up a shopping cart at your e-commerce site. You'll look at free and open source tools, commercial out-of-the-box products, hosted solutions, and purchasing vendors.
Project - Shopping cart
5 - Merchant Accounts
Choosing a merchant account for your site can be a thorny business, but essential for handling online transactions. Lesson Five looks at how to select a merchant account. You'll learn about the pros and cons of traditional versus online merchant accounts, and where to find them. You'll explore alternative accounts including PayPal and check and cash services.
Project - Merchant account planning
6 - Fulfillment and Customer Service
Your site's done, now what? Lesson Six looks at the issues of order fulfillment and customer service that are critical to any e-commerce site's long-term success. You'll learn how to provide timely order fulfillment, and what customer service policies and processes to put in place before your site goes live. You'll wrap up with a look at some of the marketing and strategic planning issues to consider so that your site continues to thrive and grow.
Project - Customer fulfillment
Course Objectives
Students in this course can expect to learn to:
Develop an understanding of how to define an e-commerce project, including defining your site's intent, budget, staffing, target audience, and hosting.
Write a site plan that includes company description, statement of intent, products and services, technology and hosting, staffing, and general budget.
Develop an understanding of the major goals for the primary pages of an e-commerce site, including the home page, about page, product page, and contact sections.
Write text content for the main areas of a site, including the home page, about page, product page, and contact sections.
Develop an understanding of standard approaches to structuring, designing, and producing content for an e-commerce site.
Design appropriate color schemes, typography, layout, graphics, and navigation schemes for an e-commerce site based on e-commerce design principles.
Develop an understanding of how shopping carts and inventory databases operate and what users expect from shopping carts.
Configure a free shopping cart for site visitors and add it to an e-commerce site.
Develop an understanding of different business account options used by e-commerce sites, including merchant accounts and alternative payment systems.
Research different business account options used by e-commerce sites, assessing the costs and features of each plan.
Develop an understanding of the importance of order fulfillment and customer service to customer retention and marketing.
Plan a customer service and order fulfillment strategy for an e-commerce site.
Course Registration
Interested in this course? Self-paced enrollment options are available.
Course Level
Classes start
Registration Fee
Technology Fee
Tuition
Vocational course
60 hour course, 3 months access
Enroll today, start tomorrow
$50
$25/course
$949
* Registration fees are nonrefundable after 5 days from enrollment. All tuition includes a digital materials fee for updates to course or program content.
Software and Supplies
To take this course you'll need:
Computer with Internet connection.
Experience designing Web pages with HTML and CSS.
Web hosting account (free options are available) and experience FTPing files to the Web
Course developed by Molly Holzschlag
Kristen was a great instructor, I greatly appreciated her help and feedback.
Wanda Becker, Web Design Certificate
Enrolling online is easy and convenient.

Chat with our knowledgeable admissions staff to select course and program options.

Complete your registration entirely online.
Did you know? You can take this course as part of an award-winning certificate or degree program.