Online Game Lighting Course
Game Lighting and Color
Lightness and darkness are constantly battling for their place in the world. Who'll win? As a lighting artist, you decide. In this online game lighting course, you'll master the basic vocabulary, tools, and controls used to produce lighting effects in 3D imaging programs like Autodesk Maya. You'll tackle the advanced shading and texturing techniques that can bring realism or depth to surfaces. Six challenging exercises will test your lighting technology skills and your creative approach.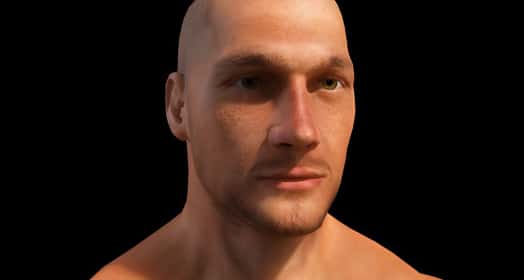 Character designed, lit, and shaded by course developer Jesse Brophy
Make your game art come alive using pro lighting techniques
Instructor-Led Course
Feedback from design professionals
Creative Projects
Stretch your skills, grow your portfolio
Learn at Your Own Pace
Self-paced and scheduled programs available
Course Outline
Preview course topics and assignments.
1 - The Purpose of Lighting
The many uses of light and color are explored in this introductory lesson. You'll learn how lighting can be applied and manipulated to define the shape and structure of objects in a game environment, and the techniques that help indicate time of day in outdoor scenes. Direction and intensity are introduced as methods for shaping the emotion of characters.
Project - 3D lighting analysis
2 - Components of a Light
The range of lighting types you'll find in Maya and other 3D tools can be overwhelming. Lesson Two helps you make sense of ambient, directional, spot, and point lighting, as well as many of the controls that accompany each type. Working hands-on in Maya, you'll apply color, shadow, intensity and other attributes to modify the mood and depth of objects.
Project - Lighting types
3 - The Power of Color
Light and color go hand in hand in 3D video games, and color makes a powerful impact on the gameplay experience. This lesson begins with an overview of color as it applies to light and 3D environments, and how to select harmonious colors for your game scenes. The effects of warm and cool colors and other mood-defining color schemes are explored.
Project - Light and color
4 - Shaders and Light
At this stage, you'll have a good feel for controlling the color and light of a scene, so Lesson Four will take it to the next level of realism with the introduction of shaders. Shaders define how an object interacts with the lighting, and are critical to a life-like game environment. You'll explore the many ways light interacts with materials (such as through reflection, gloss, and falloff) and try them in Maya.
Project - Manipulating shaders
5 - Using Textures to Manipulate Shaders
Shaders alone do a lot to give a realistic feel to various materials, and adding textures to the mix gives them even more impact. You'll learn to create interesting texture tiles in this lesson and apply them to your shaders to create glossy surfaces, wrinkly skin, transparent areas, and more. You'll also learn about the size and quality compromise that is often encountered in texture design.
Project - Texturing and shaders
6 - A Look Behind the Curtain
The world of video game lighting is not without its limitations, and you'll learn in this lesson how the pros approach constraints like memory limits and older platforms. A variety of techniques will be explored so you can work around these hurdles, and you'll look at new technologies that will shape the future of game lighting.
Project - Two lighting setups
Course Objectives
Building skills? Here's an overview of what you'll learn in this course:
Simulate different lighting conditions and times of day using lighting techniques.
Apply basic three-point lighting techniques and use shadows and highlights to affect emotion.
Apply ambient, directional, spot, and point lights in Maya and modify their controls for position, intensity, and color.
Apply maps and raytracing to create accurate shadows.
Develop color schemes that are harmonious and set the mood of a game scene.
Choose colors based on how they interact with lighting and objects.
Develop and apply shaders that create realistically lit surfaces with color, gloss, reflection, and other characteristics.
Design texture tiles and apply them to shaders to create more realistic surfaces.
Use different texture types and "normal maps" to create large amounts of surface detail.
Work around the limitations of game processors and memory using light maps and vertex colors.
Work within a game design team, referring to a design document to plan lighting needs.
Light a complete game scene including all objects within it using shaders, textures, and a design document.
Course Registration
Interested in this course? Self-paced enrollment options are available.
Course Level
Classes start
Registration Fee
Technology Fee
Tuition
Vocational course
60 hour course, 3 months access
Enroll today, start tomorrow
$50
$25/course
$534
* Registration fees are nonrefundable after 5 days from enrollment. All tuition includes a digital materials fee for updates to course or program content.
Software and Supplies
To take this course you'll need:
Computer with Internet connection (broadband recommended).
Autodesk Maya and Adobe Photoshop.
Basic experience in the above software.
Three button mouse required for PC users, recommended for Mac users.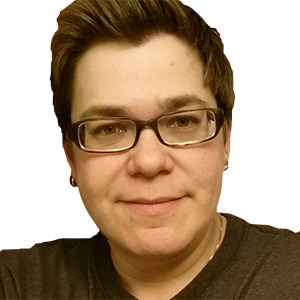 Jennifer Gutterman
is a 3D artist, concept designer, and educator.
Course developed by Jesse Brophy
Student Feedback
The instructors have top credentials and experience and are always there to offer a new perspective, as well as valuable coaching and mentoring. - Myriam Keaton, Associate Degree in Graphic Design.
Getting Started
Enrolling online is easy and convenient.

Chat with our knowledgeable admissions staff to select course and program options.

Complete your registration entirely online.
Related Programs
Did you know? You can take this course as part of an award-winning certificate or degree program.