Online Photoshop Game Art Course
Photoshop for Game Artists
Game artists rely on Adobe Photoshop for concept art, textures, and lots more. Learn how to maximize your Photoshop skills to create quality game art pieces. In this online Photoshop game art course, you'll learn tricks of the trade for coloring concept art, creating tiling textures, painting environments, working with texture maps, and even texturing characters. A wide range of Photoshop tools and techniques will be explored, such as vector shapes, custom brushes, time-saving actions, and layer masks. As you work, you'll test your Photoshop art in Maya.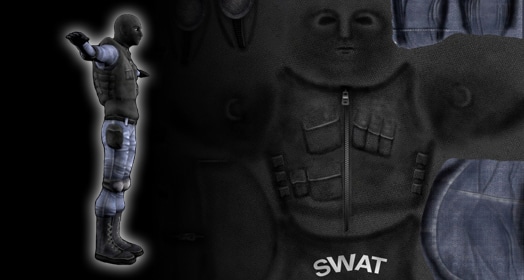 Texture art for a 3D model
Photoshop techniques for video game art projects
Instructor-Led Course
Feedback from design professionals
Creative Projects
Stretch your skills, grow your portfolio
Learn at Your Own Pace
Self-paced and scheduled programs available
Course Outline
Preview course topics and assignments.
1 - Fundamentals of Photoshop and Gaming
Lesson One kicks off the course with a look at Photoshop's role in the game development workflow. Concept art and textures are explored, and you'll study essential elements of game art including composition, color, and perspective. In the exercise, you'll use Photoshop to analyze video game character and scene art. You'll also create your first Photoshop action of the course to increase your productivity.
Project - Art analysis
2 - Working with Line Art
Every great game starts with a concept, and in this lesson you'll learn how to work with concept art in detail. Line art and sketches are explored, from initial scanning to painting with a range of Photoshop Pen tool, brush, and edge techniques.
Project - Character art
3 - Tiling Textures
Ground and environment textures that repeat, or tile, are essential to the efficiency of any game. In Lesson Three, you'll explore how to create tiling textures from reference images and brushes, and how to make them repeat seamlessly over a 3D model.
Project - Tiling textures
4 - Painting Textures for an Environment
Lesson Four focuses on custom textures that make up a game environment's non-interactive scenery. You'll learn how 2D custom textures are applied to 3D environments and how to work with reference images.
Project - Image painting
5 - Painting a UV Template
A UV map determines how a 2D image wraps around a complex 3D model. In this lesson, you'll learn how to work with a UV map template step by step, painting all of the art needed to texture a game weapon. You'll also test out the texture on its corresponding 3D model.
Project - UV map painting
6 - Painting a Texture Map for a Character
Characters can be the most complex and essential parts of a game, and in Lesson Six the focus is on creating detailed character textures. You'll learn how to create the face, body, and skin of a character on a UV map, working from reference images and using a variety of Photoshop features.
Project - Texturing a character
Course Objectives
Building skills? Here's an overview of what you'll learn in this course:
Develop an understanding of Photoshop's role in creating game art and texture maps.
Analyze composition, color, perspective, and other art elements in video game images.
Learn to digitize and color line art and develop an understanding of the role of line art and concept art in the game development process.
Use Photoshop brushes to paint concept art and textures.
Maximize the game art workflow using Photoshop actions.
Create basic tiling textures for terrain and buildings using reference imagery and brushes.
Develop an understanding of the role of custom textures applied to 3D models.
Create custom textures for a game art environment and create 3D texture effects.
Develop an understanding of UV textures and how they map 2D textures to 3D objects.
Use a UV template to add Photoshop art to a 3D weapon model.
Paint a detailed character texture including clothing, skin, and facial features.
Course Registration
Interested in this course? Self-paced enrollment options are available.
Course Level
Classes start
Registration Fee
Technology Fee
Tuition
Vocational course
60 hour course, 3 months access
Enroll today, start tomorrow
$50
$25/course
$534
* Registration fees are nonrefundable after 5 days from enrollment. All tuition includes a digital materials fee for updates to course or program content.
Software and Supplies
To take this course you'll need:
Computer with Internet connection (broadband recommended).
Adobe Photoshop CS6 or CC and basic experience in Photoshop.
Autodesk Maya.
Computer that meets the Autodesk Maya system requirements.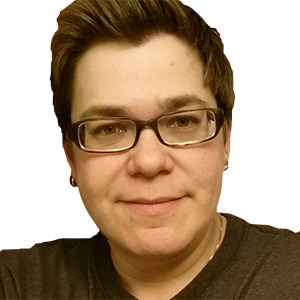 Jennifer Gutterman
is a 3D artist, concept designer, and educator.
Course developed by Todd Gantzler
Student Feedback
The instructors have top credentials and experience and are always there to offer a new perspective, as well as valuable coaching and mentoring. - Myriam Keaton, Associate Degree in Graphic Design.
Getting Started
Enrolling online is easy and convenient.

Chat with our knowledgeable admissions staff to select course and program options.

Complete your registration entirely online.
Related Programs
Did you know? You can take this course as part of an award-winning certificate or degree program.