Online Portfolio Design Course
Web Portfolio Design
You're a designer, and you're good at designing. But design skills are one thing, and selling these skills is another story entirely. This online portfolio design course provides a practical guide for designers who want to showcase their work to potential clients via the Internet. You'll learn how to identify your strengths and weaknesses as a designer, selecting works that best highlight your talents. Through feedback and critique from a professional Web designer, you'll be guided through the process of creating and publishing your own online portfolio.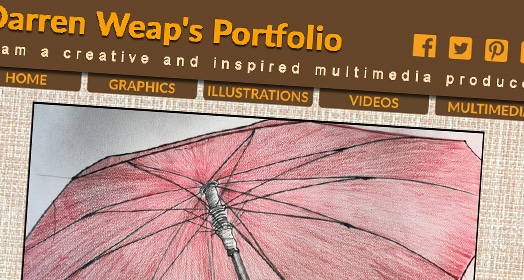 A step-by-step guide to creating your online portfolio
Instructor-Led Course
Feedback from design professionals
Creative Projects
Stretch your skills, grow your portfolio
Learn at Your Own Pace
Self-paced and scheduled programs available
Course Outline
1 - Planning Your Portfolio
Your portfolio site is a reflection of your professional identity, and is often the first exposure a prospective client has to your work. In the first lecture, you will gain inspiration from professional designers and learn approaches for effective portfolio design and content selection. You'll conduct a personal assessment of your skills and goals and you will visualize your personal style through mood boards, all building up to creating your first page comps in the exercise.
Project - Portfolio planning
2 - Creating Your Portfolio
Lecture Two focuses on selecting pieces of work and building the Web pages needed to showcase them. You will explore means of choosing and categorizing your best work samples, learn how to write effective supporting text, and learn how to prepare your image files for optimal viewing. You'll then turn your attention to page building, constructing HTML- and CSS-based pages from your comps and following Web standards and best practices.
Project - Portfolio selections
3 - Finalizing and Promoting Your Portfolio
At this point in the course, you'll have a pretty clear idea of what your site will be like. You'll have decided upon your structure, work samples, explanatory text, and design. Polishing these features into an optimal working portfolio site and delivering it to the world is what Lecture Three is all about. You'll learn how to add search engine optimization techniques, create a social media and blog presence, and track your site's traffic.
Project - Portfolio launch
Course Outcomes
Students in this course can expect to learn to:
Incorporate research, personal style, career aspirations, and professional skill sets into a portfolio site plan.
Develop formal and informal mood boards to guide the portfolio site design process.
Apply best practice guidelines for layout, navigation, content selection, HTML and CSS coding, and file structure as they apply to portfolio Web sites.
Select portfolio work samples that reflect the goals of the designer and the portfolio site.
Effectively categorize work samples and apply navigation that allows for easy viewing of work samples.
Write effective supporting text to accompany portfolio work samples.
Create visual comps and polished drafts that guide development of the portfolio site pages.
Apply basic techniques for polishing site content and planning for future site expansion.
Use social media and blogging to build an interactive professional presence.
Apply basic search engine optimization and tracking techniques to build and improve the portfolio site's traffic.
Course Registration
Interested in this course? Self-paced enrollment options are available. Ask Admissions about taking this course as part of a degree or certificate program.
Course Level
Classes start
Registration Fee
Tuition
Vocational course
30 hour course, 3 months access
Enroll today, start tomorrow
$50
$619
* Registration fees are nonrefundable after 5 days from enrollment. All tuition includes a digital materials fee for updates to course or program content.
Software and Supplies
To take this course you'll need:
Computer with Internet connection.
Adobe Photoshop or equivalent program.
Adobe Dreamweaver or equivalent program and/or strong HTML and CSS coding skills.
Basic experience in the above software.
Course developed by Catherine George
Enrolling online is easy and convenient.

Chat with our knowledgeable admissions staff to select course and program options.

Complete your registration entirely online.
Did you know? You can take this course as part of an award-winning certificate or degree program.