Online Print Production Course
Print Production
For a novice designer, sending a job to the printer is a mysterious (and expensive) process of trial and error. To manage a print job effectively, you must understand how print shops work, how to communicate with them, and how to identify the best design solution for your budget. In this online print production course, you can learn the fundamentals of producing professional-looking print publications. Working with an expert instructor, you'll learn to choose papers and Pantone inks, modify your materials and processes based on a budget, use Adobe InDesign to prepare designs for print, manage the phases of the production workflow, and most importantly produce high-quality work.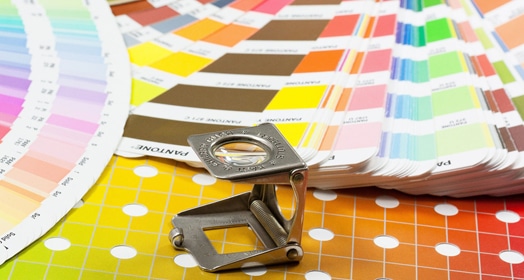 Manage your print jobs with confidence
A step-by-step guide to managing successful print jobs
Instructor-Led Course
Feedback from design professionals
Creative Projects
Stretch your skills, grow your portfolio
Learn at Your Own Pace
Self-paced and scheduled programs available
Course Outline
1 - Welcome to the Land of Print
Any time you work with a printer, you've just landed two jobs: designer and production manager. What's required? Lesson One provides a thorough overview of the print production process. You'll look at the steps for communicating print jobs from a client to a designer to a printer. You'll also gain a foundation in the materials and techniques used in print jobs, from basic paper and inks to offset lithography and a step-by-step look at prepress and finishing.
Project - Print scavenger hunt
2 - Software and Materials
With a foundation in printing processes in hand, Lesson Two takes you deeper into the techniques and materials used to create dazzling print jobs. You'll learn how and when InDesign, Illustrator, and Photoshop fit in to the process and you'll walk through a project that puts them all together. Special printing methods, such as digital offset and letterpress, are defined, as are methods of assembling and binding multi-page documents. Finally, you'll take a close look at papers and their specifications and methods of selecting spot colors, process colors, and varnishes.
Project - Postcard design
3 - Designer as Communicator
The designer is the shepherd of the entire print production process. In Lesson Three, the client-designer-printer triangle is explored in depth, detailing the creation of creative briefs, print specs, and the all-important budget. You'll learn how to tie quality, budget, and time together for an efficient and attractive product and how to choose the right printer for the job.
Project - Print job specs
4 - Designing Within Your Specs
Your creative brief and print specs get you nowhere without good design to back them up. Lesson Four focuses on translating your specs into real design using InDesign swatches, budget-friendly spot color tints, and image prep techniques in Photoshop. You will also explore some of the printing effects that can make a project really special, like embossing. You'll wrap up with a detailed case study of specs put into action for a budget- and eco-conscious annual report.
Project - Polished design
5 - Problem Solving and Tweaking
Print designers are flexible folk with good tolerance for change. In Lesson Five, common types of changes in a print job are defined, including budgetary changes and editorial changes. You will learn how to manage a print estimate and adjust for budget cuts, and you'll explore a creative case study that managed the budget effectively. You will also learn InDesign techniques for scrutinizing and polishing document text.
Project - Creative solutions
6 - Sending Your Design to Print
All done? Not until you prepare your print job for final production. Lesson Six covers the detail-intensive world of the preflight check and file preparation. You'll learn what items to examine and revise for hand-off to your printer, and you'll learn how to prepare a press-quality PDF and InDesign file package to send to print. The prepress and proofing processes are covered in detail so you'll know just what to look for in finalizing your jobs.
Project - Finishing touches
Course Outcomes
Students in this course can expect to learn to:
Identify the roles involved in print production and the step-by-step processes in managing a print project.
Identify steps of printing a commercial project using offset lithography.
Use InDesign, Illustrator, and Photoshop to effectively manage files in a print document.
Identify and select appropriate options for binding, inks, paper, varnishes, and special printing processes.
Choose spot colors, simulate spot colors with CMYK, and create color tints and mixed inks.
Write effective creative briefs and print specs that reflect client goals, printing requirements, scheduling, and budget constraints.
Locate and select appropriate local printers and online printers and solicit a print estimate.
Translate print specifications into a complete design using PANTONE swatches, color management, photo preparation, and print techniques including special effects.
Address client changes to the budget and to the content of a print job.
Reduce the cost of a print job by adjusting colors or materials.
Finalize text content using InDesign typography and character techniques.
Preflight a print project, checking for and resolving issues with color, files, and resolution.
Create packages and PDFs of print jobs to send to a printer.
Identify steps in the prepress, proofing, and press check processes involved in completing a print job.
Course Registration
Interested in this course? Scheduled and self-paced enrollment options are available. Ask Admissions about taking this course as part of a degree or certificate program.
Course Level
Classes start
Registration Fee
Tuition
Degree course
3 credits, 15 weeks
Jan, Apr, Aug
$200
$510/credit
Vocational course
60 clock hours, 3 months access
Enroll today, start tomorrow
$50
$949
* Registration fees are nonrefundable after 5 days from enrollment. All tuition includes a digital materials fee for updates to course or program content.
Software and Supplies
To take this course you'll need:
Computer with Internet connection.
Adobe InDesign, Photoshop, and Illustrator required. Adobe Acrobat recommended.
Basic experience in graphic design and the above software.
Course developed by Paul Halupka
Enrolling online is easy and convenient.

Chat with our knowledgeable admissions staff to select course and program options.

Complete your registration entirely online.
Did you know? You can take this course as part of an award-winning certificate or degree program.