Online Web Type Course
Web Typography
Crafting the experience of Web type remains the quiet bulk of a Web designer's work. In this online Web type course, you'll learn how to enhance your Web designs with the the latest techniques for styling, typesetting, and embellishing text. Working with a pro designer, you'll get up to speed on the latest in Web font options and how to use CSS font stacks. You'll study a mix of classic and cutting edge techniques to ensure on-screen readability and effective rhythm, including CSS3 effects and typography-driven information graphics.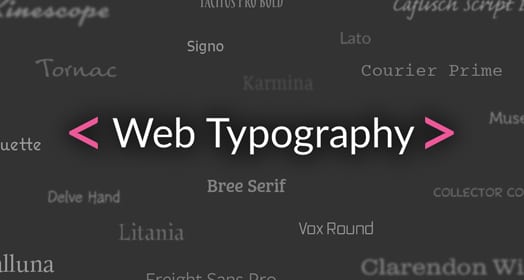 Explore new creative frontiers in Web typography
Instructor-Led Course
Feedback from design professionals
Creative Projects
Stretch your skills, grow your portfolio
Learn at Your Own Pace
Self-paced and scheduled programs available
Course Outline
1 - Web Fonts
As a designer, the right typography can help you visually communicate the voice of your written content. In this course, you'll learn how Web typography has evolved to give Web designers as much control over their type as print designers. In the first lecture, you will identify key differences between print and Web typography, apply best practices for CSS font stacks, and explore avenues for finding and implementing the right typefaces.
Project - Typeface research
2 - Typesetting
Lecture Two focuses on the art of typesetting. In this lecture, you will analyze the effects of font size, font measure, and line height on screen readability. You'll also explore different visual rhythms for text layout and discover how grid-based Web page layouts provide structure and unity.
Project - Web layouts
3 - Refinements and Embellishments
At this point in the course, you'll have a working understanding of fonts, typesetting, and layout techniques. Now, it's time to refine and embellish your typography to retain viewer attention. In Lecture Three, you'll use proper HTML5 semantics to mark up your text, and apply CSS3 effects to add shadows, transitions, and text transformations. You'll also explore how to use infographics to turn complex data into digestible stories.
Project - Article and infographic design
Course Outcomes
Students in this course can expect to learn to:
Identify key differences between print and Web typography.
Apply best practices for CSS font stacks and Web font options, including use of @font-face and Typekit.
Create an online presence for a print magazine with a new logo, Web fonts, and a "Style Tile" that communicates design goals.
Analyze how font size, measure, and line height affect readability on the screen.
Explore the effects of simple and complex visual rhythms for text layout.
Implement a grid-based layout for multiple devices using an existing grid framework.
Design and build page layouts for a print magazine's online presence using a pre-built CSS grid framework.
Enhance Web text and retain viewer attention with proper HTML5 semantics and CSS3 effects.
Combine text with information graphics to tell help users digest complex information.
Incorporate a grid layout, typographic embellishments, and an infographic into a longform article for an online magazine Web site.
Course Registration
Interested in this course? Scheduled and self-paced enrollment options are available. Ask Admissions about taking this course as part of a degree or certificate program.
Course Level
Classes start
Registration Fee
Tuition
Degree course
1.5-credit course, 7 weeks
Jan, Apr, Aug
$200
$510/credit
Vocational course
30 hour course, 3 months access
Enroll today, start tomorrow
$50
$619
* Registration fees are nonrefundable after 5 days from enrollment. All tuition includes a digital materials fee for updates to course or program content.

Software and Supplies
To take this course you'll need:
Computer with Internet connection.
Adobe Photoshop and Dreamweaver or equivalent programs.
Basic experience in the above software.
An account with a Web hosting service (free services are available).
Basic experience with HTML and CSS and familiarity with File Transfer Protocol (FTP) programs.
Course developed by Piper Nilsson
Enrolling online is easy and convenient.

Chat with our knowledgeable admissions staff to select course and program options.

Complete your registration entirely online.
Did you know? You can take this course as part of an award-winning certificate or degree program.