FOR IMMEDIATE RELEASE
Sessions College Design Team Receives Industry Recognition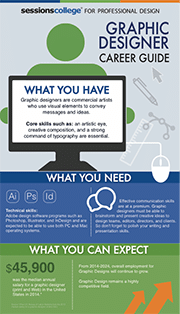 (Tempe AZ - June 20, 2016)
Sessions College has again demonstrated that it can "walk the walk" among the design industry with its most recent industry recognition, the GDUSA 2016 American Inhouse Design Award for Infographics. The awards recognize outstanding work by in-house designers, marketing and communications departments within corporations, publishing houses, non-profits, universities and government agencies. Sessions College has previously won two GDUSA awards for its web site design and for its use of animation in its marketing promotions.
The Sessions College infographic is a visual image that represents career information and serves as a guide to incoming and current students. Rather than a standard flyer or poster, Sessions College chose to produce a learning tool that is visually appealing and effectively communicates the description, requirements and expectations for a
graphic design career.
"As a school for designers by designers, it is important that our students are comfortable that what we teach is credible within the design industry," stated CEO Doris Granatowski. "The GDUSA recognition helps to prove our proficiency and validate our educational mission. It's great to again have earned this external validation for our internal design and marketing team."
About GDUSA

For more than 50 years, Graphic Design USA (GDUSA) has been a business-to-business information source for graphic design professionals. GDUSA covers news, people, project, trends, technology, products and services. The GDUSA brand now includes a 100,000 visitor-a-month website, a monthly e-newsletter, a digital version of the magazine formatted for desktop, tablet and phones, and several national design competitions that culminate in Annuals showcasing the best in Graphic Design, Inhouse Design, Web Design, Package Design, Healthcare Design, and Digital Design.
About Sessions College
Sessions College offers accredited visual arts online degree and certificate programs as well as individual courses. Its mission is to prepare art and design professionals for successful careers by providing the highest quality of online design education. Students gain a thorough training in the technical, creative, and critical-thinking skills that are required for a fast-changing industry.
Back to The Newsroom