Spring 2017 Online Degree Program Scholarships Announced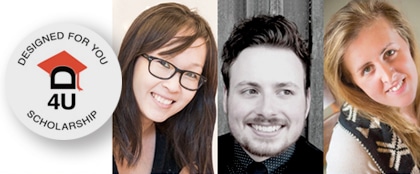 Tempe, AZ - March 13, 2017
Spring is a time for renewed optimism, a sentiment shared by three students pursuing new programs at innovative online school of visual arts Sessions College for Professional Design.
In keeping with its mission, Sessions College offers a unique degree scholarship program called Designed for You with six adult learner categories. Adult learners who fit classic online learner profiles including Career Changer, International Student, 24/7 Parent, Bridge Student, Entrepreneur, and First Generation student can benefit from scholarships up to $2,000.
The school has announced that three entering students received Designed for You scholarships for Spring 2017:
Shannon Ready – Associate Degree in Digital Photography
Luke Hostetler – Associate Degree in Web Design
Alexis Bartlett – Associate Degree in Graphic Design
The program is one way in which Sessions College strives to make creative career skills and credentials attainable for adult learners. Since 2014, Sessions College has been annually recognized by the Federal College Affordability and Transparency Center for providing among the most affordable programs in its category.
According to scholarship recipient and 24/7 Parent Shannon Ready: "The online degree program allows me to do something for myself by providing that flexibility of not being confined to a classroom." For the busy mother of four, the program provides an opportunity for educational advancement that helps the whole family: "While I am at home I know my children are watching me while 'mommy' is working on her assignments. I know I am setting a path and an example for their future. It is possible to pursue their degree while they are raising children, working full time, being an entrepreneur, and more."
"We're delighted to welcome these three talented students to the program," says Gordon Drummond, Sessions College President. "This scholarship program reaffirms our longstanding commitment to making a visual arts degree accessible to a broad range of adult learners."
About Sessions College
Sessions College offers accredited arts online degree and certificate programs as well as individual courses. Its mission is to prepare art and design professionals for successful careers by providing the highest quality of online design education. Students gain a thorough training in the technical, creative, and critical-thinking skills that are required for a fast-changing industry.
Back to The Newsroom