Online Web Design Degree
Associate Degree in Web Design
Web designers make information come alive on computers and mobile devices. In the Associate of Occupational Studies (AOS) in Web Design program, you'll get the thorough technical and visual design training you need to become a front-end Web Designer.
Prepare for this dynamic field by learning how to build and design responsive websites. Working on an exciting projects, you'll gain a strong technical foundation in web standard languages HTML, CSS, and JavaScript, as well as the popular frameworks Bootstrap and flexbox.
To give your sites polish and impact, you'll also gain a comprehensive training in Photoshop and Illustrator and the fundamentals of color, design, and typography. Studying entirely online, you'll prepare for professional Web design work with a rigorous curriculum.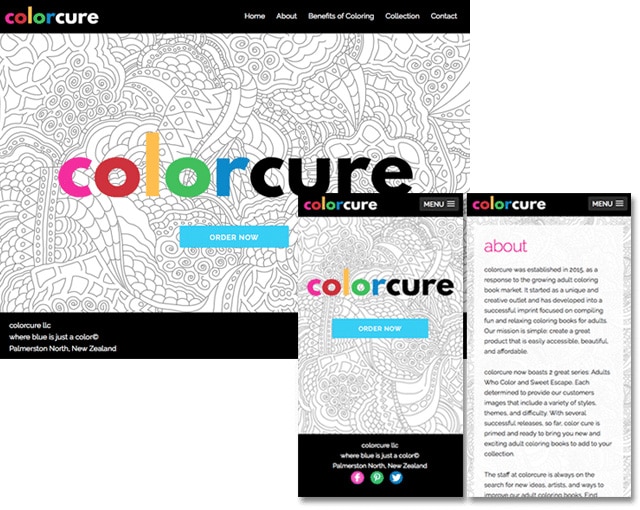 Student work by Jessica Somerton, AOS in Web Design
Launch Your Career with a Degree in Web Design
NEXT CLASS STARTS: FEB 10TH
Creative Classes, Expert Instructors
Focus on Career Preparation
Build Professional Skills and a Portfolio
Program Overview
The Sessions College Associate of Occupational Studies in Web Design program offers an intensive two-year degree for students seeking to enter careers as Web designers with a focus on visual and interactive design. Designed for high school graduates and adult learners, the program offers a strong foundation in visual design and a working knowledge of HTML, CSS, and JavaScript.
Strong graphic design is the foundation of the Web design program. First year studies include type, color theory, composition, digital photography, as well as Adobe Photoshop and Illustrator. Second year classes place an emphasis on responsive design, with training in Bootstrap, flexbox, WordPress, and UX/UI design.
Curriculum
The Associate of Occupational Studies Degree in Web Design is a 72-credit program completed in two years. Part-time schedules are available.

Web Design Major - Year One
First Semester
Second Semester
Third Semester
Web Design Major - Year Two
Fourth Semester
Fifth Semester
Sixth Semester
* Elective course may be replaced by any other 3-credit course in the program, subject to availability and prerequisites.
Program Outcomes
By completing the program, Web Design majors develop the following competencies:
Web Coding and Design. Layout and design responsive websites using standards-compliant HTML, CSS, and JavaScript code, adapting modern frameworks such as Bootstrap and focusing on WordPress.
Software. Create high quality images and graphics utilizing software including Adobe Photoshop and Illustrator.
Design. Demonstrate knowledge and use of color, typography, and composition to develop effective, professional-level designs for clients.
Web Publishing. Publish sites to the Web, validating and troubleshooting sites to fix errors or cross-browser issues, with a knowledge of accessibility best practices.
Marketing. Implement basic techniques for marketing web sites, including SEO, search advertising, and email marketing.
Critical Thinking and Writing. Develop ideas utilizing critical thinking skills and clearly communicate them through writing within academic or professional contexts.
Portfolio. Develop a high-quality portfolio of Web design work in preparation for marketing your web design skills and services.
Course Descriptions
Program highlights for Web Design majors in the AOS in Web Design program.
WEB 101 HTML and CSS I - 3 credits
To create Web pages, a Web designer must have a foundation in HTML and CSS. This course begins with the basics of HTML markup and specifications for standards-compliant Web pages. CSS scripting is examined as a method for positioning page elements and styling typography. Cutting-edge features of HTML5 and CSS3 are also introduced. The emphasis is on the contemporary use of markup and scripting to create effective and attractive Web sites.
WEB 213 Bootstrap Using Dreamweaver I - 3 credits
Bootstrap provides a framework of HTML, CSS, and JavaScript to speed up your site development. Working with an expert instructor, you'll learn how to build responsive, mobile-first web sites using Bootstrap 4 and Dreamweaver, Adobe's HTML editor. This course will show you how to design web sites by using CSS to structure and design layouts, ensuring that your designs work on a range of platforms and devices.
WEB 205 Javascript for Designers I - 3 credits
Learn the fundamentals of JavaScript, the programming language that allows you to make things happen when a user interacts with your website. You will learn how to create clean, valid code as you create programs that respond to various kinds of user interaction. Assignments include a range of projects: interactive dialogue boxes, a trivia quiz, a rainbow color picker, a sortable database, and more.
WEB 209 Advanced CSS - 1.5 credits
Take your coding to the next level with flexbox, a new set of CSS properties that swoop in where floats leave off. Flexbox easily adapts to different screen sizes and different sizes of content, providing limitless, robust ways to structure page content, designing navigation, create column based layouts, and add sticky footers. The course also focuses on using scalable vector graphics (SVG). Using SVG, you can create (and animate) images that scale to fit any screensize without loss of image quality. Combined with CSS3 animation, SVG provides performance, consistency, and interactive/creative potential for your Web graphics.
WEB 232 Web Typography - 1.5 credits
Learn how to enhance your Web designs with the latest techniques for styling, typesetting, and embellishing text. Get up to speed on the latest in Web font options and how to use CSS font stacks. You'll take your fonts into the grid, studying a mix of classic and cutting edge techniques to ensure on-screen readability and effective vertical rhythm, and learn how to retain viewer attention by embellishing text with CSS3 effects and building typography-driven information graphics.
WEB 214 Bootstrap Using Dreamweaver II - 3 credits
In this course, Web design students will further their exploration of Bootstrap using Adobe Dreamweaver, focusing on the use of CSS, templates, and library items to design responsive sites. Topics includes using image effects, animated content areas, and interactive navigation, and creating mobile and tablet layouts with CSS3 media queries.
WEB 231 Web Design I - 3 credits
Learn a systematic professional approach to Web design. You'll use site maps, wireframes, comps, color palettes, usability tests, and other tools and concepts to make sure your responsive designs hit the mark. Students entering this class are expected to have a basic competence in HTML, CSS, and Bootstrap, as well as Adobe Photoshop and Illustrator. Building upon those skills, students will complete four portfolio projects that challenge their Web design skills and build an understanding of how to manage Web design projects in a professional context.
WEB 207 Internet Marketing - 3 credits
Learn practical skills for growing your business on the Web. Studying with a professional Internet marketing consultant, you'll learn how develop an entire marketing plan for your online business. Course projects will include target audience analysis, developing a site plan, creating a content development strategy, planning email marketing campaigns, optimizing for search engines, building a Facebook fan page, planning a social media crisis strategy, designing a landing page for an ad, and using site metrics.
WEB 240 Wordpress Development - 3 credits
Explore the world of WordPress development and learn how to develop sites that take advantage of the power, versatility, and community of WordPress. You'll start with the basics of WordPress navigation and interface, then you'll open the hood, learning the anatomy of WordPress themes and how to make your own. From there, you'll explore child themes, functions, hooks, filters, plugins, widgets, custom post types, and more, all with one big goal in mind: learning the techniques and tools essential to developing excellent WordPress sites.
Financial Aid
Did You Know? Eligible students entering Associate Degree programs may be entitled to Federal financial aid. Grants and loans can help you cover the cost of your education.
"Through these courses, I've built a solid portfolio of work that I'm proud of. Sessions has provided me with marketable skills that I can implement for clients and/or employers."
Della Shapiro, Associate Degree in Web Design
In the Web design program, you'll gain a foundation for creating rich interactive experiences. A focus on visual design will make your work stand out from the crowd. We'll help you to add more value to the sites you design: aesthetically, conceptually, semantically.
Piper Nilsson
, Department Head of Web Design
Career Information
Graduates from our accredited web design program are prepared for many entry-level positions in web design and development. Employment opportunities are projected to grow much faster than average. How does self-employment sound? Web developers and designers are often self-employed.
Ready to start your new career? With an Associate Degree in Web Design from Sessions College you will be prepared to apply your skills to these types of careers:
Web Designer
Front End Designer
UX/UI Designer
App designer
Visit our Web Designer Career Guide for more information, or browse the Federal Occupational Handbook or O*NET database.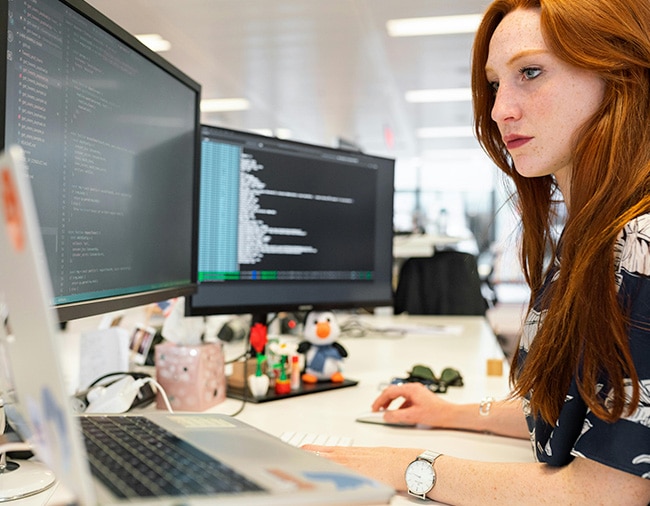 Job Facts
Jobs related to web design and development are projected to increase well into the future. And while many online sources claim to offer instruction in web design, most employers prefer formal training when looking to hire.
Facts are sourced from the Bureau of Labor Statistics Occupational Outlook Handbook. For more information about the web design and development industry visit: World Wide Web Consortium (W3C), World Organization of Webmasters, or Smashing Magazine.
15%
Employment of web developers is projected to grow 15% from 2016 to 2026, much faster than the average for all occupations.
1 in 6
About 1 in 6 web developers were self-employed in 2016.
Take advantage of our award-winning programs. They're accredited, affordable, and delivered 100% online.
Enrolling online is easy and convenient.

Apply
Complete your application with essay, work samples, and transcripts.

Chat
Ask us about program options and financial aid.

Register
Select your start date and preferred study schedule.
Classes start in January, May, and August, with early start options in February, June, and October.
To apply, you'll need to complete our convenient online application and provide an application essay, official transcripts from high school OR for any college degree completed, and 5-10 samples of your art/design work. (Transcripts must be provided for any course you wish evaluated for credit transfer.)
Students entering the program are expected to have earned a high school diploma, GED, or state-approved home school equivalent. Any students under 18 years of age will need to provide the signed permission of a parent or guardian.
To take this program, you'll need the following:
Mac or Windows computer with an Internet connection.
Adobe Photoshop, Illustrator, and Dreamweaver CC.
MS word or equivalent application
Your computer must meet software manufacturer requirements.
Basic drawing and painting supplies including pencils, charcoal, newsprint, and sketch paper.
A Web hosting account with an ad-free hosting service.
Webcam, headphones or speaker, VPN connection, and microphone connected to the computer for live proctored exams.
There are no textbook or course material costs to participate in this online program. Student discount on Adobe Creative Cloud software is available to enrolled students.
Effective July 1st, 2019, the tuition for full-time Associate Degree students is as follows:
Associate of Occupational Studies (AOS) Program
$365 per credit
$4,380 per semester
$13,140 per year
$26,280 total program tuition
Tuition for part-time students is $415/credit and paid by semester. Federal financial aid available for eligible students. Ask about our $500-$2,000 scholarships for exemplary applicants.
A $200 registration fee is required to process your enrollment in the program. Registration fees are nonrefundable after 5 days from the scheduled beginning of program orientation. See Associate Degree Tuition and Payment options.

Highlights
Comparing programs? Browse some other degree or certificate programs you might like: