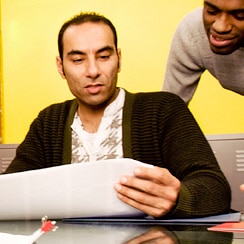 Credit Transfer
Bachelor's Degree
If you are looking to earn a Bachelor's degree, you can apply credits from any Sessions College Associate Degree or Undergraduate Certificate program to a wide range of bachelor's degrees at Excelsior College.
Through an exciting academic partnership between Sessions College and Excelsior College, our graduates can round out their education by earning a degree from Excelsior College, a regionally accredited institution. Students entering this program can graduate with a regionally accredited bachelor's degree in two years or less—taking advantage of Excelsior College's outstanding credit transfer program and academic partner tuition.
Program Guide
Excelsior College offers a wide range of bachelor's degree programs in subjects ranging from Business to Health Sciences, Liberal Arts, Nursing, Public Service, and Technology. Excelsior College is a regionally accredited fully online college that specializes in helping adult learners attain their educational goals.
Summary of program benefits:
Exceptional credit transfer program, with as many as 69 or 72 credits transferred from Sessions College.*
Take advantage of academic partner tuition and waived fees at Excelsior College.
Graduate with a bachelor's degree from a regionally accredited institution.
Build a foundation for advanced education, such as Master's or professional degrees.
* Total credit transfer varies by program. Ask an Admissions Advisor for a transfer guide.
About Excelsior College
Excelsior College (www.excelsior.edu) is a regionally accredited, nonprofit distance learning institution that focuses on removing obstacles to the educational goals of adult learners. Founded in 1971 and located in Albany, NY, Excelsior is a proven leader in the assessment and validation of student knowledge.
Excelsior College offers more efficient and affordable access to degree completion through multiple avenues: its own online courses and college-level proficiency examinations, and the acceptance in transfer of credit from other colleges and universities as well as recognized corporate and military training programs. Excelsior College is accredited by the Middle States Commission on Higher Education, 3624 Market Street, Philadelphia, PA 19104. (267-284-5000). The Middle States Commission on Higher Education is an institutional accrediting agency recognized by the U.S. Secretary of Education and the Council for Higher Education Accreditation.
Excelsior offers degrees at the associate, bachelor's, and master's levels in liberal arts, business, technology, public service, health sciences, and nursing.
Contacting Admissions
The program is open to all Sessions College graduates and employees. Prospective degree students can enter the program immediately at registration via our concurrent enrollment program.
To find out more, contact an Admissions Advisor and ask for a transfer guide today. We'll coordinate the admissions process with Excelsior College, to make sure you have the information you need about program articulation, enrollment options, credit transfer, and financial aid.
Graduates or interested students who want more information from Excelsior College regarding this program should visit Excelsior.edu and contact Academic Partnership Manager Joshua Shaffer directly at  440-773-0595  or jshaffer@excelsior.edu.
Both Sessions College and Excelsior College are institutions approved for participation in Federal Student Aid programs.