Bachelor's and Associate Degree Programs
Degree Program Admissions
Our Bachelor's and Associate Degree programs help you develop the skills, portfolio, and career training you need to enter a career in the visual arts. Our Associate Degree programs build the perfect foundation for your creative career. The BFA in Graphic Design program is our finishing school. You'll customize your educational plan and develop a professional portfolio geared to your specific career learning goals.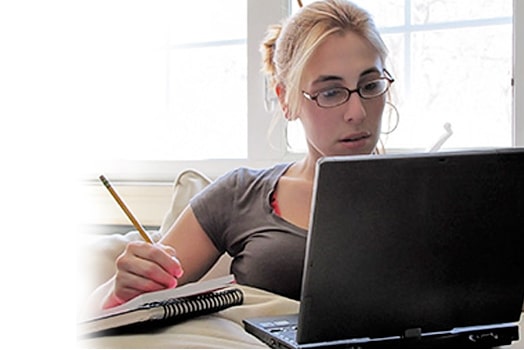 Degree Programs Available In:
Graphic Design
Web Design
Digital Media
Illustration
Advertising Design
Digital Photography
Creative Classes, Expert Instructors
Get expert instructor feedback through projects, discussions, and critiques in our scheduled classes.
Focus on Career Preparation
Portfolio review, business classes, and capstone project groom you for real-world client and employer scenarios.
Build Professional Skills and a Portfolio
Graduate with a portfolio of work you can showcase to potential clients and employers.
Customize your Educational Plan (BFA)
In the BFA program, customize your program and build a professional portfolio geared to your creative career goals.
My skills in Photoshop and Illustrator have really grown, along with my understanding of advertising design. I treasure some of the knowledge I've gained at Sessions over the last two years. I've even had the opportunity to use my skills to work with a local business to assist them with the re-branding their logo and updating the advertising campaigns.
Program Admissions At A Glance
Applying to Sessions College degree programs is a fast and convenient process. With our online application you can apply at any time for classes starting in January, April, and August—or take advantage of mid-term start options in February, June, and September. You can complete your application in 10-15 minutes, and receive a decision within two weeks of a completed application.
To complete your application for Bachelor's or Associate Degree programs you will need to:
Complete our online program application form.
Pay an application fee of $75.
Write a 500-word application essay. Tell us why you are interested in your major!
Send us 5-10 samples of your art and design work OR a written creative skills assessment.
Provide transcripts from your high school OR any college degrees completed.
If English is not your native language, submit official TOEFL or IELTS scores.
View full Application Guide.
If you have college credit, you may able to transfer those credits into our degree programs. Credit transfer can accelerate your program and lower your tuition payments. The program policy accepts up to 50% of program credits from equivalent courses at accredited institutions. For Bachelor's and Associate Degree applicants, credit transfer evaluation is included in your application fee.
Sessions College Professional or Advanced Certificate graduates, may go on to complete a Bachelor's or Associate degree via our academic bridge program. Eligible graduates can apply up to 21 credits for courses completed, subject to Acceptance Committee evaluation. The program is designed to reward academic achievement at the certificate level, so grades and coursework must be exemplary.
Financial Aid
Did You Know? Eligible students entering Associate Degree programs may be entitled to Federal financial aid. Grants and loans can help you cover the cost of your education.
Degree Program Admissions: