A picture is worth a thousand words, but which picture? The explosion of digital photography and social media has put a fabulous camera in the hands of millions, and yet professional photographers continue to create the images that matter.
If you're enchanted by the details of photography and how to use lighting, composition, and technical know-how to capture a moment,  the photography major may be your path. At Sessions College, earning a degree or certificate in digital photography can give you the skills, portfolio, and experience to begin or advance your career in image-making.
At Sessions College our programs range from flexible Certificate Programs to our comprehensive AOS Degree program. Find out which online Digital Photography program is right for you.
Associate Degree in Digital Photography
The Associate of Occupational Studies (AOS) in Digital Photography is an intensive two-year degree program for students seeking to enter careers as independent freelance photographers. Designed for high school graduates and adult learners, the program will offer a strong foundation in the visual language of photography and a working knowledge of the equipment, software, and production techniques essential for work in the photographic industry.
Comprehensive 72 credit, 2 year degree program
Includes Portfolio Review and Design Business course
Financial aid and creative scholarships for students who qualify
Undergraduate Certificate in Digital Photography
The Undergraduate Certificate in Digital Photography provides students with a foundation in the skills required to practice as a professional photographer. Students will gain experience in commercial photography scenarios and develop proficiency in using Photoshop and Lightroom for digital editing and asset management. Students explore typical photography assignments, including portraiture, event photography, and product photography, learning how to adjust for lighting and location for professional results..
Focused 24 credit, 2 semester program
Build a portfolio and advance your career
Financial aid for students who qualify
100% ONLINE CREATIVE EDUCATION
Why Choose Sessions College?
Studying online can be a flexible, affordable, and exciting way to grow your creative skills and earn a degree. With 24/7 access to an online classes, and no set login times, you can study on your own schedule. At Sessions College, you can gain industry-relevant art and design skills in a project-based curriculum. Get the critiques you need from our expert faculty and watch your creative work flourish.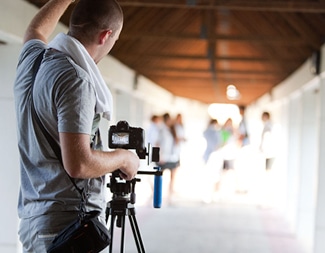 What Careers in Photography are Available?
Everyone can snap a photo, but employers want a photographer with more than just a keen eye. To start a successful career in photography, formal training will take you a long way. Do you like the idea of starting your own business? Most photographers are self-employed. Our photography degree program will help you build a foundation for careers across a number of industries. Here are some examples:
Broadcasting
Marketing
Advertising
Print Design
Promotions
Newspapers/periodicals
Visit our Photographer Career Guide for more information, or browse the Federal Occupational Handbook or O*NET database.
Online, Affordable, and Accredited