In today's increasingly digital design and publishing world, illustrators still hold sway. Because we need a human perspective, the pen (or brush) can be mightier than the pixel.
If you are excited by the idea of developing your drawing and painting skills in traditional and digital media, if your sketchbooks are already overflowing, think about an illustration major at Sessions College. Earning a degree or certificate in illustration can give you the skills, portfolio, and experience to begin or advance your career in creating artwork that informs or entertains.
At Sessions College our programs range from flexible Certificate Programs to our comprehensive AOS Degree program. Find out which online Illustration program is right for you.
Associate Degree in Illustration
The Associate of Occupational Studies (AOS) in Illustration is an intensive two-year degree program for students seeking to enter careers in traditional and digital illustration. Developed for high school graduates and adult learners, the program offers a strong foundation in traditional drawing and painting and vector illustration, as well as a working knowledge of software and production techniques used by contemporary illustrators.
Comprehensive 72 credit, 2 year degree program
Includes Portfolio Review and Design Business course
Financial aid and creative scholarships for students who qualify
Undergraduate Certificate in Illustration
The Undergraduate Certificate in Illustration provides a thorough foundation in digital and traditional illustration for computer artists. In just two semesters, you'll gain an understanding of the fundamentals of vector graphics, still life and figure drawing, color theory, composition, painting, and how to implement these concepts using today's digital arts software tools Photoshop and Illustrator. Students gain a valuable introduction to the practices and workflows of commercial illustrators.
Focused 24 credit, 2 semester program
Build a portfolio and advance your career
Financial aid for students who qualify
Vocational Certificate Programs
In the Professional Certificate in Digital Arts program, students develop a foundation in the technical and creative skills for digital art and illustration. Students explore the intricacies of Adobe Photoshop and Illustrator, building their understanding of color and composition through projects in traditional drawing and vector illustration..
Flexible 9-month program
Build a portfolio and advance your career
Payment plans with affordable monthly payments
Extend your program with an Advanced Certificate
In the Fine Arts Certificate program, students gain a foundation in art theory and artistic technique. Students enjoy a wide-ranging training in drawing and painting that instills a rigorous, traditional approach to representing still life and human figure subjects with attention to critical concepts of line, mass, form, perspective, value, and composition.
Flexible 9-month program
Build a portfolio and advance your career
Payment plans with affordable monthly payments
Extend your program with an Advanced Certificate
100% ONLINE CREATIVE EDUCATION
Why Choose Sessions College?
Studying online can be a flexible, affordable, and exciting way to grow your creative skills and earn a degree. With 24/7 access to an online classes, and no set login times, you can study on your own schedule. At Sessions College, you can gain industry-relevant art and design skills in a project-based curriculum. Get the critiques you need from our expert faculty and watch your creative work flourish.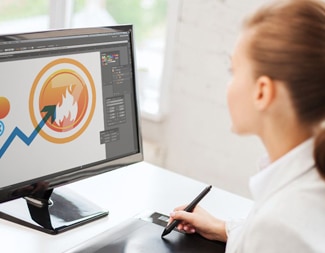 What Careers in Illustration are Available?
Careers in the illustration industry are numerous and varied. Do you like the sound of being your own boss? Many illustrators are self-employed or independent, though most are employed with existing organizations.
Our Illustration Associate Degree program helps our students build a strong foundation for careers across the media spectrum. Here are a few examples.
Marketing
Advertising
Print Media
Promotions
Publishing
Video
Animation
Visit our Illustrator Career Guide for more information, or browse the Federal Occupational Handbook or O*NET database.
Online, Affordable, and Accredited