Things that move, move us. Whether it's online or in the broadcast media, digital media professionals use a command of video editing, motion graphics, and animation to create the movies that capture our screens.
If you like creating and editing movies and want to build skills that could lead you to a career in video editing or online marketing, consider becoming a digital media major at Sessions College. Earning a degree or certificate in digital media can give you the skills, portfolio, and confidence to begin or advance your career in creating images and movies that connect with audiences.
Would you like to turn your interest in storytelling into a career in video production, video editing, and/or motion graphics/animation? Then consider becoming a digital media major at Sessions College!
At Sessions College our programs range from flexible Certificate Programs to our comprehensive AOS Degree program. Find out which online Digital Media program is right for you.
Associate Degree in Digital Media
The Associate of Occupational Studies (AOS) in Digital Media is an intensive two-year degree program for students seeking to enter careers in video production and editing, animation, or motion graphics. Designed for high school graduates and adult learners, the program offers a strong foundation in visual design and a working knowledge of software and production techniques essential for contemporary digital media.
Comprehensive 72 credit, 2 year degree program
Includes Portfolio Review and Design Business course
Financial aid and creative scholarships for students who qualify
Undergraduate Certificate in Digital Media
The Undergraduate Certificate in Digital Media offers an exciting foundation in video and motion graphics design. Students gain experience in creating digital images and illustrations, and making movies using Adobe Premiere, Animate, and After Effects. Students gain essential skills in visual design and apply them in animation, motion graphics, and video production and editing.
Focused 24 credit, 2 semester program
Build a portfolio and advance your career
Financial aid for students who qualify
100% Online Creative Education
Why Choose Sessions College?
Studying online can be a flexible, affordable, and exciting way to grow your creative skills and earn a degree. With 24/7 access to an online classes, and no set login times, you can study on your own schedule. At Sessions College, you can gain industry-relevant art and design skills in a project-based curriculum. Get the critiques you need from our expert faculty and watch your creative work flourish.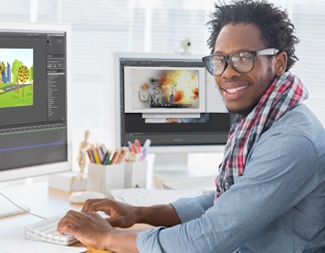 What Digital Media Careers are Available?
Digital media is everywhere. It seems that every day we are surrounded more by it. Professional digital media artists are needed to design and create the digital media we consume, so employers need to hire well-trained and educated employees to compete in digital spaces. Our digital media degree program will help you build a foundation for careers across a number of industries. Here are some examples.
Broadcasting
Marketing
Advertising
Promotions
Online periodicals
Visit our Multimedia Designer Career Guide for more information, or browse the Federal Occupational Handbook or O*NET database.
Online, Affordable, and Accredited