Online Web Design Certificate
Web Design Professional Certificate
Learn fundamentals of visual design, Adobe Photoshop and Dreamweaver, and standards-based Web coding in HTML, CSS, and JavaScript. Your Web design portfolio at the end of the Professional certificate program will include published Web sites that showcase your front-end visual designs and your coding skills.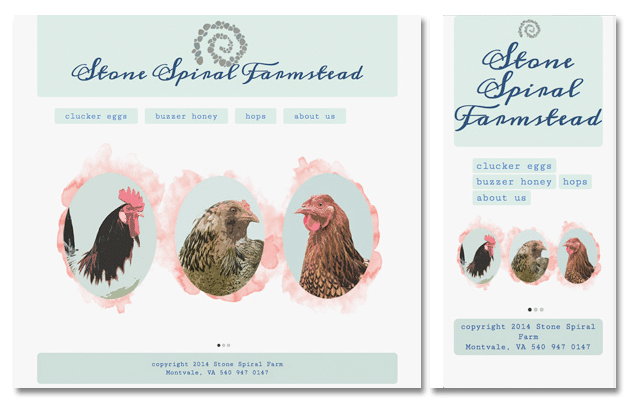 Student work by Alexia Rojahn, Web Design Certificate
Kick Start Your Web Design Career in Just Six Months
NEXT CLASS STARTS:
MAY 1ST
Build Design Skills That Employers Want
Complete Your Program in 6 Months
Program Outline
Designed for the busy adult learner, the Professional Certificate can be completed in six months studying part time.
Level 1
4218 Photoshop Basics
4017 Color Theory
5229 HTML And CSS Essentials
4221 Fundamentals Of Typography
Level 2
5300 Dreamweaver I
7116 Javascript For Designers
5013 Web Design I
Already have some design experience? You can customize the program around your learning goals. Browse our Web design courses or course list and talk to an advisor.
Program Courses
4218 Photoshop Basics
Get a thorough grounding in Adobe Photoshop, the premiere image-manipulation tool for print design, Web design, and photography. You'll learn to choose and use the best techniques for common Photoshop jobs including selecting and isolating objects, creating image composites, masking and vignetting images, setting typography, and improving images with retouching and effects. Every designer must tame this creative powerhouse of a program.
4017 Color Theory
Focus on developing appropriate color systems for graphic design projects. Projects explore the principles, terminology, and applications of color theory, with an emphasis on manipulating color. A working knowledge of the expression and perception of color, and color interaction, lends credibility and sophistication to a designer's work.
4226 HTML and CSS Essentials
To create Web pages, a Web designer must have a foundation in HTML and CSS. This course begins with the basics of HTML markup and specifications for standards-compliant Web pages. CSS scripting is examined as a method for positioning page elements and styling typography. Cutting-edge features of HTML5 and CSS3 are also introduced. The emphasis is on the contemporary use of markup and scripting to create effective and attractive Web sites.
4221 Fundamentals of Typography
Explore the critical role of typography in graphic design. Course projects build an understanding of the anatomy of the letterform, the distinguishing features of different typefaces, and creative applications of type. An assured grasp of typography is essential in any visual communication project.
5300 Dreamweaver I
Develop practical skills for Dreamweaver, the HTML editor of choice for professional Web designers. Dreamweaver integrates a host of Web design tools in one easy-to-use application. Without any prior HTML knowledge, students learn to design sites, creating advanced layouts by using Cascading Style Sheets, typography, colors, tables, and more.
7116 Javascript for Designers
Learn how to program using JavaScript and jQuery with techniques geared to visually-oriented designers. Master the fundamentals of JavaScript programming, focusing on how you can add interactivity and responsiveness to your Web designs without too much technical jargon or coding mumbo jumbo. Class exercises include a range of interactive projects: a trivia quiz, a user adaptive form, a single-page site, a Web application, a responsive site, and portfolio or personal site enhanced by plugins.
5013 Web Design I
Learn a systematic professional approach to Web design. You'll use site maps, wireframes, HTML and CSS layouts, comps, color palettes, usability tests, and other tools and concepts to make sure your designs hit the mark. Students entering this class are expected to have a basic competence in HTML and CSS design, Photoshop and Dreamweaver. Building upon those skills, students will complete four portfolio projects that challenge their Web design skills and build an understanding of how to manage Web design projects in a professional context.
Program Objectives
Need skills? Here's an overview of what you can expect to learn:
#1 Digital Imaging - Your work will demonstrate entry-level professional Photoshop skills and effective decisions in selecting and editing images. You will be able to improve images for professional publication by retouching and correction, and create realistic or imaginative images by compositing or collage.
#2 Color - You will develop distinctive color palettes based on the principles of color harmony. Your work will exhibit a sophisticated use of color and contrast, and the ability to research colors and make choices that are appropriate for each client and project.
#3 Vector Art - You will develop entry-level professional skills in creating vector art illustrations in Illustrator, using shape drawing and freehand drawing tools, Pen tool, type tools, and basic effects. You will be able to create simple, stylized logos, icons, and illustrations for effective visual communication.
#4 Typography - You will be able to research and select appropriate typefaces and design typography to support the branding or communication goal of a particular client or project. You will demonstrate the ability to organize text into a clear, readable information hierarchy in page layouts while using display type for impact and expression.
#5 Web Editor - You will be able to design professional-level, valid HTML Web sites using Dreamweaver and publish them to the Web. You can create consistent, visually appealing page designs using CSS to control presentation (typography, color, layout, and positioning).
#6 Interactivity - You will be able to create basic interactive interfaces for the Web using JavaScript and jQuery. You can write and troubleshoot basic JavaScript and jQuery syntax in order to display Web page content, create visual effects, improve form usability, and facilitate site navigation.
#7 Web Design - You will use a professional design process for Web design including competitive research, mood boards, site maps and wireframes, color design and imagery, development of CSS layouts, and basic usability testing. Your work shows the ability to design professional-level Web page layouts with attention to usability principles: consistent navigation, clear visual hierarchy, and intuitive interface design.
"Every class I took during my time here has been a collaborative effort for everyone to learn the techniques and get better..." Kyle Gilbreath, Associate Degree in Graphic Design
Learn to design from a faculty of professional artists and designers.
Career Information
Graduates are prepared for entry-level positions in Web design and development. Potential employers for Web design program graduates include specialized design firms (e.g. Web design firms), advertising agencies, publishers, computer systems design firms, and Fortune 500 companies. Job titles include Web Designer, Front End Designer, UX/UI Designer, and more.
Visit our Career Center for more information, or browse the Federal Occupational Handbook or O*NET database.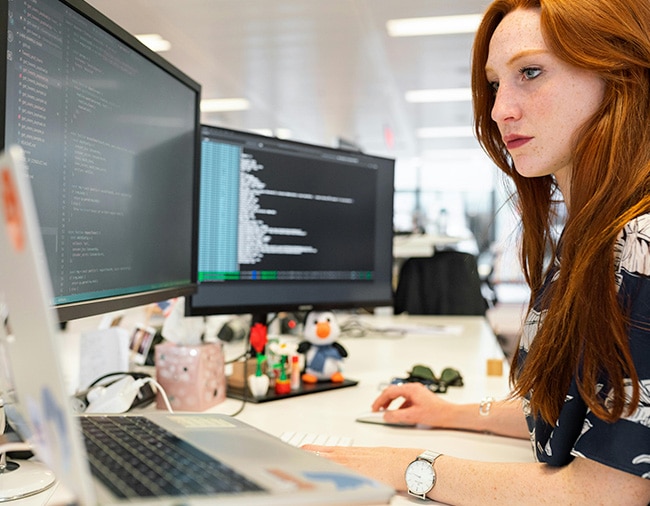 Take advantage of our award-winning programs. They're accredited, affordable, and delivered 100% online.
Enrolling online is easy and convenient.

Apply
Complete our free, no-obligation application form online.

Chat
Ask us about payment options and customizing your program.

Register
Confirm your payment and register online.
Open Admissions. The Professional Certificate is open admissions, with monthly class starts. To apply for the program, simply complete our free, no-obligation application and select your program options. Applicants are expected to have graduated high school.
Six Month Program. Classes start at the beginning of each month. The program can be completed in six months studying on a part time schedule. If you need more time to complete, there is a painless extension policy for an additional 6 months of access for students who qualify based on academic progress.
To take this program, you'll need the following:
Mac or Windows computer with an Internet connection.
Adobe Photoshop, Illustrator, and Dreamweaver CC.
Your computer must meet software manufacturer requirements.
An ad-free Web hosting account (free services are available).
Student discount on Adobe Creative Cloud software is available to enrolled students.
Sessions College programs are flexible and affordable. There are no textbooks required; tuition costs include all digital materials.
Professional Certificate
Tuition
$6,560 / $2,999*
Digital Materials Fee
$260
Technology Fee
$50
Registration Fee
$200
Advanced Certificate Tuition
$1,610 / $999 per concentration*
Program Extensions
$50/month
* Promotional tuition in effect until April 30th, 2018
Enrollment in any certificate program requires a $200 registration fee (non-refundable five days after beginning of Orientation class or submission of first assignment). All tuition and fees must be paid on time, including those paid by third parties.
Comparing programs? Browse some other degree or certificate programs you might like: