Online Multimedia Certificate
Professional Certificate in Multimedia Arts
Gain a foundation in visual design, motion graphics, and digital video that you can use in Web-based media projects and beyond. By the end of the Professional Certificate in Multimedia Arts program, you will have developed a portfolio of highly engaging and interactive multimedia pieces. Course topics include Adobe Premiere and Adobe After Effects alongside motion theory, digital video editing, digital video production, and motion graphics.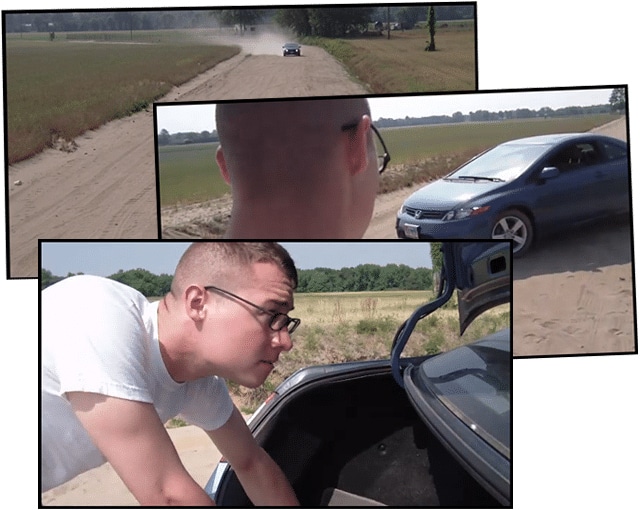 Student work by Tristan McIntyre, Multimedia Arts Certificate program
Kick Start Your Multimedia Design Career in Just Nine Months
NEXT CLASS STARTS:
MAR 1ST
Build Design Skills That Employers Want
Complete Your Program in 9 Months
Program Description
In the Sessions College Professional Certificate in Multimedia Arts program, students build proficiency in software programs for creating digital art, movies, and animations, acquiring professional techniques for video production and editing. Students will learn how to create and edit effective movies and motion graphics for the Web and beyond.
Curriculum
Designed for the busy adult learner, the Professional Certificate in Multimedia Arts is a 360 clock hour program completed in nine months studying part time.

Already have some design experience? You can customize the program around your learning goals. Browse our
digital media courses
or
course catalog
and talk to an advisor.
Program Outcomes
By completing the program, Professional Certificate in Multimedia Arts students develop the following competencies:
Video. Shoot and edit engaging videos utilizing skillful production, camera, audio, and non-linear editing techniques.
Software. Create high quality images, animations, and movies utilizing Adobe Photoshop, After Effects, and Premiere.
Design. Create polished, professional artwork demonstrating knowledge of color, pattern, detail, and composition.
Storytelling. Create images, animations, and movies demonstrating an effective use of visual communication and storytelling.
Course Descriptions
4218 Photoshop Basics
Get a thorough grounding in Adobe Photoshop, the premiere image-manipulation tool for print design, Web design, and photography. You'll learn to choose and use the best techniques for common Photoshop jobs including selecting and isolating objects, creating image composites, masking and vignetting images, setting typography, and improving images with retouching and effects. Every designer must tame this creative powerhouse of a program.
6001 Intro to Motion
This course introduces topics of motion in animation and video through research and observation of real-life movement and movement in animation. Students learn basic principles of visible motion—including physics principles—and apply these principles to written analysis and practical explorations including flipbook-style animation. Topics include movement of objects and characters.
4226 HTML and CSS Essentials
To create Web pages, a Web designer must have a foundation in HTML and CSS. This course begins with the basics of HTML markup and specifications for standards-compliant Web pages. CSS scripting is examined as a method for positioning page elements and styling typography. Cutting-edge features of HTML5 and CSS3 are also introduced. The emphasis is on the contemporary use of markup and scripting to create effective and attractive Web sites.
4221 Fundamentals of Typography
Explore the critical role of typography in graphic design. Course projects build an understanding of the anatomy of the letterform, the distinguishing features of different typefaces, and creative applications of type. An assured grasp of typography is essential in any visual communication project.
8040 Digital Video Production
Learn how to control white balance, aperture, and shutter speed, to get high quality images from your digital video camera. You'll explore the different types of shots and camera motion techniques used by the pros and learn how to do location scouting, plan props, wardrobe, and sets, and work with talent. Course lectures challenge you to think about different storytelling conventions in narrative and documentary movie-making and address the fundamentals of sound recording. You'll script and storyboard short movie sequences and develop an understanding of the various roles in the video post-production process.
6225 Digital Video Editing I
Learn the art and craft of editing videos from two award-winning filmmakers. The course explores techniques that can be applied in a range of non-linear editing programs, including Adobe Premiere Pro. Yet the main focus is not just on developing software skills; it's on exploring the magic behind video editing. Challenging projects including editing a commercial, an interview, a narrative scene, a music video, a video diary, and a text title sequence.
6010 After Effects I
Learn how to use After Effects to create sophisticated motion graphics—using text and object animations, compositing videos and images, and adding audio and effects. You'll learn how to set keyframes on a timeline and work with transform properties, motion paths, masks, and effects, developing a solid foundation in this increasingly popular and versatile program.
Ask about our Payment Plans
Take care of your tuition with 11 monthly payments of $415
Enrolling online is easy and convenient.

Apply
Complete our free application form online.

Chat
Ask us about payment options and customizing your program.

Register
Confirm your payment and register online.
Open Admissions. The Professional Certificate is open admissions, with classes starting each month. To apply for the program, simply complete our free, no-obligation application and select your program options. Applicants are expected to have graduated high school.
Nine Month Program. Classes start at the beginning of each month. The program can be completed in nine months studying on a part time schedule. If you need more time to complete, there is a painless extension policy for an additional 6 months of access for students who qualify based on academic progress.
To take this program, you'll need the following:
Mac or Windows computer with an Internet connection.
A digital video camera and ability to connect it to a computer to capture footage.
Adobe Photoshop, After Effects, and Premiere CC.
Your computer must meet software manufacturer requirements.
An ad-free Web hosting account (free services are available).
There are no textbook or course material costs to participate in this online program. Student discount on Adobe Creative Cloud software is available to enrolled students.
Sessions College programs are flexible and affordable. There are no textbooks required; tuition costs include all digital materials.
| Professional Certificate | |
| --- | --- |
| Tuition | $4,300 |
| Registration Fee | $200 |
| Total Cost | $4,500 |
Enrollment in any certificate program requires a $200 registration fee (non-refundable five days after beginning of Orientation class or submission of first assignment). All tuition and fees must be paid on time, including those paid by third parties.
Payment Plan
Affording your education just got easier with our Payment Plan.
Pay for your Professional Certificate with 11 monthly payments of $415.
Your first payment (which includes a $200 Registration Fee) is due at enrollment.
A $65 payment plan charge is included.
Job Facts
A certificate in multimedia arts can help you land a position in an exciting field with a great outlook. Career opportunities appear abundant well into the future. Here are some job statistics to consider:
Facts are sourced from the Bureau of Labor Statistics Occupational Outlook Handbook. For more information about multimedia careers and the community visit: Videographer Awards, Animation World Network, or American Cinema Editors.
87%
Median Income for multimedia artists and animators in May 2017 was $70,530 a year, 87% higher than the median for all workers.
6 in 10
About 6 in 10 for Multimedia Artists and Animators were self-employed in 2016.
Career Information
Job outlook for marketing design careers is very good. Jobs in digital media technology are projected to grow faster than average. There is a constant increasing demand for animation and visual effects in the mediums people use every day. Multimedia technology surrounds us.
Our multimedia certificate program helps our students build a foundation for careers across the media spectrum. Here are some examples.
Marketing
Advertising
Creative Design
Print Design
Promotions
Publishing
Video
Animation
Visit our Multimedia Design Career Guide for more information, or browse the Federal Occupational Handbook or O*NET database.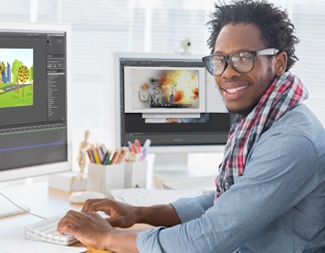 Multimedia Arts Advanced Certificate program
Add concentrations and build a deeper portfolio.

Highlights
Comparing programs? Browse some other degree or certificate programs you might like: