Certificate and Degree Programs
Admissions
Enrolling in any educational program is a big step, whether you're looking to earn a degree or learn new professional skills for a career change. At Sessions College, our mission is preparing art and design professionals. We believe in making the experience of choosing the right design program for you—and the admissions process that follows—as pleasant and informative as possible.
At our Tempe, Arizona campus, we have a team of dedicated Admissions Advisors who are all qualified designers. They are available to answer your questions and guide you through the application process.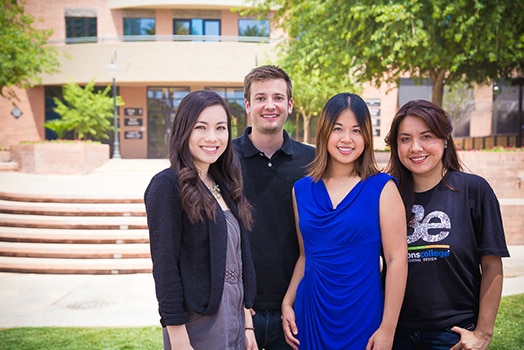 Our team of Admissions Advisors; Kim, Eric, Mhelanie, and Brenda.
How to Contact Us
You can contact us Monday through Friday at 10am-10pm Eastern Time, and on Saturday at 10am-8pm Eastern Time.
By phone at 800-258-4115 (from the US) or 480-212-1704, option 1
By email at admissions@sessions.edu.
By live chat on this Web site. Click on Chat Live or respond to a pop-up window.
You are also welcome to schedule a visit to our main campus in Tempe, Arizona:
Sessions College for Professional Design
Main Campus
51 West Third Street, Suite E-301
Tempe, AZ 85281
"Everyone in our Admissions Team is a trained artist or designer and we pride ourselves on establishing a relationship with our students like no other design school can. We have been in your shoes, and truly understand the unique challenges of the design world. We are passionate about helping you find the right design program specifically for your career path."
Mhelanie Hernandez
Find out why our programs are recognized by the U.S. Department of Education for affordability.
Programs At A Glance
Sessions College offers a broad range of degree and certificate programs.
Vocational Certificate
360 hour program

Self-paced study

Complete in 6 months

Monthly class starts

Payment plans available
Explore
Undergraduate Certificate
24 credit program

Scheduled classes

Complete in 8 months

Bimonthly class starts

Financial aid for eligible students
Explore
Associate Degree
72 credit program

Comprehensive program

Scheduled classes

Complete in two years or less

Bimonthly class starts

Includes portfolio review, career classes, and capstone project

Financial aid for eligible students
Explore
Paying For Your Education
Depending on your eligibility, there are a variety of ways to finance your education for each program. Here's an overview. (As you explore each program, available options will be are highlighted for you.)
Download our latest catalogue