Online Advanced Life Drawing Course
Life Drawing II
Life drawing is an endless, fascinating challenge for an artist. In this online advanced life drawing course, you'll learn how to observe and capture the clothed human figure and explore basic techniques for all figure drawings. Working with a trained illustrator, you'll learn essential concepts in form, structure, and motion as you address subjects that interest and engage you. Discover the seven functions of the line, constructing scenes, and incorporating color.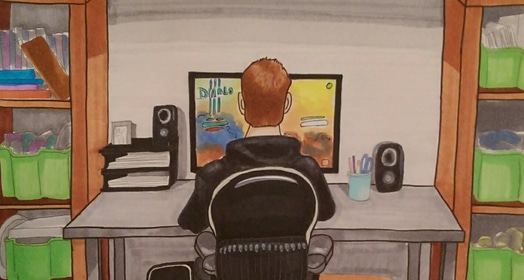 Student work by Eladia Laines
Tackle advanced topics in life drawing
Instructor-Led Course
Feedback from design professionals
Creative Projects
Stretch your skills, grow your portfolio
Learn at Your Own Pace
Self-paced and scheduled programs available
Course Outline
1 - This Line is Yours
The course begins with a profound concept. We will explore an illustrator's authentic line, with reference to Andrew Loomis's seven functions of the line. We'll look at examples of line functions in figure illustrations and practice imitating lines. We'll also open up the conversation of personal branding for an artist or illustrator.
2 - Composing Scenery
In Lecture Two, we're going to discuss the importance of scenes, learn two composition and process techniques that help you build interesting scenes, and examine some examples of great scenery. As we go, you'll continue to hone in on your personal style.
3 - Coloring to Life
When we first study drawing formally, it's all about the black and white. A pencil line, a blank piece of paper. But there's a reason for the phrase "in living color." Now we'll look at making your work live vibrantly with color. When used well, color can be seen as a recognizable trait or calling card for an illustrator's body of work.
Course Outcomes
Students in this course can expect to learn to:
Develop an understanding of the terms of advanced line drawing.
Understand the significance of an illustrator's authentic line and Andrew Loomis's seven functions of the line.
Practice line functions and techniques through imitation activities.
Apply practical fundamentals for personal branding.
Use constructive lines in life drawings.
Use formal and informal subdivision grids for illustrated scenery compositions.
Explore strategies for self-branding online and learn about the importance of protecting your creative rights.
Make effective grayscale sketches and practice grayscale sketch strategies.
Develop a personal minimal color palette.
Research illustrators with unique styles and match specific illustrations to specific line functions.
Create spot illustration portraits, black and white still lives, and scenes from life of figures that incorporate imagination.
Stage a creative scene made up of everyday objects in your home and two to three real life figure models, and draw a final full color scene that demonstrates creative vision.
Course Registration
Interested in this course? Scheduled enrollment options are available. Ask Admissions about taking this course as part of a degree program.
Course Level
Classes start
Registration Fee
Tuition
Degree course
1.5-credit course, 7 weeks
Jan, Apr, Aug
$200
$510/credit
* Registration fees are nonrefundable after 5 days from enrollment. All tuition includes a digital materials fee for updates to course or program content.

Software and Supplies
To take this course you'll need:
Computer with Internet connection.
Access to a digital camera or scanner.
Drawing materials including pencil, paper, charcoal and easel (full guidelines provided in the course.)
Adobe Photoshop and Illustrator
Basic experience in the above software.
Course developed by Lyndsey Lesh
Enrolling online is easy and convenient.

Chat with our knowledgeable admissions staff to select course and program options.

Complete your registration entirely online.
Did you know? You can take this course as part of an award-winning certificate or degree program.