Online Copywriting Course
Copywriting
Every ad designer must grasp the basics of persuasive copywriting. In this online copywriting course, students will study how text and images interact in effective ad campaigns, learning how to write and edit ad copy for print and digital advertising media and turn written ideas into visual expression. Working with a professional writer and editor, you'll hone your copywriting skills on realistic projects.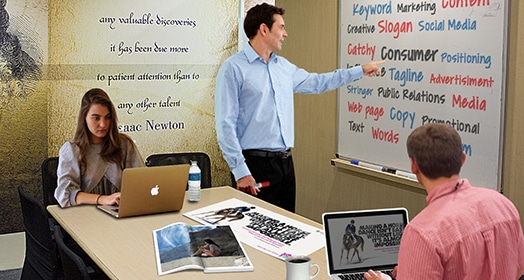 Master the nuances of ad copywriting
Instructor-Led Course
Feedback from design professionals
Creative Projects
Stretch your skills, grow your portfolio
Learn at Your Own Pace
Self-paced and scheduled programs available
Course Outline
1 - Convincing Copy
Just what makes ad copy convincing? We'll begin the course by exploring how to critically read advertisements, analyzing the qualities of effective copy. We'll look at some effective writing strategies for copy and tackle some common spelling and grammar considerations.
2 - Short Copy
Headlines and other kinds of short copy are designed to grab attention by appealing to their audience's emotions—whether sympathetic emotions or crass ones. In this lecture we'll explore examples of short copy in different genres and forms and learn techniques for effective short copy, including taglines, headlines, and slogans.
3 - Single Page Copy
Single page copy can appear in so many forms besides print: A Web site homepage, a television or radio ad spot, a mass-marketed email, or product package information are formats that often fit to a single page copy style, drawing from techniques beyond what can be used in logo text, slogans, or taglines to help motivate consumers. This lesson is devoted to the principles of effective single page copy.
4 - Multiple Page Copywriting
In this lecture, we'll explore where we find multiple page copy and how to write it. As a designer/copywriter, you need to counteract the reader's tendency to think "This is only an advertisement. Skip it." In the lecture we'll explore examples of multi page copy in different genres and forms. We will learn techniques for effective multi page copy, in print, including ads, brochures, and manuals.
5 - Copywriting for a Nonprofit
Copywriting for nonprofits might sound a little more subdued than copywriting for a flashy ad agency. However, the nonprofit arena can drum up just as much drive, passion—and yes, glamour—as what you would find in any old agency. How these things translate to the copy of a nonprofit ad is what we'll spend this lecture discussing.
6 - Revising Brand Campaigns
In this lecture, we'll consider how the copy in a rebranded ad campaign can help a company that's revising its approach better appeal to and win over a new or changing audience. Key topics will be: The motivations of a rebranding campaign, how to select the best mediums for a rebranding campaign, and how to adapt existing copy for expanded audiences.
Course Objectives
Students in this course can expect to learn to:
Critically read advertisements, reviewing the rhetorical situation and rhetorical appeals.
Analyze the qualities of effective copy and apply effective writing strategies for copy and writing process expectations.
Analyze examples of short copy in different genres and forms.
Apply techniques for effective short copy, including taglines, headlines, slogans, and captions.
Construct effective short Web copy, including tweets and status posts.
Analyze examples of single page copy in different genres and forms.
Apply techniques for effective single page copy, including posters, postcards, ads, and packaging.
Write effective single page online copy.
Construct effective single page copy for multimedia genres, including radio and video.
Analyze examples of multi page copy in different genres and forms.
Construct effective multi page print and online copy.
Write copy for non-profits and rebranding campaigns.
Course Registration
Interested in this course? Scheduled enrollment options are available. Ask Admissions about taking this course as part of a degree or certificate program.
Course Level
Classes start
Registration Fee
Technology Fee
Tuition
Degree course
3-credit course, 15 week

Jan, May, Aug
$200
$50/semester
$475/credit
* Registration fees are nonrefundable after 5 days from enrollment. All tuition includes a digital materials fee for updates to course or program content.
Software and Supplies
To take this course you'll need:
Computer with Internet connection.
Adobe Photoshop, InDesign, and Illustrator
Basic experience in the above software packages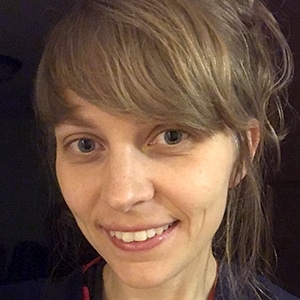 Carolyn Zaikowski
is a writer and educator with degrees in psychology and creative writing.
Course developed by Ashlie Kaufmann
The instructor was very insightful and helpful with explaining certain concepts that I struggled with throughout the course. I learned a lot about the importance of copywriting.
Stephanie Cornelison, Undergraduate Certificate in Advertising Design
Enrolling online is easy and convenient.

Chat with our knowledgeable admissions staff to select course and program options.

Complete your registration entirely online.
Did you know? You can take this course as part of an award-winning certificate or degree program.