FOR IMMEDIATE RELEASE
SESSIONS COLLEGE LAUNCHES NEW WEB SITE TO BETTER ADDRESS CONSUMER INFORMATION NEEDS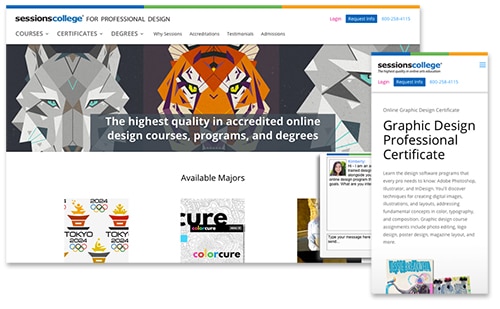 (July 25, 2016 – Tempe AZ)
Sessions College announces its new web site, developed specifically to address the needs and protections of consumers exploring educational options.
As a for-profit fully online college established in 1997, Sessions has been a spectator to the increasingly negative media coverage that has beset the for-profit college industry.
"Sessions College prides itself in being an exemplary for-profit college in every aspect, be it in affordability, educational quality, and regulatory compliance. We have developed this new site because we agree that it is critical for consumers to make informed decisions about their education, " stated Doris Granatowski, CEO. "Our goal is to provide everything a potential student needs to make the right educational decision in pursuing or enhancing a career in art and design."
Acknowledging the mistrust of for-profit schools caused by actions of a few bad actors, Sessions College was determined to provide detailed, sufficient information for all of its programs.
For example, consumers need to know what the institution's program costs, the accreditation information for the school/program, learning expectations and next steps for their career path.
The Sessions new site provides information in all these categories: clear course/program costs throughout the site, extensive information on school and program approvals and funding, visual guides to what you can expect to learn (student galleries throughout the site), and career center with practical information on available jobs, salaries, career resources, and more.
The site is a solution to providing information and access to a broad array of users from mobile to desktop. To explore the new Sessions College website, visit sessions.edu.
About Sessions College
Sessions College offers accredited visual arts online degree and certificate programs as well as individual courses. Its mission is to prepare art and design professionals for successful careers by providing the highest quality of online design education. Students gain a thorough training in the technical, creative, and critical-thinking skills that are required for a fast-changing industry.
Corporate Contact
Lou Schilt
Executive Vice President
lou@sessions.edu
480.212.1704 x100
Back to The Newsroom