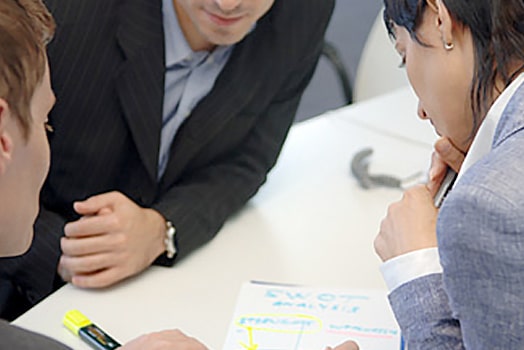 Design Career Guide
Industry Insights
So, what are employers looking for? It's a million-dollar question, and there's no one answer. The priorities for employers vary depending on the field—and change from one year to the next.
Employer Survey Factors
We asked four senior creative professionals from our Advisory Board to define their understanding of current hiring trends in art/design. Their answers below contain sage advice for any art/design school graduate, organized around five questions:
How Important is a Portfolio?
How Should I Organize It?
What Should I Include in My Portfolio?
What Skills Are Employers Looking For?
What Other Attributes are Important?
What are Graphic Design Employers Looking For?
1. How Important is a Portfolio?
The portfolio is what gets you your job. Words on a resume, credentials, references, these are all last, second to your portfolio. Without a portfolio you won't even be considered. Without a good portfolio, you won't get a job.
2. How Should I Organize My Portfolio?
Organize your portfolio in a logical way. Start with something great, move on to some good stuff and end with something wonderful. Don't cram everything into your portfolio. Your weak pieces will cloud my vision and leave a bad impression in my mind. It's better to have a few good/great things than a ton of mediocre pieces.
Keep your portfolio to 8-12 pieces. Make sure that you can talk to all your pieces. What was the project, your thinking behind it, how did you solve it, what was the outcome if any? Make sure you have good design/layout and craftsmanship in the portfolio itself. It is another design piece I am judging you by.
3. What Should I Include in My Portfolio?
I look for a clear understanding of hierarchy of information. A use of grids and organization in layouts. An understanding of type and how your typography choice influences the feel of your piece. I look for clean craftsmanship in the pieces themselves. Is the portfolio itself crisp and clean and nicely organized? Are the books, packages, or printed pieces well constructed? I look for creative thinking, with the understanding that entry-level designers will need to grow, do they have the thinking that will allow them to do so?
4. What Skills Are Employers Looking For?
Adobe CS software—Illustrator, InDesign, Photoshop—are a must.
Presentation skills are big. In this field you need to present and clearly explain your design thinking to clients. You are a salesman. Your client doesn't just know good design when s/he sees it. They will push you in bad directions if you allow them to do so. Confidence (without ego) helps with this.
Creative copywriting is helpful to create unique design experiences. Being able to work on a team is big. Be able to collaborate and share ideas. Don't horde thinking to try to look better than your peers, this kind of selfishness doesn't better the design or yourself. Have a willingness to learn. Understand that you do not know everything and you have a lot of growth ahead of you.
5. What Other Attributes are Important?
Dress the part. Drop the ego. Present your work confidently: if you aren't proud of it, it won't impress me either. You are presenting your work, not talking to yourself, so have your work face me, but don't let me take control of your book, always maintain the pace of your own presentation.
Remember that you are interviewing the company as much as they are interviewing you. Do your research beforehand and ask relevant questions during your interview that will help you make your decision. If you get a bad feeling about the company, your boss, your co-workers or the work they do, then move on.
What are Web Design Employers Looking For?
1. How Important is a Portfolio?
A portfolio plays a huge role in my assessment of an applicant for a Web design position. In many ways it plays one of the largest roles and is far more important to me than where they went to school or what degrees they have.
2. How Should I Organize My Portfolio?
Make your portfolio a clean and professional showcase for the display of your work, don't make the portfolio container the center of your work. Have links to everything that is currently online so it can be seen as it actually looks and functions. Include very easy to find contact information and information about yourself. And by that I mean your education and things about your background that influence or inform your work. I don't care what your hobbies and interests are. I care about that if you come work for me, but I find it distracting in a portfolio.
3. What Should I Include in My Portfolio?
In Web design I would expect to see a number of different types of online designs such as home pages, landing pages, email designs, mobile and iPad applications of online sites and designs specific to mobile and iPad.
Quality is much more important than quantity… but at the same time, there needs to be enough work to really show a variety of skills and a consistent style. I would much rather see a handful of really exceptional designs that show me that the designer has competence in a number of areas but has a style that I can really see as specific to them.
Web design portfolios often have an "all over the place" feel to them naturally since you may be designing for a very diverse group of clients in very different industries. So if you can show how your specific style can adapt to those differences you can show some cohesion even in the midst of that natural variety.
4. What Skills Are Employers Looking For?
Photoshop, Illustrator, HTML, CSS, and Javascript are essential…
Any designer coming out of school today who has ONLY print skills will soon be unhireable. Young designers who have only learned graphic design for print and have no Web design skill are even less viable than an older designer who never learned those skills to begin with. This is true because an older designer often still has more refined and sophisticated design sensibilities even if their technology is lacking, whereas a young print designer often has neither.
Smaller companies or marketing forms will be looking for a Web designer who also possesses strong front-end HTML and CSS skills. Even larger companies that keep design and development separate will be looking for the designer who understands coding well enough to converse easily with a developer and who can design with CSS in mind. Without a solid understanding of this, it will be much more difficult to get hired in today's market.
5. What Other Attributes are Important?
Equally important to your portfolio and your skill level is your maturity, your demeanor, your willingness to accept you still have things to learn and your level of knowledge about the company you are interviewing with. ALWAYS do your homework about the company who is interviewing you. Do more homework than you need to. Spend a lot of time on their site.
Prepare questions for them about how the site works, what you like and don't like about it, what their company culture is like, and their history. Never be at a job interview where they ask you if you have any questions for them (and they will) and say "no"…always have more questions for them than they have time for. This shows you are really passionate about them and wanting the job.
What are Multimedia Design Employers Looking For?
MULTIMEDIA
1. How Important is a Portfolio/Reel?
The quality of one's demo reel and its professionalism is ALL that matters in 99% of jobs. Jobs with big companies (e.g. Sony, Disney, etc.) probably require a college degree as well. But for most jobs, the only thing that matters and affects your salary is the quality of your work—your sense of art, color, design, taste, maturity, and so on.
2. How Should I Organize My Portfolio?
For motion graphics artists, a portfolio/reel should show a sense of 2D design, color, typography, and a great understanding of Walt Disney's principles of animation. It would also be good to be aware of current design trends in motion graphics.
3. What Should I Include in My Portfolio?
When I am looking at a reel, I'm looking for examples of lower-thirds, bumpers, logo animations, and simple character animations. I look at the worst thing in an artist's reel and judge them by that. I look at the energy of the piece. Can the artist make me feel something? Can I use them to help me make money? I want to see if they can animate something to make it look alive, or in an organic way. I want to see how well they use color and basic design principles. Are they responding to current trends?
4. What Skills Are Employers Looking For?
For motion graphics, Photoshop, Illustrator, and After Effects are all essential. Cinema 4D is also a really big plus, and getting more popular and standard every year. Knowing basic audio editing skills is also really helpful. For higher end animation, knowing Flash and Javascript can help out. You should probably also know video editing skills, and be very familiar with video.
Really strong design skills are important. You also be should be a master in motion tracking, color matching, and keying green screen, and understand the basics of production lighting.
5. What Other Attributes are Important?
Positivity is HUGE. Being around someone negative or harshly critical just kills creativity. Most art jobs are really laid back, so being high strung doesn't mesh well. Being motivated is also really helpful for success.
In your career, keep practicing. Always practice, regardless if someone has hired you to or not. Also, know exactly what you want to do with your career. Just "doing After Effects" isn't specific enough. At least initially, you need to know where you fit.
What are Animation Employers Looking For?
1. How Important is a Portfolio/Reel?
Don't begin contacting potential employers until you are 100% satisfied with your portfolio. Be sure to choose an area of specialization, rather than trying to sell yourself as a generalist. Generalist positions are typically geared toward experienced professionals rather than recent grads.
2. How Should I Organize My Portfolio?
Specialize in the aspect of art that you are most excited and passionate about. Be self-critical, and consistently push yourself to keep learning and improving your work. Solicit feedback from everyone you know, and scour the Web for other professional reels to get a clearer sense of how your work stacks up.
Expect to update your demo reel many many times during the course of your career. Initially, your demo reel should probably be updated every 2-3 months. Once you have landed your first job, you should update your reel at least once per year.
3. What Should I Include in My Portfolio?
Animators should have a demo reel (around a minute long) that demonstrates a solid understanding of weight, timing, and body mechanics. Modelers should have a portfolio that illustrates a mastery of anatomy and edge flow, and demonstrates the ability to faithfully adapt a two dimensional concept to 3D. And riggers should show a variety of characters and props which have been successfully and expressively animated in a production environment.
4. What Skills Are Employers Looking For?
Autodesk Maya or 3DS MAX are critical for CG Artists. After Effects and Photoshop are also pretty crucial.
Animators should have a solid grasp of the 12 animation principles, silhouette (balance/rhythm/gesture), body mechanics, and performance. Modelers need to have a strong sense of anatomy, form, proportion, and a sense of good modeling topology (light geometry, even quads, etc). Riggers should have a basic understanding of character modeling and animation, and of course a solid grasp of rigging principles and techniques as well as some scripting proficiency.
Traditional art skills are still quite important in this industry. All artists should have at least basic drawing competencies (especially figure drawing), and have a strong sense of form and composition.
5. What Other Attributes are Important?
Solid communication, interpersonal, and time-management skills are probably the most important traits for successfully retaining an industry job, apart from artistic and technical proficiency. A willingness to learn new techniques and adapt to project needs is also critical.
ABOUT THE ADVISORY BOARD
The advisory board is comprised of working experts in art and design. Advisory board members provide valuable information on the status of the current art and design workplace including employment opportunities, salary information, and required skill sets. We'd like to thank the following 2013-14 advisory board members for these excellent insights.