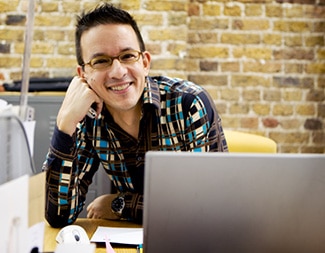 Use our job search resources to develop your resume, polish your portfolio, and prepare for interviews.
Design Career Guide
Job Search Tips
Graduating with a strong portfolio is just one step in getting the right job or client. Of course, it's probably the most important step. As an artist or designer, you are easily judged on the quality of your work when applying for a job.
But a stellar portfolio not the only factor. How slick is your resume? Do you write a good cover letter? Do you effectively represent yourself in person? Can you network to find opportunities? Are you applying for a job that you are actually qualified for and interested in?
Each year at Sessions College, we work with an external Advisory Board of creative directors and hiring managers to assess what design employers are looking for. The Industry Insights survey is packed with career advice from senior creative professionals.
A strong portfolio is essential to launching your career as a designer. How do you assemble quality work while you're still learning the ropes? Read our pointers on how to build your creative portfolio whether you are a student or professional designer starting out.
Your resume must reflect your professionalism in its content and appearance. A simple, legible layout is essential; your resume and all of its key elements should be easily understood at a quick glance on just one or two pages. Read resume tips for design professionals.
The interview is often feared by creative types. No fear, as surfers say. With our 5 steps for creative interviews, you can put your best foot forward as you interact with potential clients and employers.