In this class, you will finalize your portfolio, business materials, and resume, in preparation for pursuing or advancing your design career. Working with your instructor, you will hone your BFA-level projects into a persuasive presentation of final work. The course structure includes the opportunity to enhance your portfolio as well as demonstrate your ability to effectively communicate the depth of your creative and technical skills, critical thinking and problem-solving abilities, work ethic, and passion for developing impactful and compelling professional work.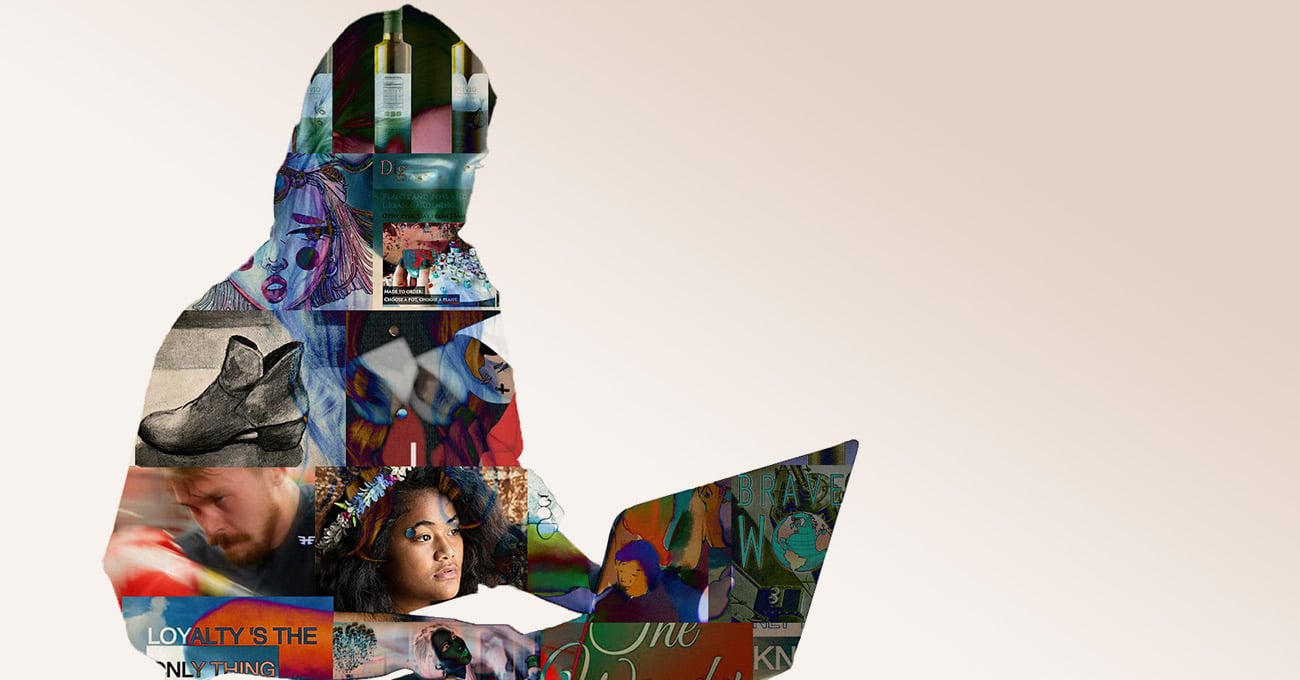 100% online
Project-based
Instructor-led
Credit-bearing: 3 Credits
Classes start January, April, and August
Instructor(s)
The course is taught by the following instructor(s):
Course developed by: Dr. Meryl P. Epstein
This course is only available to students enrolled in BFA programs.
Start Where You Are

You've come a long way in this program. We will begin the class with a review of your existing portfolio, in which we will get familiar with the portfolio requirements for this class.

Curating Your Work.

We will roll up our sleeves and assess how to curate your work and structure each presentation to create a "Wow sandwich."

Preparing for Your Presentation.

We will address how your portfolio class fits into your larger goals of channeling constructive feedback, marketing yourself, optimizing your presentations, and acing your interviews.

Assessment Criteria

Student work will be evaluated to assess the achievement of program outcomes defined for their Bachelor's Degree program. Please consult the appropriate program page for a complete statement of program outcomes.

 .
What Are The Course Projects?
The main focus of this course will be on assembling your portfolio. The first draft submission will be to your instructor at the midpoint of term. The second submission will be at end of term, where you will present your final work to your instructor and your classmates.
Here's a summary of expected components:

| | Number of Pieces | Due By |
| --- | --- | --- |
| Hardcopy portfolio | 10-15 pieces | Due Week 14 |
| Digital portfolio PDF | 10-15 pieces | 1st draft due Week 8, 2nd draft due Week 14 |
| Portfolio website | 10-20 pieces | 1st draft due Week 8, 2nd draft due Week 14 |
| Sell sheet | At least two portfolio pieces | 1st draft due Week 8, 2nd draft due Week 14 |
| BFA Portfolio Show submission | No more than 10 pieces | Due Week 12 |
What Software or Supplies Do I Need?
To take this course, you'll need:
Computer with Internet connection.
Adobe Photoshop, Illustrator, and InDesign CC.
What Will I Learn?
Students in this course can expect to learn to:
The ability to pull together a body of work into a cohesive portfolio that provides an effective platform for advancing your career.
The ability to assess your current portfolio, identify enhancements, and improve your work based on your portfolio goals.
The ability to improve your work by analyzing and acting upon feedback, and to give constructive feedback to other artists and designers.
The ability to write a creative statement describing your approach to creatively solving problems as well as producing and finalizing your work.
The ability to create effective versions of your portfolio in different media: hardcopy portfolio, digital portfolio, online portfolio, and sell sheet.
The ability to prepare a strong selection of your work for online exhibition.
The ability to effectively communicate your ideas visually, in written form, and through a presentation.
Classes start January, April, and August
3 Credit Course
Project-Based: Exercises, Discussions, and Critiques
| Course Tuition and Fees | |
| --- | --- |
| Tuition | $510/credit |
| Registration Fee* | $200 |
| Total Course Price | $1730 |
Registration fees are nonrefundable after 5 days from enrollment. All tuition includes a digital materials fee for course content.
Course Registration Form
To register for this course, use the form below to enter your information and desired start date. An Admissions Advisor will contact you to arrange payment and provide you with an Enrollment Agreement.
Frequently Asked Questions (FAQ)
What Are The Courses Like?
Our courses are project-based. In each course you'll enjoy a series of lectures, projects, discussions, and critiques designed to stretch your creative skills, earning college credit for your completed course.
How Much Time Do I Need?
Classes start January, April, and August, and this course can be completed in a 15-week term.
Who Are The Instructors?
Our courses are developed and taught by our faculty of professional artists, designers, and photographers. This means that you'll learn in-demand skills, get feedback on your work, and build a portfolio of creative work.
Is Sessions College accredited?