Online Graphic Design Course
Graphic Design I
Graphic designers today must be ready to tackle a wide range of projects from identity design to editorial design to product and packaging design. In this online graphic design course, you'll establish a firm foundation for professional design work. Gain insights from industry veterans and explore the challenges of designing posters, logos, magazine covers, book layouts, 3D designs, and brand identities. Hone your design process, as you research each project, develop concepts, work with expert instructor feedback, and begin to develop pieces for your portfolio.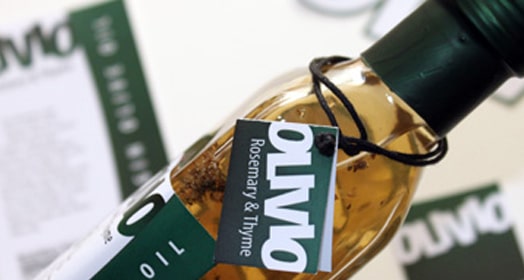 Olive oil packaging design by student Daniel Tomasch
Develop a professional approach to graphic design projects
Instructor-Led Course
Feedback from design professionals
Creative Projects
Stretch your skills, grow your portfolio
Learn at Your Own Pace
Self-paced and scheduled programs available
Course Outline
1 - The Process of Design
How does a designer approach a project and develop a killer visual concept? In Lesson One, you'll gain insights into the professional design process, learning the importance of research, concept development, and critique. A case study explores the evolution of an award-winning design concept, before you explore eight strategies for developing original visual ideas of your own. In the second part of the lesson, you'll learn about the tools and paste-up production methods used by many great designers of the 20th century. This will provide a historical context for how classic graphic design styles evolved into today's digital techniques.
Project - Pasteup layout
2 - Text and Typography
Actions may speak louder than words, but typography screams design. Skillful handling of text—including choice of typeface, type size, and alignment—is critical for any designer working today, in print or online. In Lesson Two, you will review some typography fundamentals and evaluate how typography is used in composition. You'll examine important issues in selecting a typeface, including style, tone, and expression. Case studies explore the important role of visual identity for any publication.
Project - Logo design
3 - The Shape of Design
Page layout skills are crucial for any graphic designer. Lesson Three addresses some essential concepts for magazine layout. You'll learn key issues in using a grid to plan layout and text treatment, looking at how to research and plan the structure of a page or spread. A case study analyzes how a famous designer created a magazine layout, teaching you important terms in text treatment. You'll pick up rules of thumb for effective layout design for magazine covers and spreads, looking at highly effective examples along the way.
Project - Magazine design
4 - Paper and Publishing
The objective of Lesson Four is to give you an insight into the nature of the publishing industry, that exotic world of full-bleed images, embossed jacket designs, and pre-press checking. You'll begin with an overview of publishing for old media and new media and learn about book design through an in-depth case study. You will explore important paper terminology including embossing, die cutting, and more.
Project - Book design
5 - Products and Packaging
Why do some products sell while others simply gather dust on the shelves? Once a product hits the market, packaging design can make or break it. Lesson Five explores how visual messages are used to shape consumer perceptions. You will learn how typography, color, and imagery work together to convey a message to consumers.
Project - Packaging design
6 - Business and Production
Lesson Six offers essential preparation in the business and production aspects of design. You'll begin by exploring some options for a graphic design career, whether you are freelance or in-house. You'll learn tips for promoting yourself, working with clients, and managing your design jobs professionally. In the second part of the lesson, you'll learn principles for working with printers and get an overview of the ten steps in the print production process. You'll also learn pointers for designing and developing your portfolio of work. In the final exercise, you'll attempt a portfolio-worthy project.
Project - Packaging design
Course Outcomes
Students in this course can expect to learn to:
Develop graphic design work and concepts based on professional creative approaches and techniques.
Apply traditional and digital design techniques to create polished graphic design pieces.
Select and set typography to communicate a specific message in logo designs and page layouts.
Use knowledge of the characteristics of type to create cohesive and expressive logo designs.
Use a layout grid and professional layout rules to design engaging magazine covers, article spreads, book covers, and book chapter pages.
Create magazine and book layout designs with a clear visual hierarchy of information.
Create a basic three-dimensional product packaging design working from a client brief.
Incorporate existing brand rules into product packaging designs and other graphic design projects.
Develop an understanding of how to manage the graphic designer/client/vendor relationship, including promotion and billing.
Organize work for use in physical and online design portfolios and produce a final portfolio piece that involves printing, labeling, package design, and photography.
Course Registration
Interested in this course? Scheduled and self-paced enrollment options are available. Ask Admissions about taking this course as part of a degree or certificate program.
Course Level
Classes start
Registration Fee
Tuition
Degree course
3 credits, 15 weeks
Jan, Apr, Aug
$200
$510/credit
Vocational course
60 clock hours, 3 months access
Enroll today, start tomorrow
$50
$949
* Registration fees are nonrefundable after 5 days from enrollment. All tuition includes a digital materials fee for updates to course or program content.
Software and Supplies
To take this course you'll need:
Computer with Internet connection.
Adobe Photoshop, Illustrator and Indesign or equivalent programs.
Basic experience in graphic design and the above software.
Course developed by Morten Sohlberg
Enrolling online is easy and convenient.

Chat with our knowledgeable admissions staff to select course and program options.

Complete your registration entirely online.
Did you know? You can take this course as part of an award-winning certificate or degree program.