Have you ever spent more time working on a photo shoot at your desk than you did taking the pictures? If so, consider managing, developing, printing, and presenting your images efficiently with Adobe Lightroom Classic. In this online Lightroom course, working with a photography pro, you'll learn how to import and catalog your images with ease, and use basic and advanced development and retouching tools to create stellar shots, taking advantage of advanced production techniques and workflows.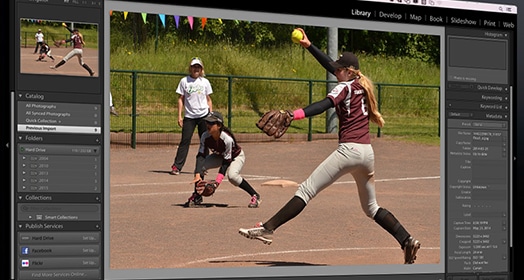 Make light work of image management with Lightroom
100% online
Project-based
Instructor-led
Study at your own pace
Complete this course in 6-8 weeks
Instructor(s)
The course is taught by the following instructor(s):
Course developed by: Felicia Kieselhorst
Take this course as a standalone or as part of the following program(s):
No items found
Intro to Lightroom

If you're an experienced Photoshop user, you may wonder where Lightroom fits into your photography workflow. In this lesson, you'll explore the many facets of Lightroom and find out how it can be a one-stop shop for organizing, editing, and outputting your images. Lightroom is like seven programs in one, with "modules" called Library, Develop, Map, Book, Slideshow, Web, and Print. This lesson will give you a taste of the basic features of each area and show you how to import and export your photos.

Culling and Editing

If you've ever come home from a photo shoot with hundreds or thousands of photos, you know how tricky it can be to sort through and find the ones you want to use. This lesson will teach you processes to efficiently cull, evaluate, and edit your photos. You will learn how to select the best images from your shoot using both qualitative principles and the Histogram, and how to apply basic global edits using Quick Develop and Presets.

The Develop Module

In this lecture, you will learn about the Develop Module and explore some of its important features: Navigator, Presets, Snapshots, History, Collections, and Local Adjustments. We'll zoom in on the Basic Panel, where you will explore how to make the white balance and tone and presence adjustments that virtually every image needs.

Advanced Panels

Here you will learn about more advanced panels intended to make sophisticated adjustments to your photos, as well as applying repairs to your photos. We'll take a closer look at when to use advanced Lightroom panels that deal with color effects: Tone Curve, HSL/Color/B&W, and Color Grading and how to use the detail panel to bring out the detail in images. We'll examine how to make local adjustments using Spot/Heal, Red Eye Removal, and apply masks using the graduated filter, radial filter, and adjustment brush. Finally, we will revisit the role that Photoshop plays in the editing workflow.

Even More Modules!

More modules? That's right, in this lesson we will learn about the options available in the Map, Book, Slideshow, Web, and Print modules. Because printing is a boon in Lightroom, we will explore the importance of good equipment and supplies, as well as options for printing singles, multiples, contact sheets, and picture packages.

Advanced Features and Workflows

In this lesson, we'll examine some unique techniques that will assist you in the production of your photos, such as merging photos for high-dynamic ranging imaging and panoramic photos, shooting tethered so your photos are captured directly to your computer, and applying facial recognition to people in your photos. Other workflows will be discussed, such as creating Smart Collections, when to delete photos, creating redundancies and backups for your files. We will wrap up our course with a case study that thoroughly demonstrates a workflow for a project.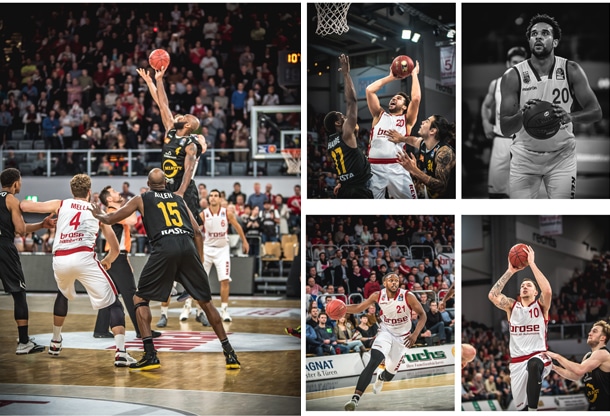 by Ryan Evans
What Are The Course Projects?
Photography and imaging projects include using organizing and tagging images, culling, evaluating, and editing images, global edits and local adjustments, and advanced features. Students will use a creative photo shoot to implement a wide range of software techniques.
What Software or Supplies Do I Need?
Computer with Internet connection.
Adobe Lightroom Classic.
Digital camera with zoom, and manual settings. RAW shooting capability recommended.
Basic experience in digital photography and Photoshop.
What Will I Learn?
Students in this course can expect to learn to:
Use and effectively apply the main features of Adobe Lightroom Classic.
Implement an efficient photography development workflow using Lightroom.
Catalog images for future searches using metadata, keywords, ratings, and other properties.
Import images from a photo shoot to the library and export to different common file formats.
Apply each of the seven Lightroom modules to a single photograph or multiple photographs simultaneously.
Adjust the basic qualities of a photograph including white balance, brightness, and contrast.
Evaluate and adjust a photograph using a histogram.
Apply localized image adjustments including spot retouching, cropping, and graded corrections.
Make detailed corrections to tone, color, sharpening, noise and chromatic aberration, and vignettes.
Set up for printing single and multiple images, custom contact sheets, and picture packages.
Create slideshows and Web galleries using Lightroom templates and custom layout features.
Utilize advanced features with Lightroom, including panoramic and HDR images, shooting tethered, and facial recognition.
Enroll today, start tomorrow
Study at your own pace
Complete within 3 months
| Course Tuition and Fees | |
| --- | --- |
| Tuition | $949 |
| Registration Fee* | $50 |
| Total Course Price | $999 |
Registration fees are nonrefundable after 5 days from enrollment. All tuition includes a digital materials fee for course content.
Course Registration Form
To register for this course, use the form below to enter your information and desired start date. An Admissions Advisor will contact you to arrange payment and provide you with an Enrollment Agreement.
Frequently Asked Questions (FAQ)
What Are The Courses Like?
Our courses are project-based. There are no set logins, so you can study at your own pace. In each course you'll complete a series of lectures and projects designed to stretch your creative skills.
How Much Time Do I Need?
This course can be completed in 60 hours or less. You'll have three months from enrollment to complete the course studying at your own pace. Extensions are available for those who need more time.
Who Are The Instructors?
Our courses are developed and taught by our faculty of professional artists, designers, and photographers. This means that you'll learn in-demand skills, get feedback on your work, and build a portfolio of creative work.
Is Sessions College accredited?