Time to get messy and have some art-making fun! In this course, you will explore, experiment, and expand your ability to conceptualize and develop compelling and innovative images through the use of technology, digital compositing, traditional drawing and/or painting techniques, mixed media, collage, and/or other art-making strategies. You will stretch your creative skills, discovering new avenues for your art and illustration, inspired by the concepts and strategies used by great artists past and present.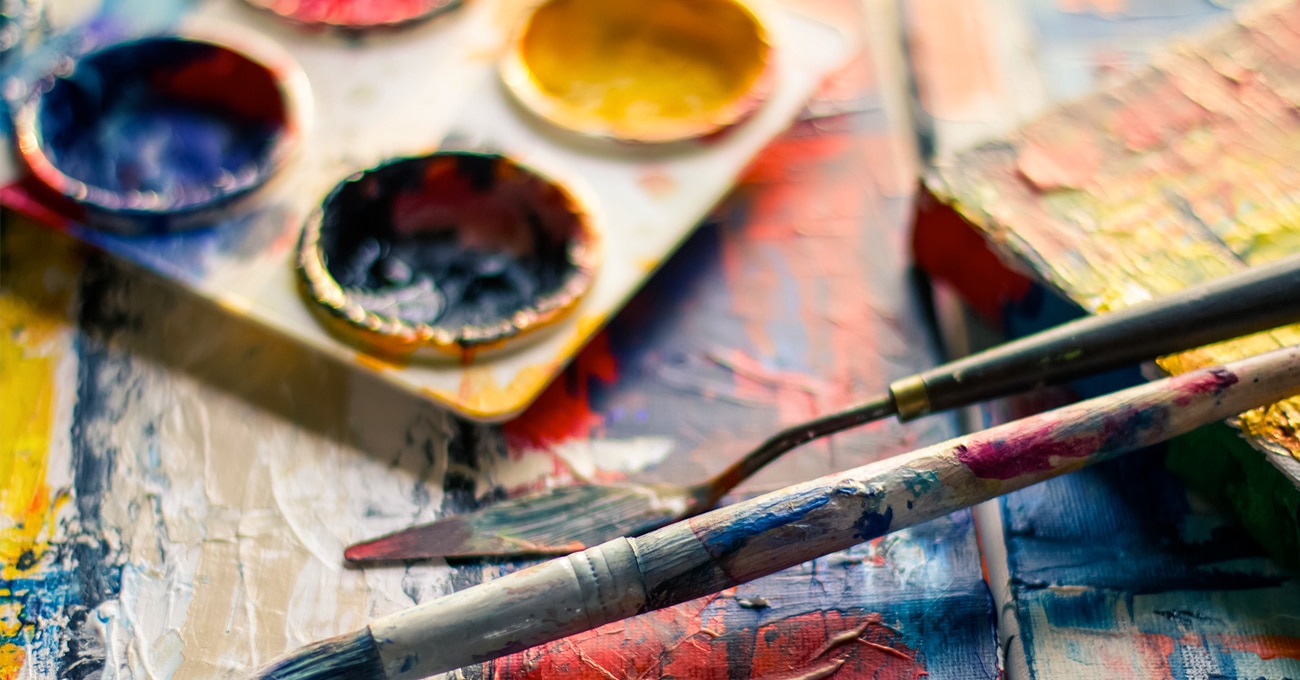 100% online
Project-based
Instructor-led
Credit-bearing: 3 Credits
Classes start January, April, and August
Instructor(s)
The course is taught by the following instructor(s):
Course developed by: Jordon Schranz
Take this course as a standalone or as part of the following program(s):
What Is Mixed Media?

We'll define mixed media, distinguishing it from multimedia and exploring collage and appropriation as fundamental techniques

Early Examples of Mixed Media

In a wide-reaching survey of 20th and 21st century artists, we'll look at movements and major players in early mixed media, including Cubism, Surrealism, and Dada.

Expressive Mark Making

Moving from early mixed media to contemporary modes and movements, we'll explore Expressionism, Abstract Expressionism, Pop Art, and Postmodernism.
What Are The Course Projects?
Students will engage in a series of creative mixed media projects, exploring the use of non-visual senses/sensibilities, compositional concepts, aesthetics, photo collage, abstraction, and source modification. Students will acquire an understanding of art-making methods in a historical context, learning new ways to think about composition.
What Software or Supplies Do I Need?
Computer with Internet connection.
Art supplies: Most of the assignments allow for a choice of which medium you will want to use. I suggest looking through the individual projects first, before acquiring materials, and then decide which materials may serve you best. The following may be needed:

Examples of Traditional Mediums: Color Pencils, Charcoal Pencils, Charcoal Sticks, Compressed Charcoal, Chalk Pastel, Oil Pastel, Watercolor, Gouache, Oil Paint, Acrylic Paint, India Ink, Ink Pens, Markers
Examples of Traditional Grounds and Supports: Drawing Paper, Charcoal Paper, Pastel Paper, Watercolor Paper, Canvas, Canvas Board, Panel
Experimental Mediums and Grounds: Do your research. Anything can be used to make art, but find out what goes together safely and successfully
Other Necessary Supplies: Acrylic Matte Medium or Clear Craft Glue (Elmer's Glue, X-Acto Blade or Scissors, Cutting Board, Kneaded Eraser, Pink Eraser, White Eraser
What Will I Learn?
Students in this course can expect to learn to:
Explore and research a variety of creative image-making techniques such as employing technology, digital compositing, traditional drawing and/or painting techniques, mixed media, collage, and/or other artmaking strategies.
Research and examine the work of recognized artists who employ mixed media strategies to produce their professional and artistic work.
Experiment with multiple mixed media artmaking techniques in order to develop and produce visually compelling illustrations and creative artwork with consideration of historical concepts, artistic styles, aesthetics, and artmaking trends.
Examine, gather, analyze, synthesize, and professionally present research and concepts in alignment with the course content, assignment criteria, and presentation guidelines.
Actively participate in class discussions/meetings, constructively assess the work of your peers, and enhance your creative work based upon feedback.
Demonstrate effective and efficient use of traditional media and classic techniques, consider proportion, perspective, value contrast, and the human figure (if applicable), and expand your ability to conceptualize and develop compelling and innovative illustrations and/or artwork.
Where applicable, create images and graphics by effectively and efficiently using creative software including Adobe Photoshop, Illustrator, as well as other industry and web-based technologies.
Produce and present your innovative image-making techniques and resulting creative work.
Effectively generate, clearly convey, and support ideas by employing critical thinking, communication, and writing skills while considering divergent perspectives, cultural framing, historical context, research, and ethical concerns when providing critiques of peers' work and participating in presentation sessions.
Classes start January, April, and August
3 Credit Course
Project-Based: Exercises, Discussions, and Critiques
| Course Tuition and Fees | |
| --- | --- |
| Tuition | $510/credit |
| Registration Fee* | $200 |
| Total Course Price | $1730 |
Registration fees are nonrefundable after 5 days from enrollment. All tuition includes a digital materials fee for course content.
Course Registration Form
To register for this course, use the form below to enter your information and desired start date. An Admissions Advisor will contact you to arrange payment and provide you with an Enrollment Agreement.
Frequently Asked Questions (FAQ)
What Are The Courses Like?
Our courses are project-based. In each course you'll enjoy a series of lectures, projects, discussions, and critiques designed to stretch your creative skills, earning college credit for your completed course.
How Much Time Do I Need?
Classes start January, April, and August, and this course can be completed in a 15-week term. College credit from this course can be applied to a range of degree and certificate level programs at Sessions College.
Who Are The Instructors?
Our courses are developed and taught by our faculty of professional artists, designers, and photographers. This means that you'll learn in-demand skills, get feedback on your work, and build a portfolio of creative work.
Is Sessions College accredited?