Online Photoshop Course
Photoshop I
Adobe Photoshop is the premiere image manipulation tool for print design, Web design, and photography. You can learn to tame this creative powerhouse of a program in this online Photoshop course. Working with a design pro, you'll learn the best techniques for common Photoshop jobs including selecting and isolating objects, creating image composites, masking and vignetting images, setting typography, and improving images with retouching and effects.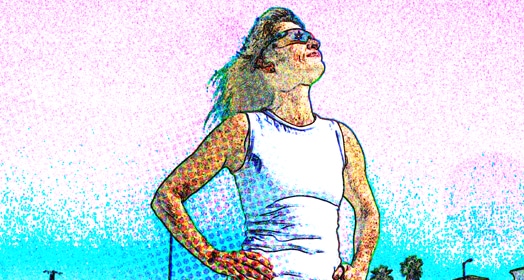 Get the Photoshop treatment
Learn fundamental Photoshop techniques through hands-on projects
Instructor-Led Course
Feedback from design professionals
Creative Projects
Stretch your skills, grow your portfolio
Learn at Your Own Pace
Self-paced and scheduled programs available
Course Outline
1 - Photoshop Is a Verb
At the outset, you'll get acquainted with the Photoshop environment and get to work "photoshopping," creating new and unique digital images. You'll learn a wide range of selection tools and use them to silhouette or isolate imagery. In the process, you'll move a mid-air snowboarder to an exotic landscape. You'll also experiment with basic adjustments that change the coloring and exposure of your photographs. Finally, you'll learn the ins and outs of important file formats for Photoshop users.
Project - Zelig effect composite
2 - Layers, Cloning, and Other Ways to Rule the World
One classic challenge for any Photoshop artist is to create "composite" images by seamlessly combining many photos into a single, convincing image. In this lesson, you'll learn how to make complex selections using the Pen tool, you'll unlock the power of layering and layer styles, and you'll use the Clone Stamp to correct problem images. Resolution is also addressed, ensuring your images are the right quality for the Web and print.
Project - Movie poster composite
3 - Layer Magic With Masks and Blending
Ready to learn the secrets of "power users"? The secret is behind a mask. Photoshop masks help you build relationships between image layers, creating sophisticated results. You'll learn techniques for creating masks with brushes and with selections and you'll learn how to use gradients and blend modes for even more fine image control.
Project - Multiplicity composite
4 - Typography in Photoshop
Letters and words make a tremendous difference in the look and feel of a Web site or printed material, and can also be a huge factor in whether a product ultimately looks amateurish or professional. In this lesson, you'll explore the simple setting of letters to complex tools and character settings. Additionally, you'll learn to place type on a path, make type masks, and add special effects, all in the context of a professional design project. A special focus is the challenge of overlaying typography on photographic imagery.
Project - Ad design
5 - A Brush With Brushes
Photo editors and fine artists alike spend much of their time working with Photoshop brushes. Like real brushes, Photoshop brushes offer a variety of ways to paint on the canvas. In Lesson Five, you'll learn how to use preset brushes to colorize black and white images, enhance photos, stamp shapes, and create one-of-a-kind illustrations. You'll also learn how to create, save, and share your own brushes and brush sets.
Project - Media cover art
6 - Filters and Retouching
Even the finest digital photographers need to spruce up their images in Photoshop. This lesson focuses on the different tricks and techniques Photoshop offers for stylizing images, correcting exposure and contrast problems, as well as retouching or repairing parts of an image. You'll explore filters, adjustment layers, and retouching tools that polish your digital images, and you'll look at ways to organize those images in Adobe Bridge.
Project - Travel poster
Course Outcomes
Students in this course can expect to learn to:
Use basic selection tools and edge refinement to isolate and edit parts of an image.
Manipulate layers through ordering, positioning, scaling, rotation, and adjustments.
Create composite images that demonstrate advanced selection and layering techniques.
Prepare images for Web and print output with appropriate sizing and resolution.
Apply painted masks, selection-based masks, gradient masks, and blend modes to create sophisticated image effects.
Create adjustment layers for editable, non-destructive changes to image coloration and exposure.
Set and modify typography using the full range of type tools, the Character panel, and the Paragraph panel.
Apply special effects to typography using masks, paths, and layer styles.
Use preset brushes and custom brushes to colorize images, enhance images, and build illustrations.
Stylize images by combining filters with blending and masks.
Evaluate and correct image imperfections using the Info panel, adjustment layers, and retouching tools.
Combine Photoshop and Adobe Bridge to build an overall professional workflow with effective digital asset management.
Course Registration
Interested in this course? Scheduled and self-paced enrollment options are available.
Course Level
Classes start
Registration Fee
Tuition
Degree course
3 credits, 15 weeks
Jan, Apr, Aug
$200
$510/credit
Vocational course
60 clock hours, 3 months access
Enroll today, start tomorrow
$50
$949
* Registration fees are nonrefundable after 5 days from enrollment. All tuition includes a digital materials fee for updates to course or program content.
Software and Supplies
To take this course you'll need:
Computer with Internet connection.
Adobe Photoshop CC.
Ask Admissions about taking this course as part of a degree or certificate program.
Course developed by Andrew Shalat
Enrolling online is easy and convenient.

Chat with our knowledgeable admissions staff to select course and program options.

Complete your registration entirely online.
Did you know? You can take this course as part of an award-winning certificate or degree program.