Digital video is an exciting field, recently described by FaceBook CEO Mark Zuckerberg as a megatrend. In this online video editing course, you'll learn the art and craft of editing videos using Adobe Premier, or equivalent NLE program. Working with a pro digital artist, you'll learn time-honored concepts in editing, including shot types, story structure, scripting, editing sound, continuity editing, CODECs, adding text and graphics, compressing and expanding time, and storytelling strategies. Through a series of creative projects, you'll learn how to create polished movies for digital and social media applications.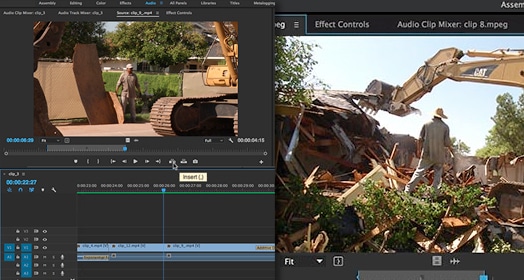 100% online
Project-based
Instructor-led
Credit-bearing: 3 Credits
Classes start January, April, and August
Instructor(s)
The course is taught by the following instructor(s):
Course developed by: Natalie La Scala
Take this course as a standalone or as part of the following program(s):
The Role of An Editor

We will begin by exploring what a non-linear editor does, covering the main functions and areas in the NLE interface: Project Panel, Source Monitor, Timeline, and Project Monitor. We will examine what we mean when we say digital editing is lossless, non-linear, and non-destructive, and what this means for your editing process. We will define the digital editor's workflow and zoom in on the editing process, explaining key terms and framing the task at hand by analyzing Walter Murch's concept of two styles of editing.

Cinematic Storytelling

How are cinematic stories constructed? This week we will examine the main shot types used by directors and editors, and why they are used. We will discuss the importance of shot sequence and the way in which a series of shots must be logically sequenced and provide information that advances a story. We will discuss story structure, identifying how concepts like a 3-act structure and story arc can be used to create a coherent narrative that builds to a climax and resolution. Particular areas of focus will be the 2-column script used by directors and editors to organize their shot sequences, and the importance of "shooting for the edit" and maintaining continuity in editing.

The Power of Sound

Sound plays a powerful role in video editing. This week we will discuss the five types of cinematic sound that are recorded or created in shooting and production: ambient, foley, SFX, voiceover, and music. We will break down the different ways in which we can edit a sound track, providing an introduction to the technical aspects of stereo, panning, and metering audio levels and discussing the importance of establishing continuity in audio editing.

Time-Based Media

Video editing is both creative and highly technical. This week we will discuss some of the technical basics of CODECs and compression that you need to know to output files. We will discuss how to add and edit text, graphics, and simple animations to your movies in your NLE. The lecture will explore some best practices in typography for the screen, examining some classic title sequences and the role of text, graphics, and animation in social media videos.

Perception of Time

Time is not a barrier to any movie editor. This week's lecture will discuss how time is perceived in film and video, exploring ways to expand and compress time in editing. We will explore how filmmakers use montage by cutting together a variety of shots to show the passage of time in a short sequence. We will explore different types of edits and transitions, and how they can establish continuity and influence our perception of time.

Storytelling Strategies

Storytelling is about keeping the big picture in mind. As you complete your final project, we will explore the benefits of a clear simple, minimal approach to storytelling. We will look at ways you can weave together multiple narratives: cross-cutting and split screen, and explore the question of how to make movies that are authentic or informative. Finally, because as Robert Rodriguez once said, necessity breeds creativity, we will empower your projects with a discussion of why good movies can be made with creativity on almost any budget.
What Are The Course Projects?
Digital editing projects include a retro ad, shot sequencing, creating an audio soundtrack, social square video, and a music driven narrative piece.
What Software or Supplies Do I Need?
Computer with an Internet connection (broadband recommended).
Adobe Premier or equivalent program.
Access to a digital video camera and ability to connect it to a computer to capture footage.
What Will I Learn?
Students in this course can expect to learn to:
Apply foundation concepts in non-linear video modification, film direction, and digital sound editing.
Develop a basic proficiency with the tools and techniques available in standard digital video editing programs.
Shoot, capture, edit, and output short video projects, organizing footage and modifying it into a coherent sequence.
Set up short video projects and shoot them using a variety of appropriate camera angles, shots, and framing.
Apply techniques for establishing or breaking continuity in a video sequence.
Edit a video sequence to synchronize it to a musical soundtrack or dialog.
Apply a variety of techniques for expanding or compressing the perception of time in a video sequence.
Add title sequences to a digital video and animate the sequences using keyframes.
Perform basic production checks and output video in common formats including DVD and the Web.
Apply basic techniques for mixing a soundtrack incorporating the human voice, ambient noise, sound effects, and music.
Classes start January, April, and August
3 Credit Course
Project-Based: Exercises, Discussions, and Critiques
| Course Tuition and Fees | |
| --- | --- |
| Tuition | $510/credit |
| Registration Fee* | $200 |
| Total Course Price | $1730 |
Registration fees are nonrefundable after 5 days from enrollment. All tuition includes a digital materials fee for course content.
Course Registration Form
To register for this course, use the form below to enter your information and desired start date. An Admissions Advisor will contact you to arrange payment and provide you with an Enrollment Agreement.
Frequently Asked Questions (FAQ)
What Are The Courses Like?
Our courses are project-based. In each course you'll enjoy a series of lectures, projects, discussions, and critiques designed to stretch your creative skills, earning college credit for your completed course.
How Much Time Do I Need?
Classes start January, April, and August, and this course can be completed in a 15-week term. College credit from this course can be applied to a range of degree and certificate level programs at Sessions College.
Who Are The Instructors?
Our courses are developed and taught by our faculty of professional artists, designers, and photographers. This means that you'll learn in-demand skills, get feedback on your work, and build a portfolio of creative work.
Is Sessions College accredited?