December 2022 Student Gallery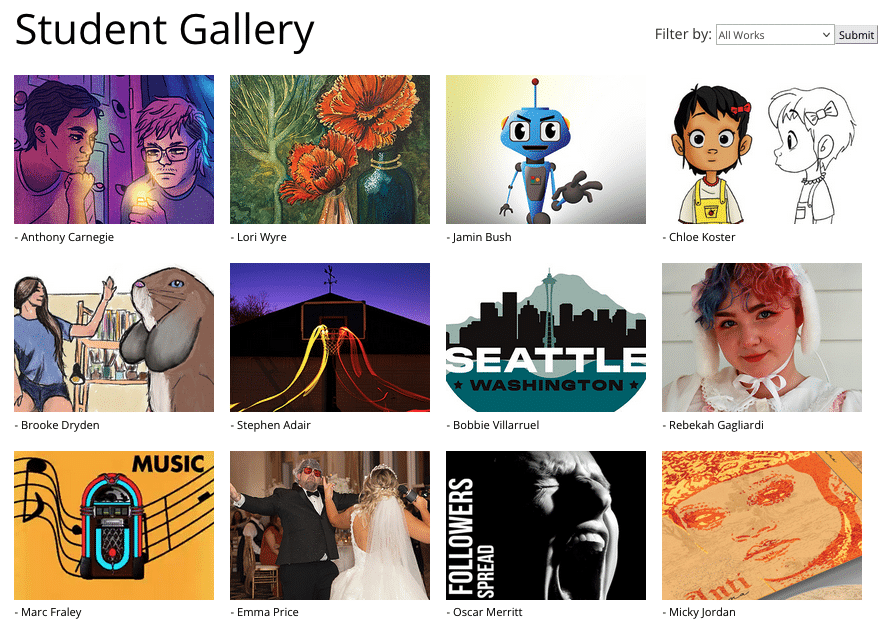 Happy Friday, Sessions family! As the holidays approach, we are celebrating the high level of creative work accomplished by students this Fall 2022 term.
To find out more, clap your eyes on our latest student gallery, updated each term with excellent art, design, digital media, and photography work, nominated by Sessions College faculty.
AND… here it is, the December 2022 Student Gallery updated with creative work from our Fall 2022 term.
Below are some of the outstanding students whose work was selected. Kudos to you, and keep up the great work!
Alejandra Quesada
Alexandra Mocombe
Andy Shaw
Anthony Carnegie
Bobbie Villarruel
Brandi Kambalov
Brielle Saling
Brooke Dryden
Chloe Koster
Chris Allbritton
Denelius Holland
Elia Giuliani
Emma Price
Jamin Bush
Jonnavin Boardwel
Kevin Nuccitelli
Konstantinos Marmaridis
Larisa Lowas
Lissa Rodems
Logan Perrault
Lori Wyre (2)
Maggie Brownstone
Marc Fraley (2)
Megan Lewis-Reed
Michael Davis
Micky Jordan (2)
Miranda Edwards
Nevaeh Baxter
Oscar Merritt
Rebekah Gagliardi
Sharla Fossen
Stefanos Dardanos
Stephen Adair
Steven Kohut
Victoria Torres
Zachari Haselow (2)
To learn more, visit the Student Gallery page. Our thanks to all faculty members who nominated student work to the gallery, and to our Academic Coordinator Lauren Edmundson and Creative Director Patricio Sarzosa for curation and production.
Please continue to celebrate excellence and creativity!!!

Sessions Staff is a restless soul who loves to share Campus News stories with current and prospective students.