A Talent for Helping Creatives Find Careers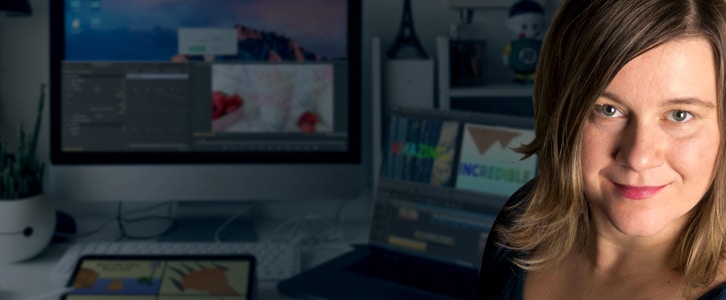 This January, Denver-based media artist Natalie La Scala joined the Sessions College faculty to teach courses in video and digital media. After working with Natalie for a year in the Sessions College Advisory Board, we couldn't wait to find an opportunity for her to work with students. Natalie has a unique background: she is both a creative with deep experience in digital marketing and a consultant in instructional design, curriculum development, and software training. These are key skills for helping creatives unlock their talents and find a niche in today's constantly changing digital media environment.
Q: First, how are you doing in this early stage of the coronavirus emergency? I hope you and your family are well. What are some of the things you are doing to manage?
What a wild time. We are managing well. Here in Colorado we are experiencing amazing weather and I have spent most of my days outside with my family. A majority of my work is done from home, so not much has changed for me aside from the fact that It's challenging with everyone else home too. I have embraced FaceTime over phone calls or text and have been sending people video messages to help with feeling more connected. I find myself being grateful for things I had taken for granted.
Q: Your career has focused on video editing and production and digital media. What are some ways in which those skills have become in more demand in the last few years, particularly in marketing?
Short format content has been in high demand as companies seek to market across multiple media platforms like Instagram and TikTok.  Brands are building digital media strategies that build authenticity through frequently refreshed content as a way to connect with an audience's daily lives. Short format content with a quick turn around time is a hot market right now. Companies like Soona who can promise same day turn around time are seeing a big boom in business. Less is more production styles are everywhere.
Q: In Denver, you've done a lot of work in mentoring creatives and setting up digital media teams. Can you talk a little about your experiences in that industry?
I spent many years putting together media teams for the Paper Fashion show, and live culinary shows at the Cherry Creek Arts Festival. There are no lack of talented individuals, and creatives that I have mentored along the way are doing things that amaze me. Rhett Cutrell with Fornever Productions, Josiah and Julia Holwick with Proper Films, R.D Womack (whose film In This Gray Place is free on Amazon Prime right now!), and Cole Garrison with 4Ocean are doing great things and their content never disappoints. At one point they have all made sub-par student films, so It is proof that if you work hard and keep the passion you will get where you dream to go.
Q: What are some of the key attributes for people wanting to enter the digital media field? What do you look for in a student or graduate?
Passion. Passion to tell a story. Passion to redo things that didn't work. Passion to grow and learn. Passion to problem solve. Passion to work hard. Passion to not give up. Passion to create. There are such a diverse range of people in this industry, but passion is what we all share.
Q: How should a beginning video or movie maker think about developing their storytelling abilities?
What you have to say and how you choose to say it is what sets you apart. Start simple and stay genuine. I see plenty of student getting lost because they are trying to do too much. Stick to the core message and develop from there. Make sure you believe the message you are sending.
Q: Many creatives are going to have at home time during this crisis. In addition to staying safe and healthy, what are some things creatives could be doing to keep their talents growing?
Watch movies, make a podcast, produce Vine and Tik Tok videos, make a video tutorial, vlog, start that YouTube channel, set up a time-lapse or stop motion. Now is a perfect time to connect with others through media. Challenge yourself by working with what is in front of you and problem solve creatively. I'm going to spend some time on the newly released Vimeo Create: https://vimeo.com/create
Q: In one sentence, creating digital media is exciting because: _________
It's ever changing, far reaching, and highly impactful.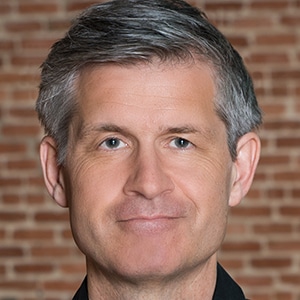 Gordon Drummond is the President of a Sessions College, where he is Director of Instructional Design, among many roles. He's passionate about education, technology, and the arts, and likes to surround himself with more talented people.