Online Digital Media Degree
Associate Degree in Digital Media
The Associate of Occupational Studies (AOS) in Digital Media degree prepares students for careers in digital media arts. You'll explore fundamental concepts in art and design, and apply your talent to projects that include digital video editing and production, 3D modeling, and motion graphics. Our aim is to get you comfortably creative with Adobe Photoshop, Illustrator, Animate, Premier, and After Effects, as you develop a high-quality reel of motion art.
Digital media occupies our lives in this modern world. You can be the creator of those spaces. Kickstart your career with a degree in digital media from Sessions College.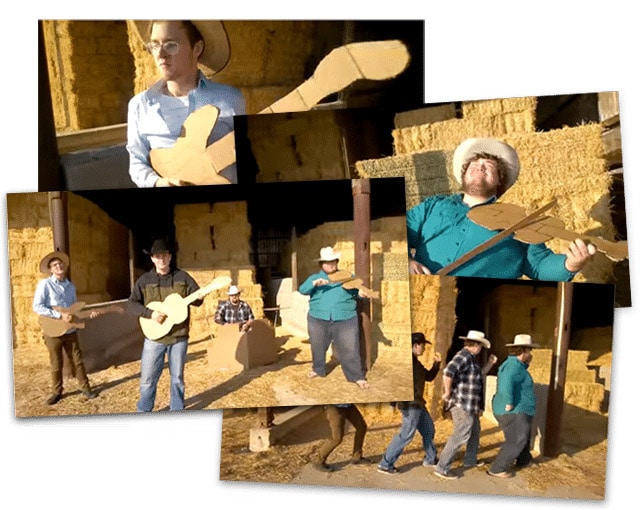 Student work by Austin Verburg, AOS in Digital Media
Launch Your Career with a Degree in Digital Media
NEXT CLASS STARTS:
APR 27TH

Creative Classes, Expert Instructors
Focus on Career Preparation
Build Professional Skills and a Portfolio
Program Overview
The Sessions College Associate of Occupational Studies (AOS) in Digital Media is an intensive two-year degree program for students seeking to enter careers in video production and editing, animation, or motion graphics. Designed for high school graduates and adult learners, the program offers a strong foundation in visual design and a working knowledge of software and production techniques essential for contemporary digital media.
Digital Media students begin their program with first year studies focused on art and design fundamentals. Second-year classes place an emphasis on techniques for time-based media. Students gain a training in Adobe Premiere, Animate, and Autodesk Maya and foundation in video making and motion graphics.
Curriculum
The Associate of Occupational Studies Degree in Digital Media is a 72-credit program completed in two years. Part-time schedules are available.

Digital Media Major - Year One
First Semester
Second Semester
Third Semester
Digital Media Major - Year Two
Fourth Semester
Fifth Semester
Sixth Semester
* Elective course may be replaced by any other 3-credit course in the program, subject to availability and prerequisites.
Program Outcomes
By completing the program, Digital Media majors develop the following competencies:
Video. Shoot and edit engaging videos utilizing skillful production, camera, audio, and non-linear editing techniques.
Software. Create high quality images, animations, and movies utilizing Adobe Photoshop, Illustrator, Animate, After Effects, and Premiere, and Autodesk Maya.
Animation. Create short animations employing basic animation techniques using 2D and 3D artwork.
Design. Create polished, professional artwork demonstrating knowledge of color, pattern, detail, and composition.
Storytelling. Create images, animations, and movies demonstrating an effective use of visual communication and storytelling.
Critical Thinking and Writing. Develop ideas utilizing critical thinking skills and clearly communicate them through writing within academic or professional contexts.
Portfolio. Develop a high-quality portfolio of digital media work in preparation for marketing your multimedia skills and artistic services.
Course Descriptions
Program highlights for Digital Media majors in the AOS program.
DIG 201 Digital Video Editing I - 3 credits
Learn the art and craft of editing videos from two award-winning filmmakers. The course explores techniques that can be applied in a range of non-linear editing programs, including Adobe Premiere Pro. Yet the main focus is not just on developing software skills; it's on exploring the magic behind video editing. Challenging projects including editing a commercial, an interview, a narrative scene, a music video, a video diary, and a text title sequence.
DIG 204 Digital Video Production - 3 credits
Learn how to control white balance, aperture, and shutter speed, to get high quality images from your digital video camera. You'll explore the different types of shots and camera motion techniques used by the pros and learn how to do location scouting, plan props, wardrobe, and sets, and work with talent. Course lectures challenge you to think about different storytelling conventions in narrative and documentary movie-making and address the fundamentals of sound recording.
DIG 210 Animate I - 3 credits
Get a thorough, hands-on introduction to Adobe Animate, learning how to draw and import artwork, organize it using symbols and layers, and animate it using a range of techniques from basic tweening to frame-by-frame animation. Animation techniques will include motion tweening, scaling and rotating objects, nested animations, shape tweens, masks, frame by frame animation, and lip syncing.
DIG 205 Intro to Motion - 1.5 credits
This course introduces topics of motion in animation and video through research and observation of real-life movement and movement in animation. Students learn basic principles of visible motion (including physics principles) and apply these principles to written analysis and practical explorations including flipbook-style animation. Topics include movement of objects and characters.
DIG 211 Maya I - 3 credits
Autodesk Maya combines powerful tools for the major areas in 3D content creation: modeling, animation, texturing, and rendering. Many of today's top video games are created in Maya, from characters, to models, levels, and more. You'll develop a thorough understanding of the Maya toolset, learning how to create, edit, and refine polygon models, add textures and apply UV maps, develop basic animations, and export scenes for team or client preview. Class projects include working with primitives, complex inorganic models, character modeling, texturing, animation studies, and exporting a scene.
DIG 209 Time-Based Media - 3 credits
This course teaches students how to apply their digital media skills to narrative contexts and build their portfolio with high concept work. Students will explore narrative theory, visual development, pipeline testing, iteration, and creative direction for digital media projects. They will also study conventions of time based media genres, including movie trailers, PSAs, commercials, and music videos.
DIG 214 Character Animation I - 1.5 credits
Learn how to apply the classic principles of character animation to 3D models using Autodesk Maya. Learn major principles of animation including squash and stretch and anticipated movement. Using Maya's high-level animation tools, you'll gain insight into the professional animator's approach, learning to work with hierarchical characters, create effective poses, and properly time your shots.
DIG 221 After Effects I - 3 credits
Adobe After Effects is a powerful application used to create motion graphics and visual effects for film and video. After Effects is used in a variety of contexts, including broadcast graphics, music videos, feature films, video rotoscoping, corporate presentations, and conferences. In this 6-lesson course, you'll learn how to use After Effects to create sophisticated motion graphics, using text and object animations, compositing videos and images, and adding audio and effects. You'll learn how to set keyframes on a timeline and work with transform properties, motion paths, masks, and effects, developing a solid foundation in this increasingly popular and versatile program.
Financial Aid
Did You Know? Eligible students entering Associate Degree programs may be entitled to Federal financial aid. Grants and loans can help you cover the cost of your education.
"The instructors provided solid and honest feedback which helped me improve my projects and gave me that extra understanding of how to improve my work. The course taught me how to work with criticism and improve."
Jean-Pierre de Villiers, Associate Degree in Digital Media
"The Digital Media program at Sessions College is not designed to simply teach you how to use software. It is designed to teach you how to use those tools to communicate with your art. It is designed to empower you with the skills you need to convey your message in the way that only you can."
Greg Marlow
, Department Head of Digital Media
Career Information
Digital media is everywhere. It seems that every day we are surrounded more by it. Professional digital media artists are needed to design and create the digital media we consume, so employers need to hire well-trained and educated employees to compete in digital spaces. Our digital media degree program will help you build a foundation for careers across a number of industries. Here are some examples.
Broadcasting
Marketing
Advertising
Promotions
Online periodicals
Visit our Multimedia Designer Career Guide for more information, or browse the Federal Occupational Handbook or O*NET database.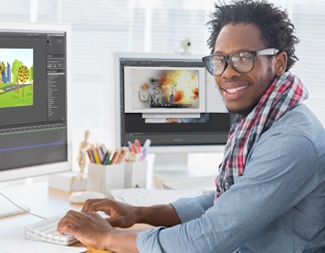 63%
The median annual wage for film and video editors was $61,180 in May 2017, 63% higher than the median for all workers.
13%
Employment of film and video editors and camera operators is projected to grow 13 percent from 2016 to 2026, faster than the average for all occupations.
Take advantage of our award-winning programs. They're accredited, affordable, and delivered 100% online.
Enrolling online is easy and convenient.

Apply
Complete your application with essay, work samples, and transcripts.

Chat
Ask us about program options and financial aid.

Register
Select your start date and preferred study schedule.
Classes start in January, May, and August, with early start options in February, June, and October.
To apply, you'll need to complete our convenient online application and provide an application essay, official transcripts from high school OR for any college degree completed, and 5-10 samples of your art/design work. (Transcripts must be provided for any course you wish evaluated for credit transfer.)
Students entering the program are expected to have earned a high school diploma, GED, or state-approved home school equivalent. Any students under 18 years of age will need to provide the signed permission of a parent or guardian.
To take this program, you'll need the following:
Mac or Windows computer with an Internet connection.
A digital camera that offers manual control over aperture, shutter speed, ISO and white balance .
A digital video camera and ability to connect it to a computer to capture footage.
Adobe Photoshop, Illustrator, Animate, After Effects, and Premiere CC software.
MS word or equivalent application
Your computer must meet software manufacturer requirements.
A Web hosting account with an ad-free hosting service.
Webcam, headphones or speaker, VPN connection, and microphone connected to the computer for live proctored exams.
There are no textbook or course material costs to participate in this online program. Student discount on Adobe Creative Cloud software is available to enrolled students.
Effective July 1st, 2019, the tuition for full-time Associate Degree students is as follows:
Associate of Occupational Studies (AOS) Program
$365 per credit
$4,380 per semester
$13,140 per year
$26,280 total program tuition
Tuition for part-time students is $415/credit and paid by semester. Federal financial aid available for eligible students. Ask about our $500-$2,000 scholarships for exemplary applicants.
A $200 registration fee is required to process your enrollment in the program. Registration fees are nonrefundable after 5 days from the scheduled beginning of program orientation. See Associate Degree Tuition and Payment options.

Highlights
Comparing programs? Browse some other degree or certificate programs you might like: