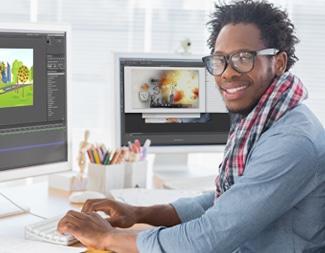 Multimedia designers create experiential or interactive presentations of information.
Design Career Guide
Multimedia Designer
Every year, an Emmy for Outstanding Main Title Design is awarded to one lucky winner. Movie title design is a true form of art and it's one of many areas of specialization a multimedia designer may pursue in his or her career.
Multimedia designers create visual effects that excite, explain, and entertain. Multimedia designers may work in the entertainment industry, creating special effects for movies, television, and video games. Or, they may work to create attention-grabbing visuals and multimedia presentations for corporations and organizations. With multimedia designers, gone are the days of static PowerPoint presentations and boring slide shows! (At least we can dare to dream.)
View More Creative Jobs: Graphic Designer | Web Designer | Animator | Marketing Manager | Art Director | Illustrator | UX/UI Designer | Photographer
Multimedia Designers: Designing interactive experiences.
Q: WHAT DOES A MULTIMEDIA DESIGNER DO?
Multimedia designers
create engaging presentations of images and information for various media including the Web, television, movies, and video games. Though they work in a high-technology field, multimedia designers generally need a strong foundation in art to be successful. Drawing, photography, composition, and other traditional ways of developing skill in image-making can provide an important training for animation, motion graphics, or 3D design.
Tools used for multimedia development can vary widely by industry, but a multimedia designer will generally need to be familiar with the standard Adobe Creative Suite tools—Photoshop, Illustrator—as well as Adobe Premiere, Flash, and After Effects. They will be expected to be able to plan, shoot, and edit high quality video content and photographs. Unless they are specializing in video games or broadcast media, Web skills such HTML, CSS, and social media savvy are very much in demand, and programming skills are a plus.
The field of multimedia is like the movie industry. To be good at it, you must accept that a tremendous amount of planning and preparation, as well as painstaking craft and editing, goes into the final product. Five minutes of high quality media could take a month of 60 hour weeks to create. This is true whether you are designing computer-generated animations, video game interfaces, or instructional videos for major corporations. But the reward is working in a creative field and entertaining people for a living.
Q: WHERE CAN I RESEARCH JOBS?
If you are looking to work for a cutting-edge animation company like Dreamworks or Disney, visit the company's own site and search for job listings. For work in a more standard corporate or small business environment, our Job Boards page or a major site like Indeed.com or Monster will suffice.
Q: WHAT ARE THE CAREER AND SALARY EXPECTATIONS?
MULTIMEDIA DESIGNER SALARY: According to the U.S. Bureau of Labor Statistics, the 2018 median salary for Multimedia Artists and Animators was $72,520.
Fun fact: According to the Bureau of Labor Statistics, nearly 60% of multimedia artists and animators are self-employed, and often work from home. Others find work in the highly competitive and collaborative film and game industries.
Multimedia design is a broad field, so employment opportunities may depend on a multimedia designer's area of focus. There is the chance to work across a variety of digital mediums, from film and television to dazzling interactive Web design. Whatever the industry, multimedia designers can expect hard work, with long hours spent at a computer polishing and refining projects.
According to the U.S. Bureau of Labor Statistics the 2018 median salary for Multimedia Artists and Animators as $72,520. The Federal Occupational Outlook Handbook projects that overall employment for multimedia artists and animators will grow by 8 percent from 2014 to 2024. We simply demand more and more visual effects and animation in our media.
Q: HOW DO I GET STARTED?
If you're considering a career in multimedia, you can start right now building the kind of digital, art, and technical skills you'll need. Grab a digital camera and plan a creative photo shoot. Edit your results in Photoshop. Record and edit a video with a title sequence introducing your digital artwork. Announce your exhibition using a short video clip on the Web and social media. Guess what? You've just explored many aspects of what it takes to become a multimedia designer.
To take your skills one step further and enter a career, you'll generally require a formal education. A bachelor's degree in multimedia arts,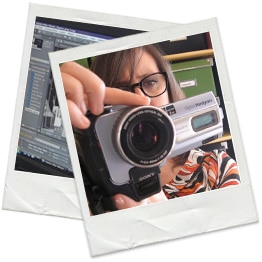 computer graphics, or a related field will give an upper hand to multimedia designers looking for work in the field. A strong portfolio demonstrating a range of artistic and technical skills is also important when seeking employment in multimedia design. The goal of any digital media or multimedia program should be to help you develop and showcase your digital skills.
Sample Job Description
Do you have what it takes? Here is a typical entry-level job description for a Multimedia Designer:
Multimedia Designer
Luminous Aquatic Systems – Portland, OR
Job Description: Luminous Aquatic Systems is looking for a creative, talented individual to join its marketing department as a Multimedia Designer. The candidate will develop and design creative video/interactive content for print, exhibition, website, advertisements, and social media.
Learn more
Job Requirements & Skills
:
Ability to art direct and create solid information designs, concepts and sample layouts
Direct and manage video projects from start to finish.
Post-production tasks which include reviewing footage, making editorial decisions, audio and color, and final editing.
Manage setting up lights, cameras and sound equipment for live video and photo shoots as needed.
Proficient in software including Microsoft Office, Final Cut Pro, Adobe Premier Pro, Adobe Flash.
Must be highly proficient with current versions of Adobe Creative Suite.
Solid understanding of HTML and CSS required.
A great collaborator, with a positive outlook and attitude.
Some travel required.
RELATED JOBS: Interactive Designer, Digital Designer, Multimedia Artist, Video Editor