Whether it's a magazine spread, a subway poster, or even a Web page, nothing connects or communicates like a great layout. In this advanced layout design course, you'll tackle advanced-level projects that push your design skills to the limit. Working with a design pro, you will explore creative applications for lines and shapes, learning how to use or break the rules of layout. Course projects include a 4-page magazine spread, a book jacket design, and a calendar.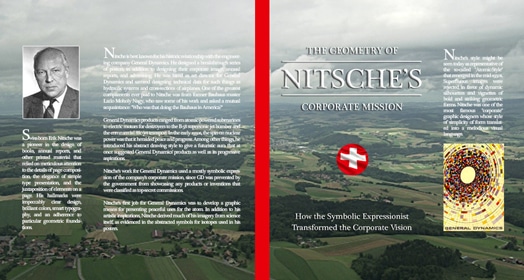 Layout project by student Joella Frahm
100% online
Project-based
Instructor-led
Study at your own pace
Complete this course in 3-4 weeks
Instructor(s)
The course is taught by the following instructor(s):
Course developed by: Thom McKenna
Take this course as a standalone or as part of the following program(s):
Structural Foundations

Don't let anyone tell you otherwise, the basis of creative layout design is organization. The first lecture will explore the structural foundations of layout design—how designers use grid systems to unite text, images, and other page elements within an overall visual communication. Case studies on A.M. Cassandre and Josef Müller-Brockmann explore how the masters constructed fluid designs on firm foundations. You'll learn how elements such as margins, markers, modules, and flowlines help to unify a page or spread. Then you'll examine applications for the common grid systems used by designers: manuscript grid, column grid, modular grid, and hierarchical grid.

Geometric Design

Order is a necessary element in all design and a complement to creativity. This week, we will examine creative applications for a geometrical approach to page composition. Classic proportional systems are explored, including the golden section, golden spiral, Fibonacci sequence, root 2 rectangle, and the rule of thirds. You'll also investigate how to use lines and shapes as graphic elements to create a sense of order. Lines, curves, circles, angles, bars and squares, and patterns are all explored as possible tools for structuring a layout. The lesson concludes with a discussion on the importance of balance, negative space, and strong focal points.

Structure and Deconstruction

The final lecture explores ways of moving beyond traditional layout structures and using a more intuitive, experimental approach. Unconventional structural approaches discussed will include contextual framing, page bleeds, layering, proximity, and hypnotic wandering. Type layout concepts discussed will include 3D type, chunking, text columns, and the vexed question of legibility. Finally, you'll explore some Post-Modern layout techniques: freeform, surreal collage, 3D environments, fragmentation, graffiti, cutouts, overprinting, and conceptual design.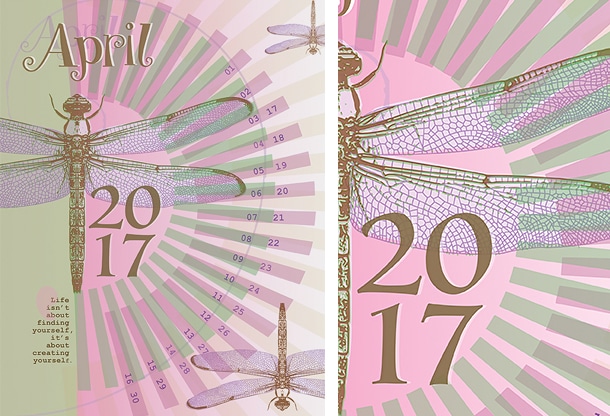 by Theresa Slater
What Are The Course Projects?
Creative studies in print page layout design include a magazine spread, book jacket cover, and calendar design.
What Software or Supplies Do I Need?
Computer with Internet connection.
Adobe Photoshop and InDesign.
Basic experience in the above software.
What Will I Learn?
Students in this course can expect to learn to:
Develop an understanding of the structural foundations of layout design, creating a grid and placing fundamental elements in a page layout.
Create an editorial layout for a 4-color design magazine, using a grid system as a foundation: manuscript, column, modular, or hierarchical.
Identify and apply geometric approaches to layout design, using ratios, proportions, lines, and shapes.
Create page layout templates using geometric proportions: golden rectangle, golden spiral, or root 2 rectangle.
Develop an understanding of the principles of balance, negative space, and focal points in a composition.
Develop an understanding of techniques for unifying a page design, including framing, page bleeds, layering, and proximity.
Explore and apply alternative layout techniques and approaches to composition.
Design a calendar using alternative layout techniques and/or approaches to composition.
Enroll today, start tomorrow
Study at your own pace
Complete within 3 months
| Course Tuition and Fees | |
| --- | --- |
| Tuition | $619 |
| Registration Fee* | $50 |
| Total Course Price | $669 |
Registration fees are nonrefundable after 5 days from enrollment. All tuition includes a digital materials fee for course content.
Click Register Now to enter your information and desired start date. An Admissions Advisor will contact you to arrange payment and provide you with an Enrollment Agreement.
Frequently Asked Questions (FAQ)
What Are The Courses Like?
Our courses are project-based. There are no set logins, so you can study at your own pace. In each course you'll complete a series of lectures and projects designed to stretch your creative skills.
How Much Time Do I Need?
This course can be completed in 30 hours or less. You'll have three months from enrollment to complete the course studying at your own pace. Extensions are available for those who need more time.
Who Are The Instructors?
Our courses are developed and taught by our faculty of professional artists, designers, and photographers. You'll learn in-demand skills, get feedback on your work, and build a portfolio of creative work.
Is Sessions College accredited?